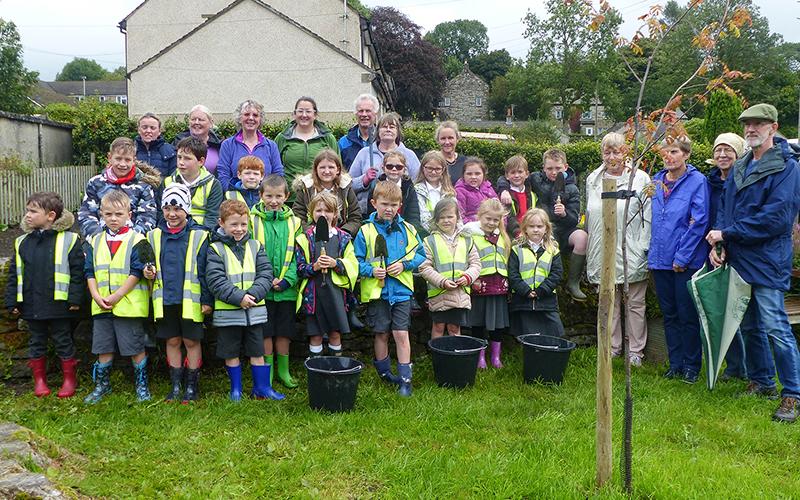 John Chambers Wildflower Seed helps sow meadow
26 Nov 2019 | BALI Member News
John Chambers Wildflower Seed has donated a custom mix of native wildflower seed to create an exciting new wildflower meadow in Grassington.
John Chambers Wildflower Seed is a brand within the BALI Registered Affiliate member Green-tech family; the UK's award-winning leading provider of landscaping supplies.
Yorkshire Dales Millennium Trust (YDMT) has worked in partnership with Grassington in Bloom and children from Grassington Primary School to create the new meadow. A fantastic area of species-rich wildflowers has been planted on Springfield Road.
The meadow is part of a network of wildlife friendly patches across the Dales that aim to reverse the decline in pollinators.
John Chambers Wildflower Seed has a 30-year history of supplying native British produced wildflower seed and mixes to landscape and garden lovers across the UK and is involved in many community projects such as this.
Catherine Mercer, YDMT's Bee Together Officer said:
"What has really blown me away about this project is the support and enthusiasm from the community in Grassington. Although Grassington in Bloom have led the project, all sorts of different people have helped out. From passers-by who hopped over the wall to help strip turf, to the children of Grassington Primary who spread wildflower seed. People have lent their time, their tractors and trailers and even space on their farms to make the meadow happen - the village has really come together behind it."
Bee Together is a programme supported by the National Lottery Heritage Fund thanks to National Lottery players, which aims to work with local communities to create habitats that could help reverse the decline of wild pollinators.
It seeks to create a corridor of these important habitats between Leeds and Lancaster, contributing to a national network of 'B-Lines' mapped by Buglife.
B-Lines are a series of 'insect pathways' running through our countryside and towns. Buglife are working with a number of partners to restore and create wildflower-rich habitat stepping stones – ideal for pollinators like bees and butterflies and a host of other wildlife.
This B-line crosses the Yorkshire Dales, the Aire Valley and Lancashire and will help pollinators expand into new locations and move from area to area across a network of new habitats.
Catherine added;
"Bringing communities together to take action for pollinators is what the Bee Together project is all about, I'm really looking forward to seeing the meadow in Grassington flourish – and the fun people will have managing it!"