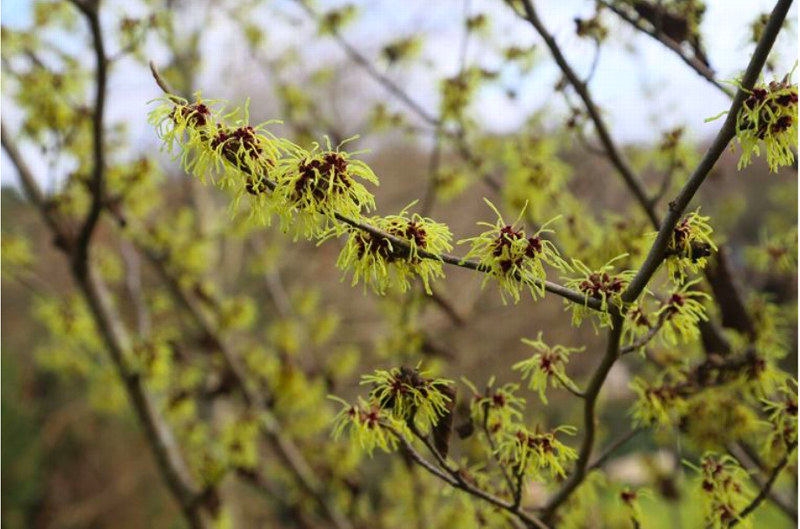 How to achieve flowers that defy the frost
22 Feb 2021 | BALI Member News
Prolonged frost is very drying and after several days, with the temperature below zero, evergreens and anything with green growth is wilting.
Many early bloomers are looking very sad, as if struggling with severe drought. In these conditions plants continue to lose water, but they cannot absorb through the roots, hence their wilted appearance. However when temperatures rise recovery is usually rapid and even the most wilted subjects bounce back.
Some winter flowering shrubs are more resistant to extreme cold. The flowers simply defy the frost and stand firm on the branches despite their fragile appearance. The witch hazels are some of the hardiest. The delicate flowers with narrow ribbon-like petals are at their best in late winter and prolonged frost does not deter the display. Their spicy perfume may not be at its strongest, but the blooms still sparkle.Hamamelis x intermedia 'Pallida', with pale sulphur yellow flowers shows up in the garden regardless of the weather. It has an attractive, spreading habit and should be given space to avoid the need to prune. Neutral to acid soil is necessary and reasonable soil moisture.
The winter-flowering heathers start to bloom from late winter through early spring. These are often overlooked in today's gardens and deserve wider planting. The flowering season is long and they are a valuable source of early nectar and pollen for bumblebees and other pollinators. Erica carnea 'Winter Snow' is just one of many cultivars of Erica carnea and Erica x darleysensis; the latter tends to be taller.The flowers are entirely frost resistant. When they fade, clip over the plants with shears to remove the faded flower spikes and encourage branched growth. This maintains winter heathers as low, compact mounds.
To find out more, read Andy McIndoe's blog on Learning with Experts