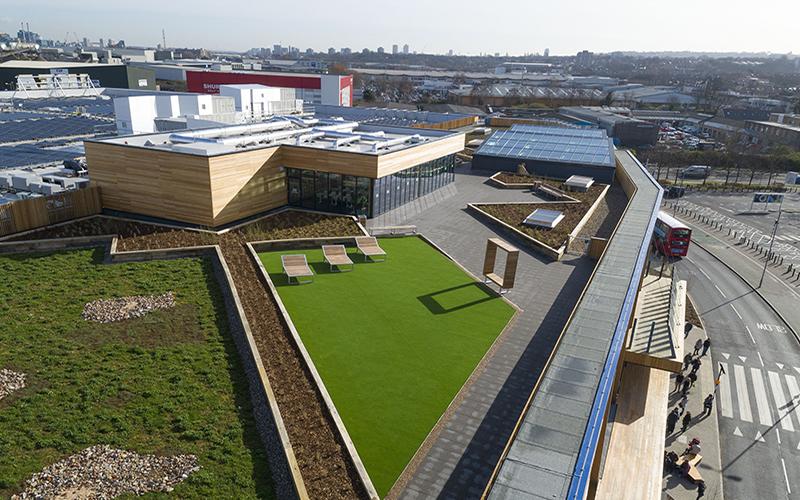 Evergreens (UK) asks "Is your green roof safe?"
02 Dec 2019 | BALI Member News
A market leading artificial grass company is alerting architects, specifiers, contractors and consumers to the dangers of not having an accredited fire and wind-tested green roof system installed.
EverRoof®, a subsidiary of BALI Registered Affiliate member Evergreens® UK Group, supplies and installs a unique range of artificial green roof systems designed as both an alternative and a complimentary product to natural green surfaces, transforming unusable and ugly flat roof spaces into beautiful, green, multi-use areas.
As the providers of the only accredited fire-rated and wind-tested system of its kind on the market, the company is leading the industry in raising awareness of how important it is to have a green roof installed that is totally fit for purpose.
Its initiative coincides with the government's plan to introduce new regulatory measures that improve standards of building safety and construction products in a post-Grenfell landscape, based on the findings of Dame Judith Hackitt's independent review and as set out in the recent Queen's Speech.
The EverRoof® range meets all of the requirements of BS 476-part 3, ENV 1187 and EN 13501, the UK-EU test that certifies a roof's reaction to fire damage, thereby offering greater protection against the potential damage made by fires from above, or spreading across the surface.
One of the most popular products is the three-part accredited system, which features a drainage protection matting for horizontal flow, a 30mm Force Field™ foam drainage pad for vertical flow and heat protection, and a 36mm Wonder Yarn® artificial grass surface with sand infill.
Inadequately-installed, lower-quality and non-accredited green roof systems are susceptible to extreme winds and vacuums created by the wind, which have the capacity to grab and lift the system off the roof's surface if it is too light or has not been anchored correctly and fixed firmly enough.
EverRoof®'s systems' wind accreditation offers consumers peace of mind that their roof system is correctly fixed to the surface, and its functions minimise the effects felt by the negative pressure pockets that pass across it.
What's more, this innovative product provides water attenuation and adds another insulation layer that could save energy and extend the life of a roof, and can also withstand wind speeds exceeding 100 miles per hour.
Temi Kucuk, Business Development Manager for EverRoof®, said:
"As a pioneer of artificial grass roof systems, we see it as our duty to raise awareness of the dangers posed by not having an accredited artificial grass roof system installed. We have invested significantly in research and development, and continue to do so to get these products to market, while our revolutionary, industry-leading accredited systems have the credentials as the only ones of their type that adhere to British and European roof safety standards. I would encourage everyone to be responsible and only install an accredited artificial green roof system for the obvious safety benefits and peace of mind that you have a high-quality product above your head. Those who are eager to have an EverRoof® accredited system supplied and installed professionally are encouraged to get in touch with our team right away."
For more information please visit www.everroof.co or alternatively call 01572 766912.