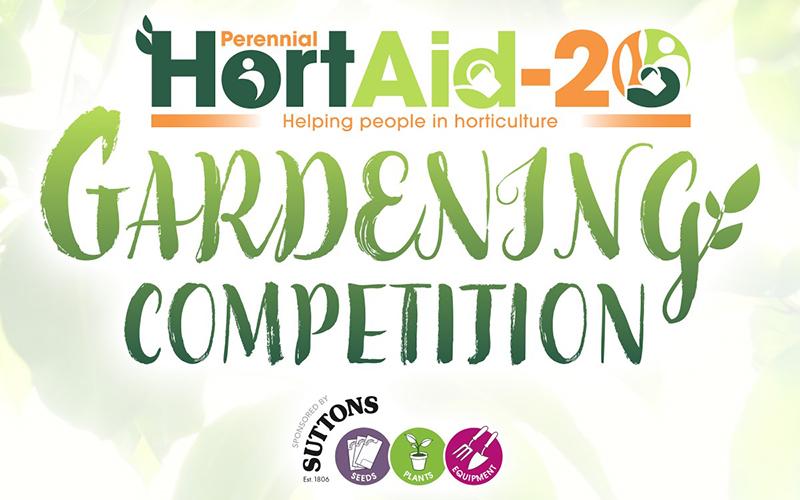 Enter Perennial's HortAid-20 Gardening competition
15 Jul 2020 | Industry News
Perennial, the charity for people working in, or retired from, the horticulture industry, has called on Britain's gardeners to reveal their hard work during lockdown by entering the HortAid-20 gardening competition.
The HortAid-20 gardening competition will be judged by Perennial President Alan Titchmarsh MBE and a panel of expert gardeners, including; Rachel de Thame, Clive Nichols, Ann-Marie Powell, James Wong, Jim Buttress, Jo Whiley, Lee Connelly (The Skinny Jeans Gardener), Lesley Watson and Michael Perry.
The deadline for entry is 15 August 2020 and the overall winner will receive a £250 garden hamper from Suttons. All 10 category winners will win a certificate personally signed by Alan Titchmarsh and Jim Buttress, the chance to meet one of the judges and a £25 Suttons voucher.
Competition categories cover a wide range of gardening interests, meaning anyone can enter. These include; small garden, large garden, community garden, hanging basket/window box, houseplant, vegetable garden/allotment, best vegetable, largest vegetable and even a category for young gardeners (age 14 and under).
Full entry details for the HortAid-20 Gardening Competition can be found online here. Entries are requested by email. Please send your photographs to GardeningCompetition@perennial.org.uk
Each entry will be charged a £5 entry fee with the proceeds going towards Perennial to help people of all ages working in, or retired from, horticulture.
Perennial President, Alan Titchmarsh MBE, is heading up the judging panel. He says:
"During the current crisis, the need for Perennial's help has never been greater. It really is a lifesaver for gardeners and all people in horticulture who are in need of support, and our current work is making a vital difference to so many in these life-threatening times. That is why the team at Perennial have set up the HortAid-20 Gardening Competition to help raise funds. With categories to suit everyone, whether you have a large garden or small, or even no garden at all, please do enter, have a bit of fun and help the men and women who have devoted their lives to making our landscape a better place."
Anita Bates, Director of Marketing and Fundraising at Perennial, comments:
"This is a great time of year to photograph the garden in full bloom, basking in summer sunlight. We have categories to suit all interests, ages and abilities, so why not send a photo to us via email. You might just win a hamper of goodies worth £250, plus individual category prizes and the chance to meet one of our fabulous judges."
Hilary Cutler, Sales and Marketing Director from Suttons says:
"Suttons is delighted to sponsor the HortAid-20 Gardening Competition with Perennial to support their fundraising activities during this challenging time. With everyone spending more time in their gardens than probably ever before we are looking forward to seeing the entries, from all generations and gardens large and small."
HortAid-20 Gardening Competition
1. Small Garden, front or back - including courtyards, town gardens or smaller countryside gardens
2. Large Garden, front or back - for those whose garden fits the 'wow, you have a big garden' category
3. Community garden - this can be any type of community green space including, but not limited to, allotment groups, garden squares, communal spaces at blocks of flats or other types of urban or rural community gardens.
4. Garden that normally opens via NGS - if your garden is in the Yellow Book this year, please join the fun and enter here as well as in other garden categories. The NGS is a great support to Perennial in usual years so this is a way for us to say thank you.
5. Vegetable garden/allotment - individual plots of any size
6. Best vegetable - we're looking for quality over quantity here. We will assess entries on the photos along so all sides of your prize carrot (or whatever!) should be photographed.
7. Largest vegetable (photo to include 30cm ruler) – we know the usual size of veg and so this will be proportionate. We will be judging like for like, not pitching radishes against marrows! We understand the early deadline will probably mean no records will be broken!
8. Container/hanging basket/window box - if you garden in a limited space at home, this category is for you. We'll be judging on beauty, apparent health and quality. Go to town on a riot of colour or classic understatement. We're judging on horticulture, not personal taste!
9. Children's miniature garden (age 14 and under) – we're looking for growing gardens or created on a plate or similar. Size can be up to 50cm square. Veg or flowers, we're looking for fun and quality.
10. Healthiest houseplant – we're looking for quality plants, that have been well looked after and need no outside space.
Full entry details for the HortAid-20 Gardening Competition can be found online here. The closing date is 15 August 2020 with photographs invited by email toGardeningCompetition@perennial.org.uk