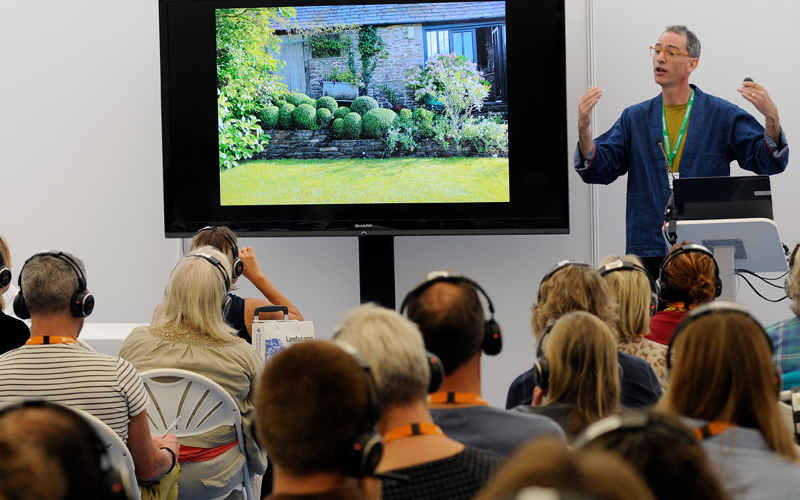 Earn up to 11 CPD points at LANDSCAPE Show
10 Jul 2019 | Trade Show
With 44 seminars there's something for everyone at LANDSCAPE Show 2019.
LANDSCAPE Show 2019 is welcoming some well-known names to the landscaping industry's most valuable event. Once again hosting a CPD accredited seminar programme, there will be two full days of education and entertainment featuring a diverse line-up of top industry speakers. The accreditation enhances professional qualifications of practitioners and allows visitors to earn up to 11 CPD points when attending sessions.
The LANDSCAPE seminar programme is already bursting at the seams with over 60 industry leading professionals speaking this year. Some of the recent additions to our programme for 2019 include: Matt Keightley, Lucy Hall, George Plumptre, Rod Winrow, Philippa O'Brien, Baron Robert Von Susskind, Matthew Pottage, Jonathan Snow, Huw Richards, Emma Mazzullo, Andrew Fisher Tomlin and BALI Registered Designer member Kate Gould, just to name a few!
Why not let James Alexander Sinclair provide an insight into how flower shows come together and how judging works, with his session titled 'So You Want to Win an RHS Gold Medal?'. Or let Cleve West, Matthew Appleby and Sarah Wilson tell you how they approach Vegan Gardening? Fancy a story about weird and wonderful places? From knocking on architects' doors with trays of doughnuts to pushing a pram around Whitworth Park in the pouring rain, Carolyn Willitts will share her investigations tracing where her work has come from and include lessons learned along the way. In her session titled 'Give Us A job! Where Our Work Comes From'.
Let award-winning landscape architect Robert Myers walk you through his recently completed projects, from identifying problems together with a client through to the creation of beautiful landscapes. In his session 'Beautiful Solutions', he will explain that good landscape architects are problem-solvers and they are skilled in being able to see beyond the difficulties that clients often have with the gardens or landscapes around their buildings and resolving practical challenges in a creative way.
Each seminar offers its own unique topic, and so there is definitely something for everyone this year at LANDSCAPE!
For further information about visiting or exhibiting please head to the website landscapeshow.co.uk or email info@landscapeshow.co.uk. You can also call +44 (0)20 7821 8221.