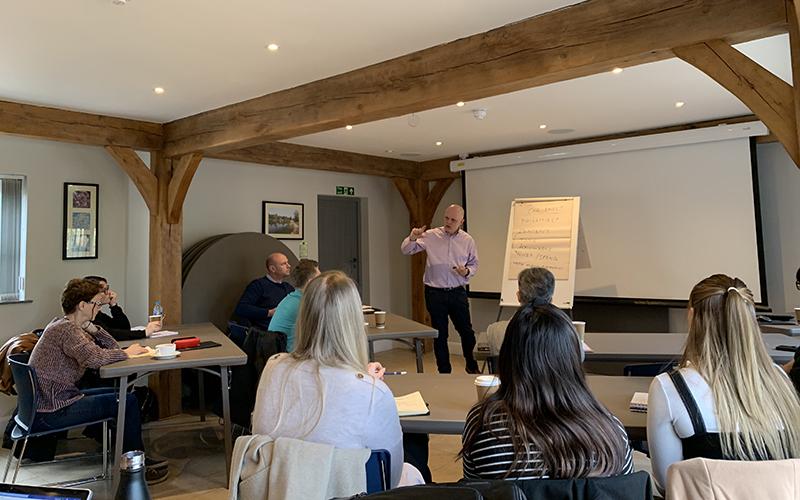 19 Feb 2020 | BALI News
The British Association of Landscape Industries (BALI), with support from Registered Affiliate Adtrak and marketing psychologist, speaker and trainer Andrew Lloyd Gordon, held their very first Digital Marketing Masterclass on Thursday 13 February 2020 in St. Albans with a successful turnout of 11 attendees.
Kindly hosted by BALI Registered Affiliate Majestic Trees in their modern, charming nursery in Hertfordshire, BALI members were made to think differently about the way in which we market ourselves digitally, with Andrew's fine-tuned presentation providing an informative session that largely focused on making the best use of Google services.
Andrew is an experienced strategic marketing consultant and qualified trainer. He has worked with clients such as the UK Cabinet Office, Bose, UCAS, Kings College London, Universal Music and the NHS.
Following Andrew's presentation, digital marketing agency Adtrak presented on a variety of ways businesses can get the most from their website, including using landing pages, incorporating good design, the importance of hierarchical content and utilising page speed tests to ensure both mobile and desktop versions were optimised.
Following the masterclass, members provided their valuable feedback. Overly positive comments meant BALI's marketing team can now review future masterclass workshops on specific areas of digital marketing.
Big thumbs up from me. This course was packed full of really helpful tips and also was a great way to look at the basics in a different way! Only downside was that we ran out of time. I think most of us would agree that it could have easily been a two-day course!
Ashleigh Bradshaw – Registered Affiliate Hayter Mowers
It was such a great day, very informative and great to be able to chat with other like-minded people doing the same roles within the industry. I can't wait to get cracking with some new ideas.
Emma Cox, Registered Affiliate SAiGE Longlife Decking
It was very helpful and I've learnt a lot. Hopefully I will be able to put it all into practice now.
Andrei Shchedrov, Registered Affiliate Premium Plants
BALI's Marketing and Communications Manager, Darren Taylor commented;
It's been a great success to organise the Digital Masterclass where members are able to benefit from the presentation from Andrew followed by the support from the team at Adtrak. We've received fantastic feedback which we will take on board and look to do similar classes for members in the future.
Adtrak's Account Director and Digital Marketing Expert, Ben Shaw commented;
It was a thoroughly enjoyable day, with a good structure and with lots of great information, which was backed up by the Google trainer (Andrew) and our Web design guys who were able to offer hands-on experience and give advice and ideas to the attendees. It was also good to be able to show people live examples of best practice and help show areas for improvement. We found that people felt more comfortable asking for information within this group setting, and by the end of the day I felt that everyone in attendance had gained from the event.
BALI will be hosting a second session of the Digital Marketing Masterclass in Doncaster on Wednesday 26 February 2020 with spaces still available. Click here to book your space. For similar events visit our events page here.