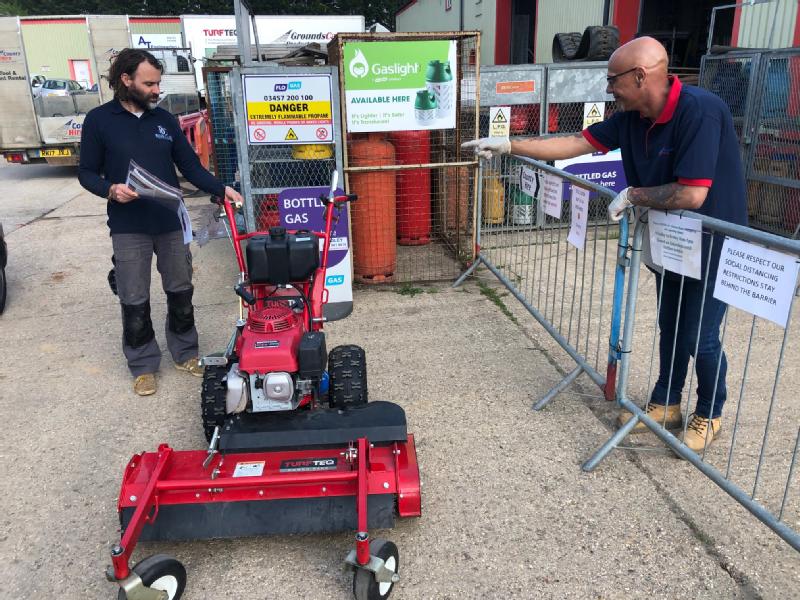 Grounds Care Products modify equipment handling for COVID-19
29 Apr 2020 | BALI Member News
BALI Registered Affiliate member GroundsCare Products, and sister company County Hire, have modified their equipment hand-over routine in order to continue renting out machinery for landscape maintenance. The photograph shows Hiredesk Manager, Dave Pilot, explaining the controls of a TurfTeq Power Rake to a customer.
Director, Paul Errington said
"We have been consistently busy throughout the lock-down period. We are observing Government distancing and hygiene recommendations and, in addition, are pressure washing all machinery at 90oC."
The TurfTeq™ Power Rake offers the quickest and most profitable way to prepare soil for turf, grass seed or wild flowers. Much quicker than a rotavator, it not only prepares the soil, but also windrows the stones to facilitate collection. It tills only the top layer (3 to 25mm), and the soil is immediately ready for use. You don't have to re-consolidate the ground, as you would if you used a rotavator. Consequently, it will not slump when the first serious fall of rain comes along.