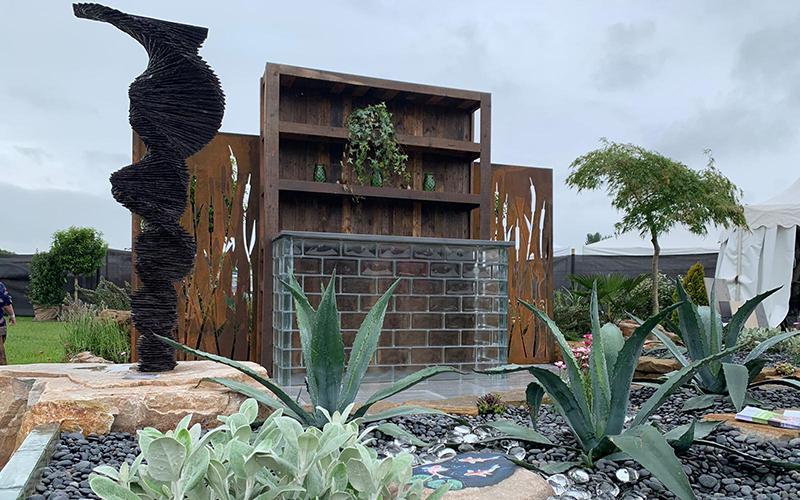 BALI celebrates 20 years of Gardening Scotland
05 Jun 2019 | Flower Show
Last weekend, BALI's Marketing and Communications Manager, Darren Taylor, jumped on a plane to Edinburgh to help support BALI members at the annual Gardening Scotland event, where for 2019 BALI sponsored BALI Associate Designer member Lynn Hill's 'The Garden Party' feature garden.
Despite difficult weather conditions, the event welcomed over 30,000 people looking for the latest horticultural trends and to test their tastebuds on the local delicacies, as well as try out the latest fashion items and soak up some of the award-winning floral displays. Darren personally spoke to over 200 members of the public whilst promoting not only 'The Garden Party' feature garden but also BALI members in general and the new BALI website.
The feature garden, which was designed and built in celebration of Gardening Scotland's 20th-anniversary celebrations, was a real draw for the public, who commented on the success of the garden's minimalistic planting scheme but low maintenance design, which also incorporated a spectacular Venetian glass bar which acted as the central feature and was surrounded by stunning natural stone supplied by BALI Registered Affiliate CED Stone Group, plus, varieties of agave plants normally found within the South American landscape. BALI's Marketing and Communications Manager also made new connections with the Royal Botanic Garden Edinburgh, looking to promote BALI's careers initiative GoLandscape and link up its ambassador program and BALI Training Provider member SRUC Oatridge College.
BALI members in the region joined together to form an integral part of building and supplying for 'The Garden Party' feature garden, including the aforementioned CED Stone Group who supplied high-quality natural stone as well as Ashlea, Endrick Landscapes and Root One East.
Harrod Horticultural and Melcourt Industries supplied materials to the Royal Botanic Garden Edinburgh's 'The Coffee Garden' which won a Gold Medal and Best Show Garden and Scotland's Rural College (SRUC) sponsored the College Street gardens, a series of mini front-gardens designed to show the diverse skills of students studying landscape-related qualifications at the college. One example was BALI Training Provider member SRUC Oatridge's beautiful garden 'Hidden Depths'. The garden was designed to visualise versatility and relates to a demographic of a young couple with very little time who would like to create a garden with kerb appeal.