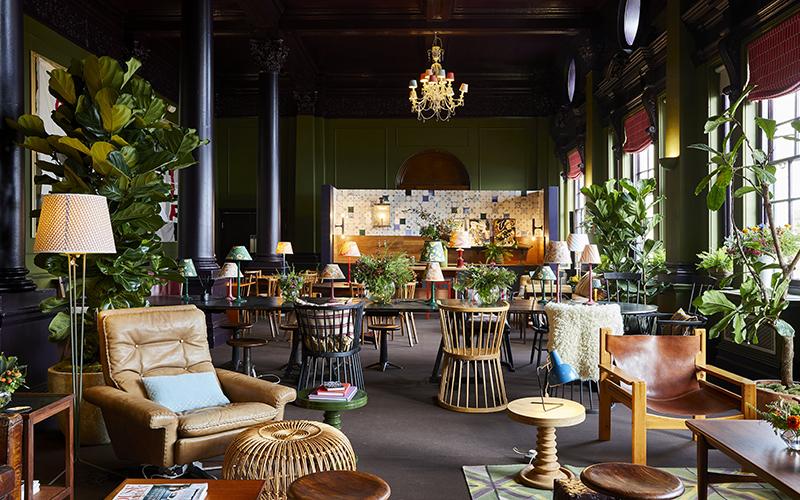 23 Oct 2019 | BALI Member News
BALI Registered Contractor member Cameron Landscapes and Gardens is delighted to be supporting Decorex International with atmospheric, internal planting at this year's exhibition.
Cameron Gardens will be planting the central bar and the Garden Restaurant and Bar, in addition to supporting Run for the Hills with their kid's bedroom in the Design Encounter House and Harding and Read's VIP Lounge
The central bar is a large installation and has four different planting zones, a jungle space, an industrial zone, a country garden area and an arid desert scape. It is sure to evoke different atmospheres and provide a visual feast for visitors.
The Garden Restaurant and Bar, which is entered on exiting the Design Encounter House, provides a fabulous place to relax and soak up the atmosphere. Cameron Gardens, has drawn on its restaurant experience here, and is using a mix of pots, planters and troughs, planted with combinations of natural lush, green internal.
In addition to working with Decorex, Cameron Gardens is also delighted to be working closely with Run for the Hills by supporting them with the planting of their Children's bedroom in the Design Encounter House. The concept behind the room is an exciting, yet comforting children's room which also has an eco-message of sustainability. Therefore, Cameron has chosen native seasonal plants such as Hawthorn, Silver Birch and Horse Chestnut, all of which provide different colours, shapes and textures and thus ensure a visual feast as well as supporting an important and thought-provoking message.
"Cameron Gardens is delighted to be working so closely with Decorex International to create communal spaces, namely the Central Bar and Garden Restaurant and Bar, which are simultaneously relaxing and inspiring. Through plant choice, an eclectic mix of pots and planters and the central bar installations we will help visitors to Decorex feel transported to a different location whilst they relax and enjoy a drink or something to eat."
Says Cameron Garden's MD Alasdair Cameron
He continues;
"We are also very excited to be supporting the fabulous designs of both Harding and Reed, designers of the VIP Lounge, and Run for the Hills, designers of the children's bedroom in the Decorex House, with the planting of their relative areas. It demonstrates how well interior planting can support and enhance any location.
"The Run for Hill's children's bedroom has an eco warrior theme and as such all plant material that we are using there is seasonal, thus autumnal, and native. With such a varied and extensive native offering we have been able to design a wonderfully creative pallete of colours, shapes and textures, it offers a visual feast and will inspire any child. Throughout all the work we are doing at Decorex we are looking to be as sustainable as possible so we are recycling and reusing plants and pots as much as possible."
Picture credit: Cameron Garden's planting of Harding and Read's VIP lounge at Decorex