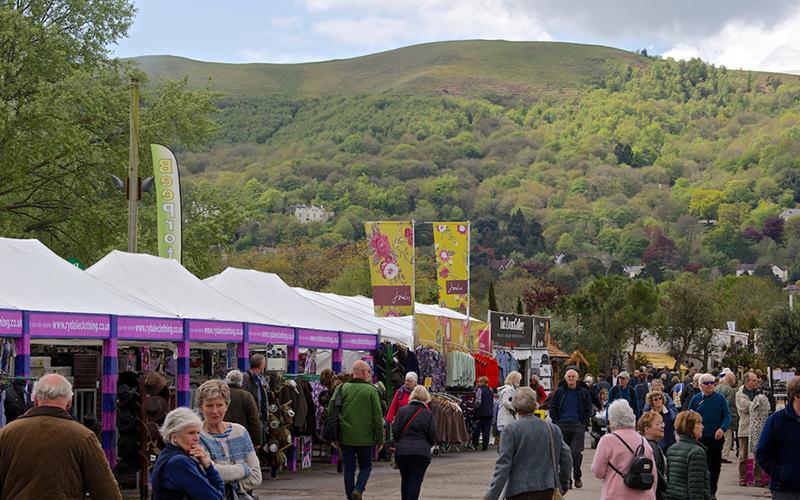 08 May 2019 | BALI News
Tickets are still available for RHS Malvern Spring Festival with BALI Registered Affiliate member Gabriel Ash flying the flag for BALI by exhibiting at the event.
To be held on 9-12 May 2019 between 9am – 6pm, the RHS Malvern Spring Festival will be held against the magnificent backdrop of the Malvern Hills with various stalls, gardens and family fun activities.
The popular Spring Festival will be exhibiting an assortment of Show Gardens this year to accompany the Hills.
BALI Registered Affiliate member The Pot Company is sponsoring a Green Living Spaces garden called Defiance. The garden hopes to replicate a traveller living in the busy urban village of London.
It is inspired by balconies that spill over with plants in an otherwise concrete façade, defiant of their location, bringing joy to all who see them. The exotic feel to the planting is inspired by the garden of Modernist landscape architect Roberto Burle Marx and the walls of the interior are papered with murals from photographs of his garden.
Endorsed by the Royal Horticultural Society, Gabriel Ash will be exhibiting at the Festival showcasing the greenhouses constructed using precision mortice and tennon joints, only the best Western Red Cedar, with solid stainless steel or brass fixings.
Along with members key industry bodies will also be exhibiting at the event including industry charity and BALI partner Perennial Gardeners' Royal Benevolent Society.
The charity endeavors to support those working in horticulture, and their families when times get tough. Perennial provides various support systems including free and confidential advice, support and financial assistance to people of all ages working or retured from horticulture.
As well as the charity, Institute of Groundsmanship (IOG) will also be exhibiting to promote the status of groundsmen and the standard of groundsmanship. Established in 1934 the IOG is 'the' leading professional organisation for grounds management, recognised by the National Governing Bodies of Sport and the public, private and voluntary sectors for its industry knowledge and technical expertise.'
To book your ticket visit the RHS Malvern Spring Festival site.
Image credit: The Reckless Gardener