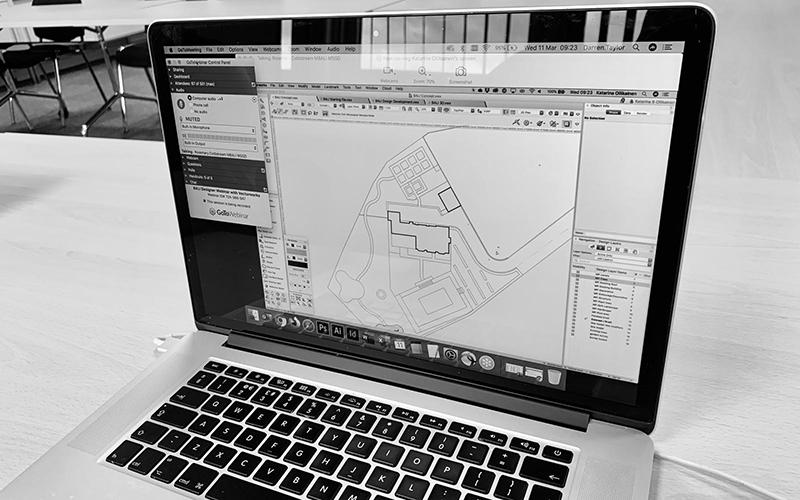 BALI announces record-breaking webinar
11 Mar 2020 | BALI News
The British Association of Landscape Industries (BALI) has held its first designer webinar of 2020 with over 90 registrations received.
The webinar, held in association with Vectorworks UK on Wednesday 10 March 2020, focussed on Vectorworks' most powerful design tools:
Templates - why do we use templates and what should they contain?
Libraries - what, why and how to set them up
Layers and classes
Best practice - 5km rule, one single drawing
Hosted by BALI's Marketing and Communications Manager Darren Taylor and Senior Membership Officer Emily Feeney, panellists included Landscape Specialist Katarina Ollikainen of Vectorworks and BALI Registered Designer Rosemary Coldstream MBALI MSGD.
The webinar covered a variety of topics over its 90-minute runtime, from creating 2D concepts to finalising finished 3D drafts. It also covered:
Using GIS in your file - setting up the GIS map and the correct file for it
Importing .dwg surveys and drawings - show how they 'fit' with the GIS images
Drafting - what tools to use and how to approach it
Converting your shapes to intelligent objects - hardscape, walls, landscape areas e.g.
Creating a planting plan
Creating schedules and bills of quantities
Creating viewports, sheet layers with title block and exporting to .pdf
For those that booked a place but could not make the live event, an on-demand version of the video was made available.
Vectorworks UK is a global design and BIM software developer serving over 650,000 professionals in the architecture, landscape and entertainment industries. Since 1985, they have been committed to helping designers capture inspiration, nurture innovation, communicate effectively and bring their visions to life. With their cross-platform software, designers can build data-rich, visual models without sacrificing the design process, while collaborating efficiently throughout the project life-cycle.
Due to the popularity of this first designer webinar of the year, including some fantastic feedback received from those in attendance, BALI has already started to plan similar webinars for later in 2020, to support BALI members. If you are not a BALI member and would like to be able to access event discounts, including free-to-attend webinars, please contact BALI's Sales Officer Alex Newberry on +44(0)24 7669 033 or email alex.newberry@bali.org.uk.