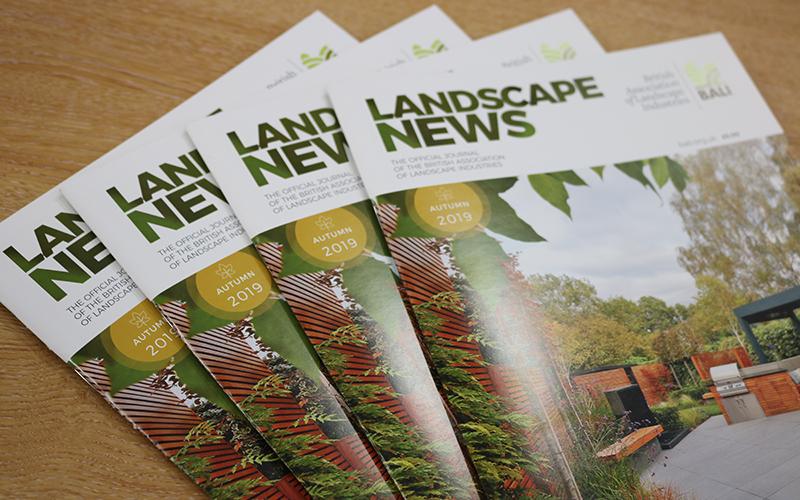 Autumn edition of BALI Landscape News out now
03 Oct 2019 | BALI News
Has the latest copy of BALI's Landscape News landed on your desk? Marketing and Communications Manager, Darren Taylor, has remained as Editor-in-Chief for the Autumn edition and has worked closely with members over the last three months, with exclusive interviews and features now available to read online. BALI Registered members who have signed up to receive the printed version should have now started to receive their copies in the post.
This edition includes unique news stories from BALI, including the arrival of three new team members at BALI Landscape House, an update on BALI's ROLO Supervisor and Manager courses, an overview of this year National AGM and BALI's inaugural press preview event.
2019's BALI National Landscape Award winners were also in the spotlight this issue, with all 91 Award winners announced across a special double-page spread. Award winners were announced in September and the Principal, Special and Grand Award winners will be announced at the Luncheon Ceremony on 6 December 2019 at JW Marriott Grosvenor House, Park Lane, London. To book your tickets visit baliawards.co.uk.
Darren also interviewed two of BALI's Registered Designer members, Lizzie Tulip MBALI and Catherine Thomas MBALI, focusing in on whether garden design practice changes whether you are based in the North or South of the UK.
BALI Registered member? Want to include your content in the next issue?
Copy deadline for BALI Registered members is Friday 15 November 2019. Send your content to BALI's Marketing and Communications Manager, Darren Taylor, at darren.taylor@bali.org.uk. Looking to enhance your company profile, place an advert by contacting BALI's Media Sales and Sponsorship Officer Diane McCulloch at diane.mcculloch@bali.org.uk.