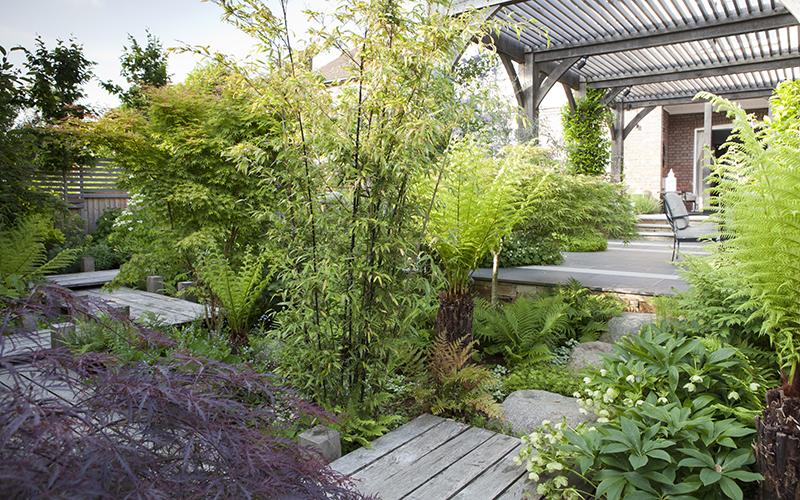 7 design tips for small gardens by James Scott
30 Jun 2020 | BALI Member News
Designing a small garden can present many challenges; they are often an awkward shape, shady or overlooked, and can be tricky to access. However, the design solutions to these issues can be truly inspiring and transformational.
We asked one of our Registered Designer member, James Scott MBALI MSGD, to share his thoughts;
'I always enjoy designing small spaces because of the potential to really 'wow' the client. Our construction teams find this very rewarding too. A well thought out garden design can positively transform the way a client enjoys a small space – it may become a quiet, intimate haven or a special place to entertain others'.
Here are James' top tips:
Create volume and places of sanctuary within the space. Use trees and structures (e.g. pergolas, gazebos, seating) to expand the perception of space and create defined areas. Consider placing the main seating area away from the house a little so that it can be surrounded by planting and feel more haven-like.
Avoid narrow borders around the edges. Pushing planting to the boundaries of the garden will accentuate the lack of space, instead keep the eye in the garden.
Create focal points. Sculptures, vases, water features, benches, and hammocks all add depth and interest to a small space.
Be bold with plant choices. Don't fill the available space with evergreens which can become oppressive if overused. Use specimen plants and underplant them with textural varieties to create long-lasting seasonal interest. Embrace the change in the seasons, leave seed heads for the birds, cut back herbaceous plants late and enjoy the emergent growth in the Spring. Add bulbs to increase early colour.
Encourage wildlife by planting a range of different flowering plants, building an insect hotel or introducing a bird feeder. A garden can become a piece of performing art when it attracts birds, bees and butterflies.
Use water to create a sense of tranquillity. No garden is too small for water. You don't need a pond; any watertight vessel (a basin, pot, urn or stone trough) can be put to good use.
Soften the boundary between house and garden with planting beds along the building's foundation, creating the sense of being in nature as soon as you step outside.
A final word from James;
'As a professional designer, I know that I need to be able to justify every design decision and in a small garden there is absolutely no hiding place for the design choices made. Every detail is on show and therefore has to be extremely well considered. Of course, creating a beautiful, bespoke handcrafted space – however small – enhances a home's overall appearance and may increase the property value'.