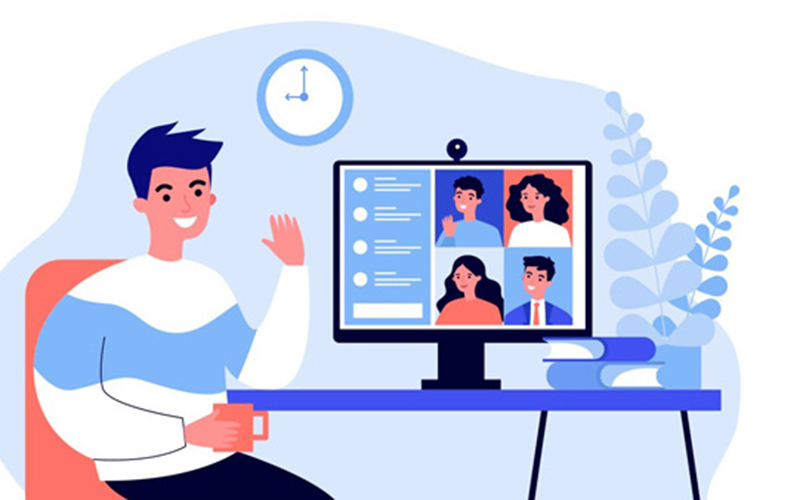 BALI presents Presentation Skills - Online course
Training Course
Venue:

Online

Date:

18 Feb 2021
Location:

Virtual Training, Zoom

Opening times:

10am-3pm with virtual breaks
---
Video calls– such as Zoom, Skype or Microsoft Teams - used to be something a few people did. Now, everyone has had to get to grips with running meetings, making presentations and giving sales pitches online. But that doesn't mean everyone is any good at it!
details
We're often reminded that virtual communication can be awful. If you're not careful, virtual meetings or presentations can be awkward and uncomfortable experiences for everyone involved. Prospects, clients and colleagues alike can feel disconnected and frustrated that they're not getting through to each other. We even have a phrase for this feeling, 'Zoom fatigue'.
How can we fix this?
In this new workshop, Marketing Psychologist Andrew Lloyd Gordon shares the latest research on how to overcome the challenges of virtual communication. You'll be given practical techniques on how to deal with the lack of face-to-face feedback, lack of empathy, emotion and control and connection.
This workshop will teach you a set of verbal and nonverbal tools that will transform your next online presentation or sales pitch. You'll learn how to create trust and rapport in a virtual setting with advice for specific online channels such as webinars, the conference call, and even text messaging and email.
While virtual communication will never be as good an experience as face-to-face communication, this workshop will equip you to be an effective online communicator.
The New Normal of Business Communication

More connected, more alone
The opportunities of virtual
The challenges of virtual
Poor rapport
Lack of Feedback
The Empathy Gap
The Control Problem
Emotional disconnect
Turning a virtual event into a virtual experience


Pre-event engagement tools and checklists
Content is King but Participation is Queen
Tapping the audience's knowledge
Breakout groups
Learning from market leaders
What other industries can teach us
Meetings


Decide on a Need and an Objective
Determine the Attendees and Draft an Agenda
Define the Remote Logistics
Send the Invite, Agenda, and Reminders
Presentations


Creating a presentation outline
Creating compelling content
Using visuals to support your message
Sharpening your presentation skills
Rehearsals
Presenting and multi-tasking
Follow-up with delegates
Pitches


The #1 thing virtual sellers needs to focus on
4 key areas to focus on that will differentiate you from the competition
How online selling has changed and how sellers must adapt
20 questions for building rapport online
How to run effective virtual sales meetings
Virtual selling best practices
The Tech


Selecting the right platforms
Screen sharing and capture
Animation and whiteboards
The how and why of video
Basics of audio
Polls and surveys
Action Plans – bringing the workshop back to the business
Key Benefits
By the end of this workshop, you'll understand:
How to develop your online meetings, presentation and sales frameworks
What effective virtual communication looks like
How to share your learnings with colleagues in your business
And you'll be able to:
Generate instant rapport with people virtually
Analyse your current online communication skills
Run effective meetings, give compelling presentations and sell online
Audience
This workshop is suitable for those in senior and middle-level leadership, managerial and supervisory positions. The workshop is ideal for those who have direct responsibility or involvement with management, education, sales, marketing, and customer care.
Delivery Method
This half-day training will be delivered as live webinar sessions spread over x4 one-hour sessions per day. These sessions will be delivered via the Zoom meeting software platform with extra resources made available on a separate learning management platform.
Your Online Tutor
All sessions will be run by an experienced Google Academy Tutor (Andrew Lloyd Gordon). Andrew Lloyd Gordon is a Business Psychologist, Consultant, Speaker and Google Academy Trainer. Andrew speaks regularly at conferences and events and is a guest lecturer at several universities and business schools including Cambridge, Warwick, Aston and Lancaster.
Course Material
All delegates receive the slides, workbooks and other supporting material.
Exclusive BALI Member Price 10% Saving (RRP £200)
£180 ex VAT per person
BOOK NOW - You can book a place on this course by following this link. This is a popular subject. Places are therefore limited and will be given on a first-come-first-served basis. To receive 10% off the RRP, please contact Marketing & Communications Manager Darren Taylor for the voucher code, details below.