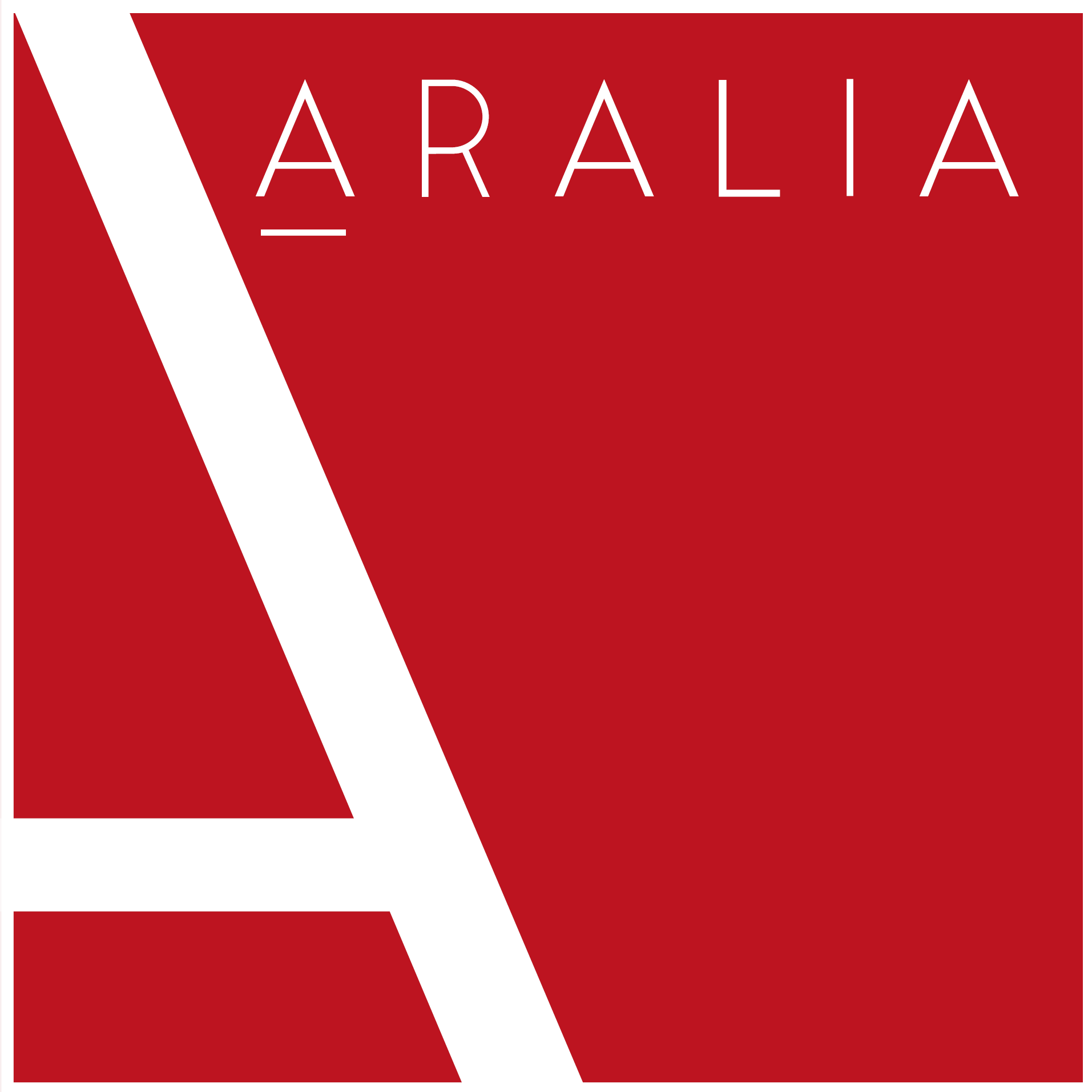 Accredited Designer
Hertfordshire, CM22 7EE info@aralia.org.uk 01279 721461 www.aralia.org.uk
Search again
About Fox, Patricia (MBALI, MSGD)
Aralia is an award-winning professional, versatile, down to earth landscape design practice, that also offers Landscape Design & Build to clients. Comfortably embracing projects of any scale, we create high quality, innovative and functional outdoor spaces. Through listening & collaborating, we work in partnership with every one of our private & commercial clients to educate, empower and exceed expectations. Aralia can provide a complete landscape design to construction service that includes a full land survey, comprehensive garden design plans, sympathetically detailed planting plans & schedules. We believe the whole process, from concept to completion, should be pleasurable and hassle-free. We will guide & advise you on the best way to evolve your garden design project, tailoring our knowledge and service to deliver the beautiful outdoor living space of your dreams. Services Offered: Landscape Architecture, Landscape Design, Garden Design, Master Plans, Planning Approvals, Construction Details, Planting Plans, Soft Landscaping Schemes, Project Monitoring of Construction, Garden Lighting Design, Garden Irrigation Design, Garden Sculpture Design & Sourcing.
Areas covered
East Anglia, International, Midlands, National (Eng/Wales/Scot/NI), North Thames, North West, Northern Ireland, Scotland, South Thames, South West, UK Islands, Wales, Yorkshire North East
Types of work undertaken
Irrigation (unlimited)
Fencing (unlimited)
Design Facility (unlimited)
Playground (unlimited)
Swimming Pools (unlimited)
Decking (unlimited)
Soft Landscaping (unlimited)
Commercial (unlimited)
Grounds Maintenance (unlimited)
Disabled/Historic Gardens (unlimited)
Interiorscapes (unlimited)
Hard Landscaping (unlimited)
Domestic (unlimited)
Ponds And Water Features (unlimited)
Roof Gardens/Green Roofs (unlimited)
Sports/Leisure Facilities (unlimited)
Projects
Award winning Walled Garden - Hertfordshire
The clients had spent years carefully refurbishing this delightful 16th Century property and wanted a garden to match their lifestyle and love of mixing the old and the new.
Immediately outside the floor to ceiling windows of the house, Aralia created a contemporary courtyard for year round appeal. Featuring sawn yorkstone paving, oak and gravel inserts and a timeless water feature, the courtyard is a central space for congregating with family and friends. A green egg nestles in a bespoke oak outdoor kitchen, whilst a quirky pergola made of Cor Ten steel shelters the dining space.
The driveway garden feels more relaxed, structured by old orchard apple trees around a small lawn, underplanted with ferns and perennials in burnt tones of umber and wine.
The third garden is the most natural of the spaces, featuring large swathes of naturalistic planting, a wildflower meadow and a natural swimming pool planted with aquatic plants, as well as an antique effect Larch Deck and Alitex Greenhouse.
The spaces are tied together with a strong axial structure of Cor Ten archways, and the use of natural stone throughout.
THIS GARDEN WAS PRESENTED WITH A BALI AWARD FOR DESIGN EXCELLENCE IN 2019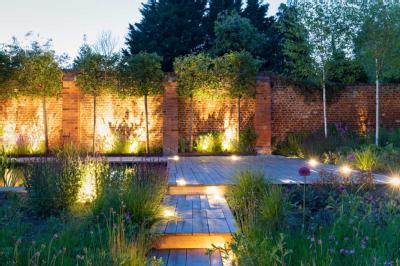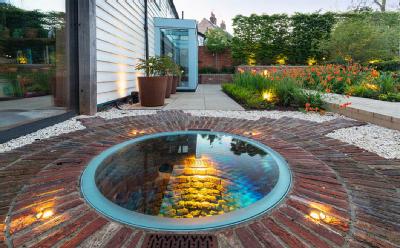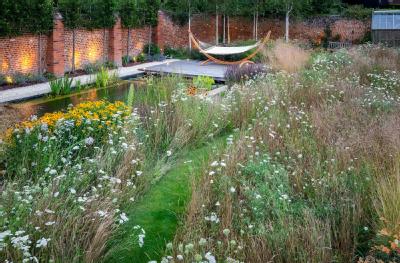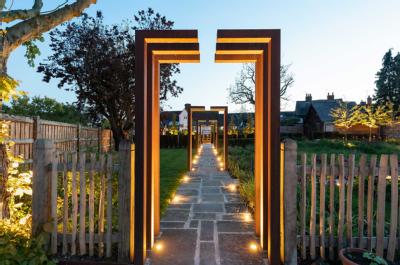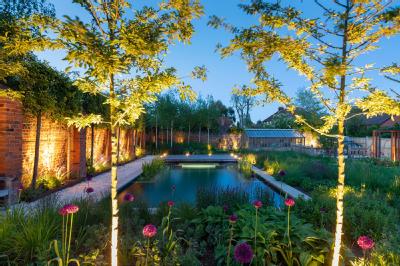 Penthouse Rooftop Gardens
Commissioned by St George to design a series of rooftop gardens for their Penthouse Collection and working alongside Tara Bernerd who has designed the interiors, and Broadway Malyon Architects, Patricia and her team have designed a series of rooftop gardens, which although individually unique, have an underlying design thread, which runs throughout the whole series, providing a unified scheme across the development. The client required the external spaces to be in keeping with the interior design which is that of a contemporary, high end luxury apartment. Careful consideration was given to formal and informal seating areas as well as outdoor cooking and dining areas. Minimal maintenance was expressed as a priority for the clients in regard to material choices. The designs for the soft landscaping schemes were challenging Planting is needed to stand up to the harsh environment of a rooftop location, whilst also still providing seasonality and all year interest. The planting scheme is linear, and highly contemporary in nature, evergreen planting provides all year structure and form, with warm rusts and burnt orange flower head's providing a splash of seasonal colour, complementary to the features throughout.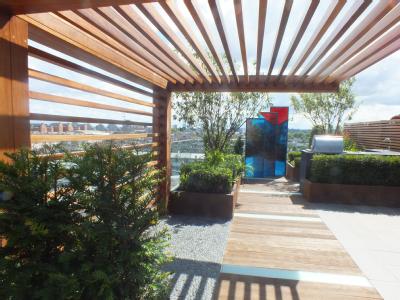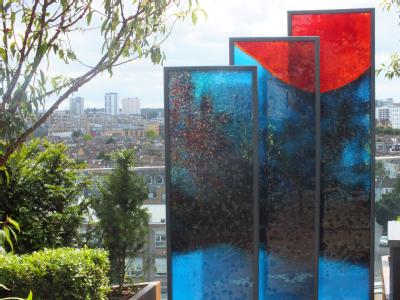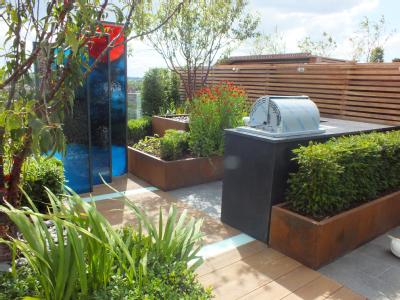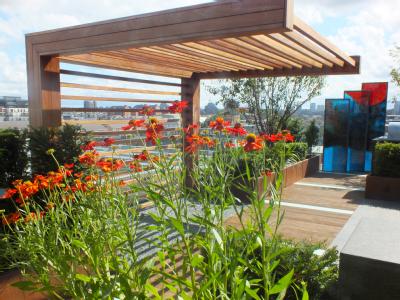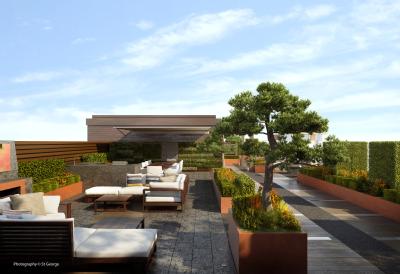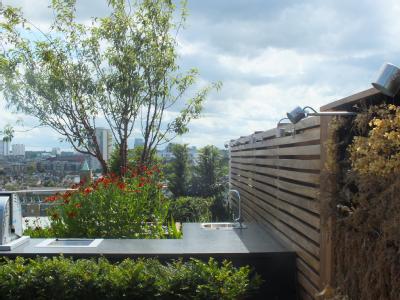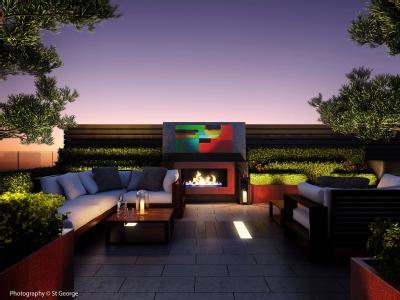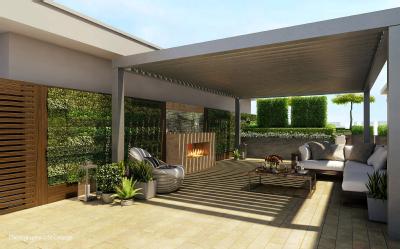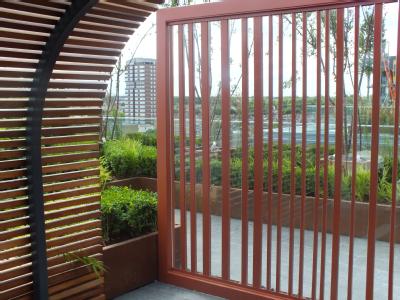 Award Winning Small Residential Garden
The client desired a Victorian style garden, one that would be in keeping with not only the house architecture and interior, but also with the local street landscape. The use of the garden all year round was very important to the client. It was established that the essence of the garden be THE PLANTS, the client felt very strongly that this is what his garden space should be about, and he wanted to feel surrounded by plants. The design embodies a feeling of calm, tranquillity and relaxation; providing the private space desired by the client. This property was in need of total renovation but our client clearly wanted the very best and had a fantastic eye for detail. The front garden is larger than the rear garden and catches the evening sun so Aralia designed a bespoke contemporary curved slate bench as a place to sit on, placed within a circular Paddlestone patio and finished with a circular planting bed surround with a dramatic metal sculpture. 3 seating areas were designed - a cast iron bench just outside the back door; a custom designed black galvanised Pergola with small wicker table and 2 chairs underneath; and an adorable "Love Seat" made from lightweight rattan, with integral cushions , and in-built music for a truly relaxing, sensual escape from town life. The front garden design incorporates a tactical green wall which disguises an ugly garage, and a beautiful curved pathway of reclaimed Victorian pavers weaves its way to the front door of the property, through the woodland inspired front garden.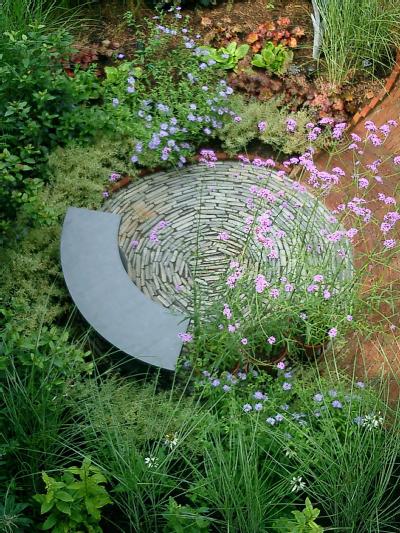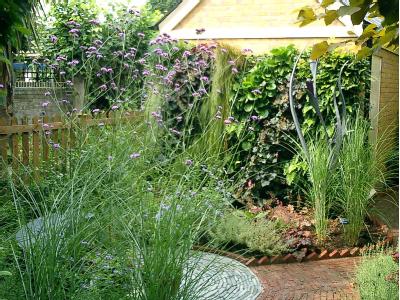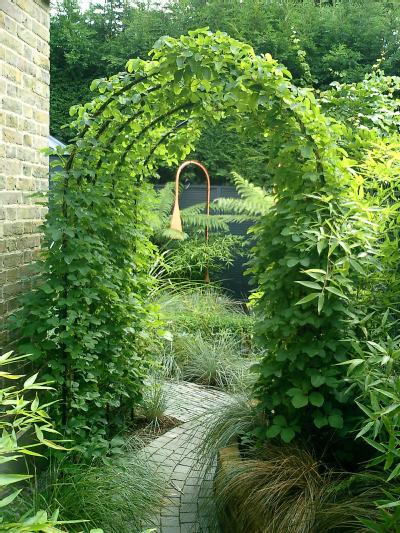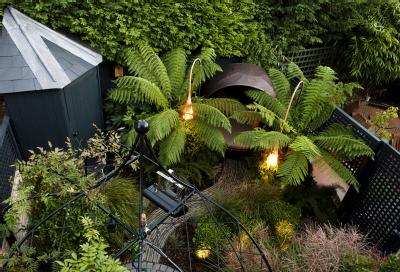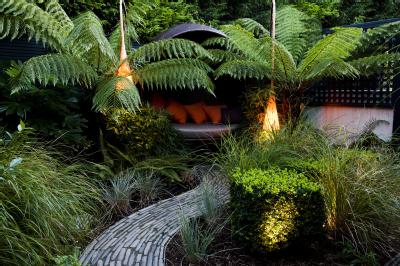 Large Residential Countryside Property
The clients had recently moved into this property and wanted to carry out major renovations to both the house and the garden. With the owners only wanting to remain in the house for 5 - 10 years, the emphasis was for Aralia's garden design to add value to the property, making it both functional and more aesthetically pleasing. The property was originally a 19th century cottage, that has been extended over the years and the majority of the fascia of the house is quite modern, so the clients were keen to go for a more contemporary style. The back of the house suffered from a lack of unity which Aralia addressed through thoughtful garden architecture and planting. We introduced key features including an oak frame gazebo with red peg tiled roof for a lounge area off the pool, complementary changing room building, further oak pergola, natural paddlestone walls and columns for accents and interest, complemented by elegant and sumptuous planting borders. How each space flowed together was very important to the client; favouring changes in level to create interest and a journey around the site. It was established that each area should have clear use and purpose; so that impact of the main areas be significant. The client's wish for a contemporary influence nearer to the house was granted, allowing softer, classical landscaping at a distance. A new entertaining area off the annexe was designed, which incorporated new raised vegetable beds for experimental planting for the young family. A new pathway led up to a paddlestone and Oak Tree seat, which allowed the opportunity for fantastic views out to the wider garden and landscape beyond, and somewhere fun for the adults or children to sit. We sourced all furniture and features including rattan corner sofas, coffee tables and fire pit.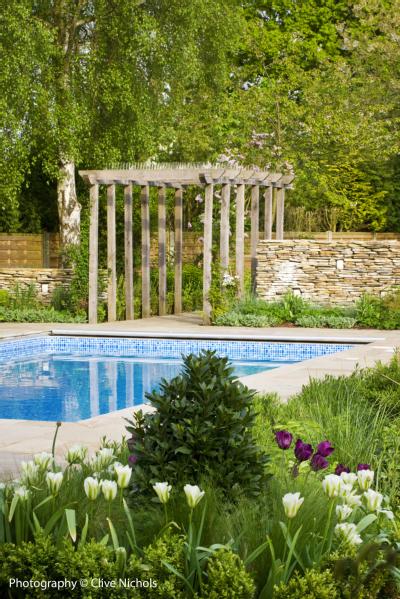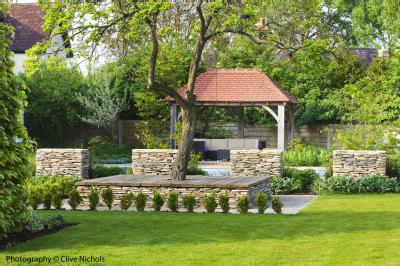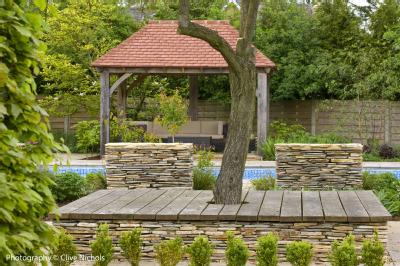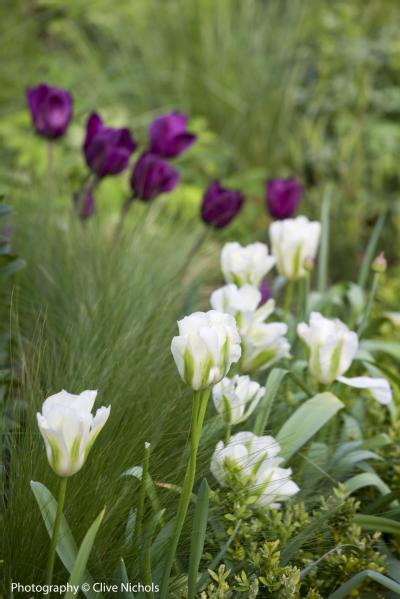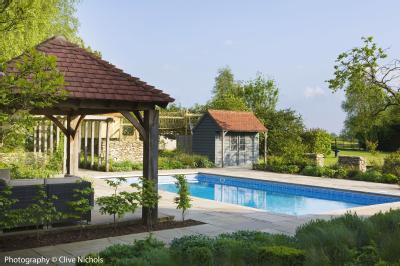 Knightsbridge Roof Terrace
This 19th century property was significantly overlooked by neighbouring properties. The terrace sits on a podium above the basement level and therefore weight limitations and build up requirements were very restricted. Elements including outdoor dining and luxury lounge area, extravagant fire pit, cascading water-feature, structural archways and raised planters were designed so they did not obstruct views or light going into the building, but still created the level of privacy required. Planting was designed to contrast with more contemporary and clean geometries used in the hard features, taking a more traditional form which reflected the classical feel of the interior.