About Distinct ltd
Attention to detail; twenty years of experience; delighted customers and constantly thinking outside the box to personalise our designs to create exactly what your heart desires. That is what makes Distinct Landscapes the quality company it is. We are based in Walton on Thames and are extremely well-known in Surrey and the South London areas. To ensure your project gets the specialism it requires, we have highly experienced landscapers, carpenters, bricklayers and electricians that work as part of a team to help create your dream - the spectacular or the clean and simple finish – whatever you wish for. What sets us apart from the rest is that we are a small company which really allows us to get to know you and understand your vision and work exactly with your ideas. You'll get to know the whole team and will work closely with the Director and his skilled staff. We can see your project through from design to fulfilment with full guarantees and insurance. If you would like a free consultation on garden design or landscaping please get in touch.
Areas covered
South Thames, North Thames, South West
Types of work undertaken
Pesticide/Weed Application (up to £10,000)
Land Draining/Sand Slitting (unlimited)
Commercial (unlimited)
Ponds And Water Features (unlimited)
Synthetic Surfaces (unlimited)
Invasive Weed Control (up to £100,000)
Swimming Pools (up to £100,000)
Irrigation (unlimited)
Soft Landscaping (unlimited)
Hard Landscaping (unlimited)
Design Facility (up to £100,000)
Fencing (unlimited)
Roof Gardens/Green Roofs (unlimited)
Decking (unlimited)
Disabled/Historic Gardens (unlimited)
Playground (unlimited)
Domestic (unlimited)
Ground Reinforcement Systems (unlimited)
Reclamation And Erosion (up to £50,000)
Golf Course Construction (up to £100,000)
Testimonials "Jorden at Reformalawn did an amazing job of renovating my small garden space. We spent a lot of time working together on the quote and Jorden discussed with me any tweets and changes and also was constantly going to suppliers to get additional things to carry the finishes. The works workmanship is second to none. They took pride in their work and finished off every little bit coming back several times to do final touches. The team seemed to enjoy their work and it was easy having them there. They were polite and hard working. The work was almost b g on quote and I thought pretty reasonable too."

- Mrs. West, Teddington, Surrey
read more
Projects
Cedars Surbiton
This project involved retaining walls and removing 400 tons of clay. This had 7 tiers to the garden to combat the gradients. Soil was improved throughout the site for planting, including yew tree boundary hedge.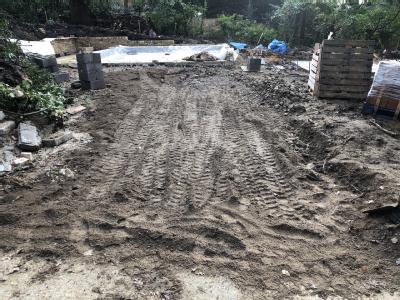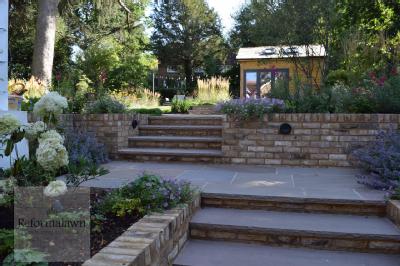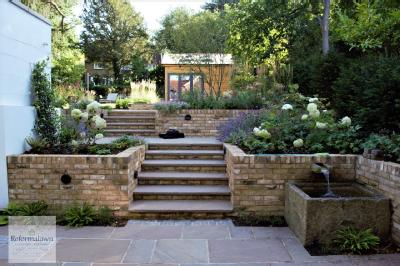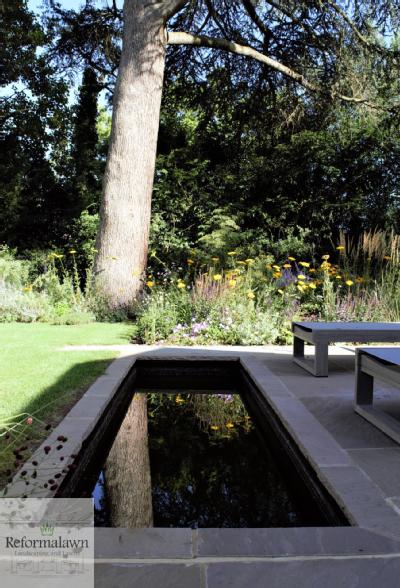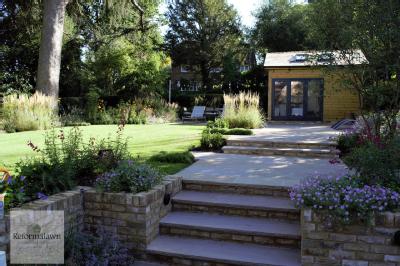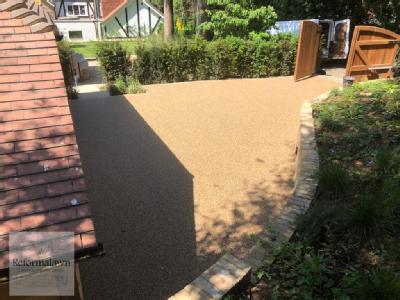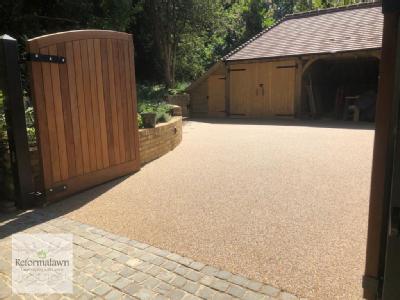 East Molesey Garden
This garden was to have three different areas to enjoy. The main patio by the house in Limestone, a sun terrace with large bench and a water feature area. The client bought a lovely puppy german shepherd. Not sure the lawn and plants will remain lovely!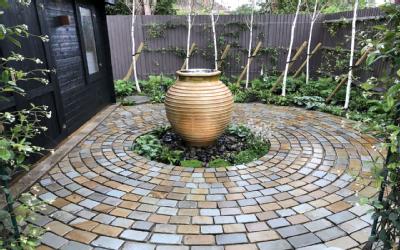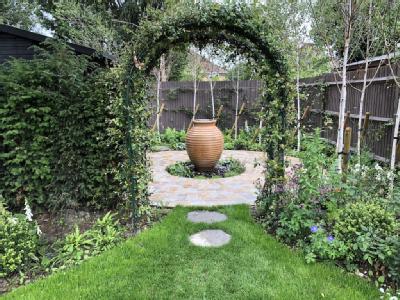 Ewell family garden
This project was for a plant loving family who wanted to enjoy the garden all year round. The designer chose plants to give colour and texture all year round. *A sturdy oak pergola was installed over a sun terrace with climbers ready to climb all over with the help off some garden wire. *A Gazebo was installed so the clients could enjoy all four seasons of the year. *A hardwood deck extended from the gazebo over sailing the pond to enjoy the peace and tranquility of trickling water.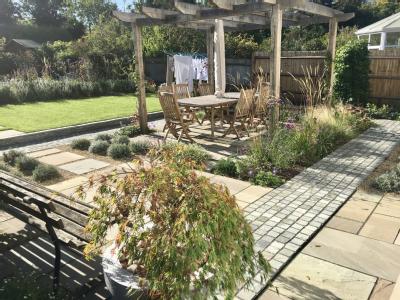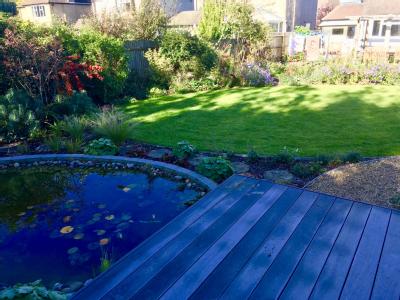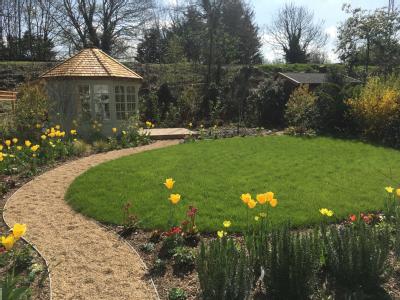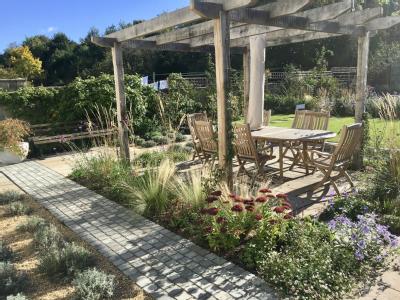 Esher Family garden
The main spec for this garden was to maximise the lawn space for the children. We added to seating areas for the parents to enjoy a glass of wine.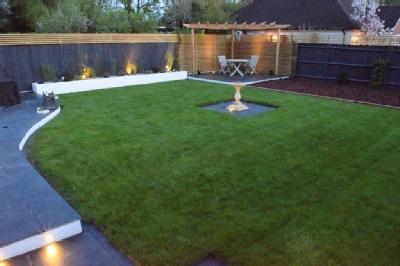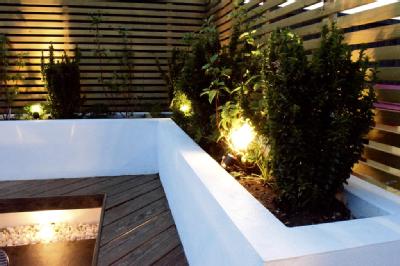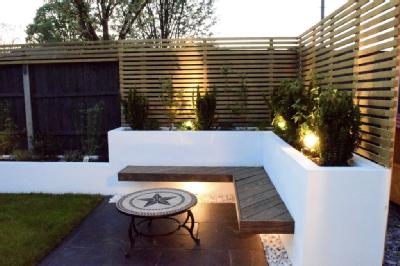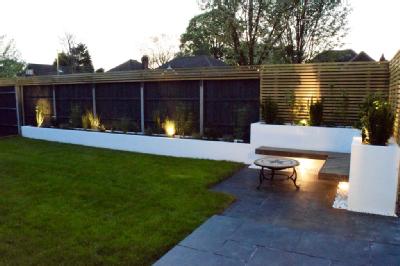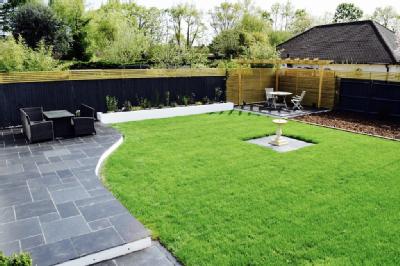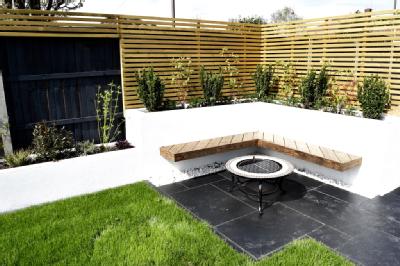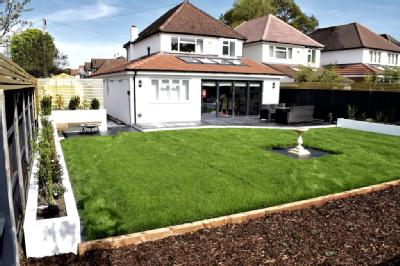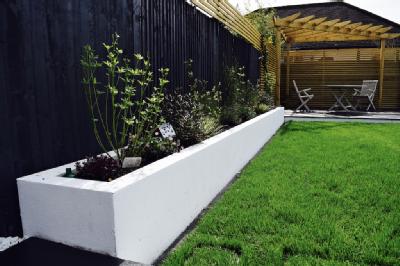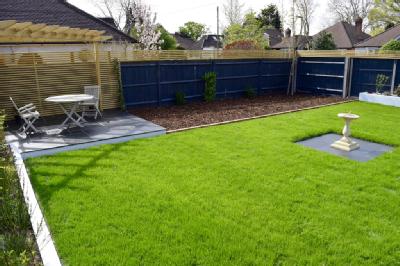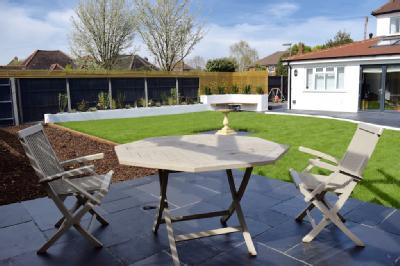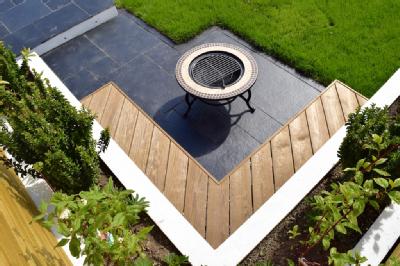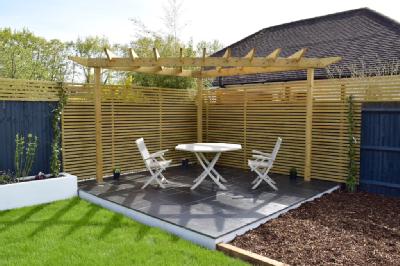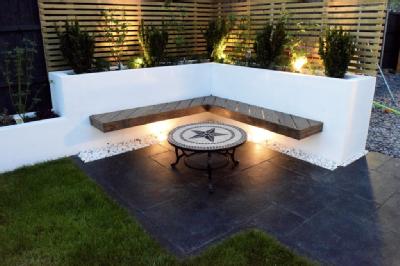 Small Teddington Garden
This design was to include a floating bench and a water feature whilst retaining some storage at the back of the garden. The water feature is a cascading wall and looks great.