About Wildflower Turf
Wildflower Turf is recognised as the leading organisation in the UK for those seeking knowledge or products to develop wild flower spaces. Founded in 2003, Wildflower Turf Ltd pioneered a soil-less growing system which has transformed the reliability of establishing wild flower meadows. The company has a range of Wildflower Turf products to create and enhance a low maintenance, biodiverse and beautiful meadow. In addition it runs an Accredited Partner Scheme for any Landscapers interested in learning more about successfully establishing wild flowers.
Areas covered
South Thames, North Thames, South West, East Anglia, Midlands, Wales, North West, Yorkshire North East, Scotland, National (Eng/Wales/Scot/NI), International, Northern Ireland, UK Islands
Types of work undertaken
Turf Grass and Artificial (unlimited)
Domestic (unlimited)
Roof Gardens/Green Roofs (unlimited)
Soft Landscaping Materials (unlimited)
Technical Advisory And Recruitment (unlimited)
Commercial (unlimited)
Seeds (up to £50,000)
Testimonials "We are very pleased with the turf we laid at Hampstead Heath. It established well and we now have a colourful mix of native species flowering throughout the spring and summer. "

- Dr Meg Game, London,
read more
Projects
Urban & Civic
Landscape Architect: Bradley Murphy Design Ltd (BMD) Landscape Contractor: Whiting Landscape Ltd Date: November 2014 - Ongoing Size: 7,500m to date with more planned The brief: Formally an airfield, the site of Alconbury Weald was acquired by property company Urban & Civic in 2009. Currently in development, and with a 20-year timescale, the site will boast a 3 million sq. foot Enterprise Zone, 5,000 new homes, 3 primary schools, community facilities and 700 acres of open spaces and sporting amenities when completed. The work: The principal Landscape Architects, Bradley Murphy Design (BMD), met with Wildflower Turf in Hampshire in the autumn of 2014, to request tailored advice as to the most appropriate products to specify as part of the initial development designs for a very discerning client, Urban & Civic. Urban & Civic have very high standards of delivery and wanted to ensure that everyone involved in their supply chain completed as much due diligence as possible to ensure that the results on site were exactly as they envisioned. This resulted in BMD requesting a series of small pilot sites of a wide range of Wildflower Turf products, a full year in advance of installation, to assess the results before choosing the final specification and products to be installed as part of the development. About 2,500m of Wildflower Turf and 5,000m of Earth has been shipped to date.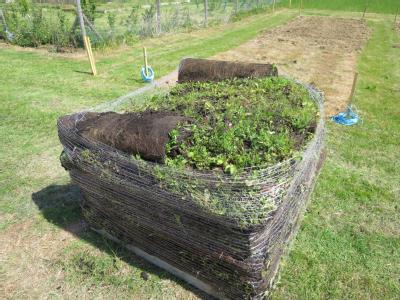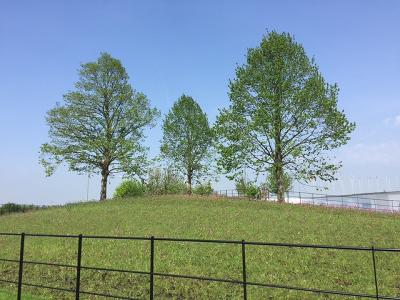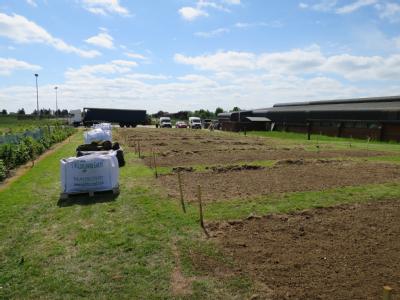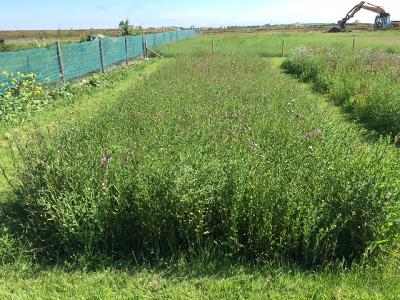 Darwin Escapes Keswick Reach Lodge Retreat
Client: Darwin Escapes Landscape Architect: RPS Planning & Development Contractors: Karl Watson Contracting Size: 24,600m Keswick Reach Lodge Retreat in the Lake District is the latest luxury holiday park by Darwin Escapes, and was opened in December 2016. Wildflower Turf Ltd was commissioned by Landscape Architects and Environmental Consultants, RPS Planning & Development, to advise on the most appropriate landscaping approach in terms of wildflower planting. After considering several bespoke turf options, RPS Planning & Development decided to use a Wildflower Turf off-the-shelf blend, Landscape 34 turf, which delivered all UK native species within a biodiverse mix that was also very aesthetically pleasing. Wildflower Turf provided 24,600m of turf over a period of six months, which equates to nearly three hectares of wildflowers or three football pitches! The carefully selected Wildflower Turf installed has provided a high quality, instant, naturalistic and biodiverse setting which allows the holiday park to blend beautifully into a sensitive and treasured landscape. Award winning Darwin Escapes Keswick Reach Lodge Retreat has been recognised for its beauty, design and top class facilities at the prestigious annual Hoseasons Awards 2017 and won the Best in Britain (large park category) as voted by customers and their experience of the site.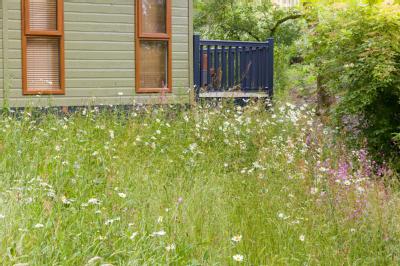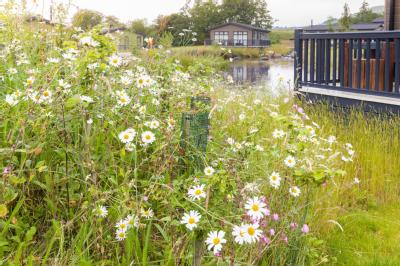 City of London / BAM Nuttall
Hampstead Heath is one of London's key landmarks, with the much-loved green space enhanced by 30 man-made ponds. Following studies which indicated that the earth dams represented a significant risk should large-scale flooding occur, a mitigation project to safeguard the local area and infrastructure was begun in April 2015. As part of the design, new spillways were grass-lined and laid with approximately 8,800m of bespoke-grown biodiverse Wildflower Turf, made up of a pre-specified mix of species grown specifically to complement the Heath's unique landscape. The project has safeguarded and enhanced the Heath significantly, and was awarded the Community Benefit Award at the Institution of Civil Engineer's London Civil Engineering Awards in May 2017.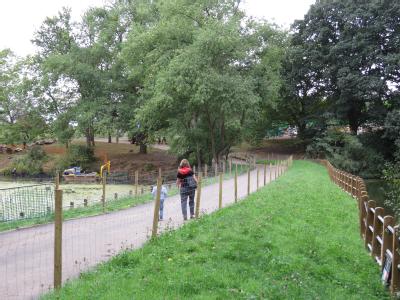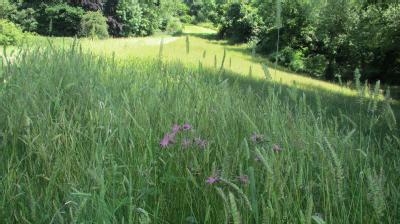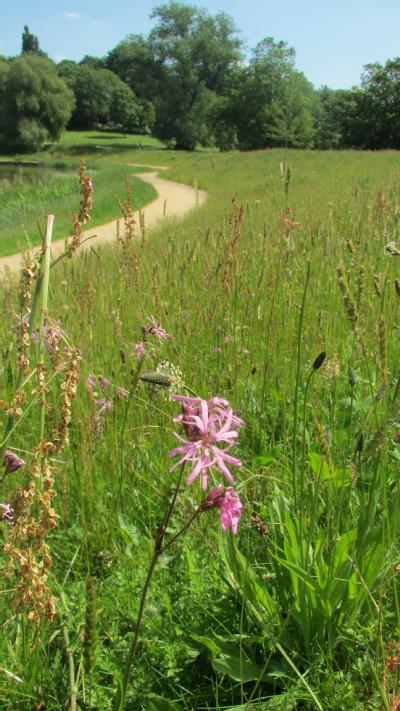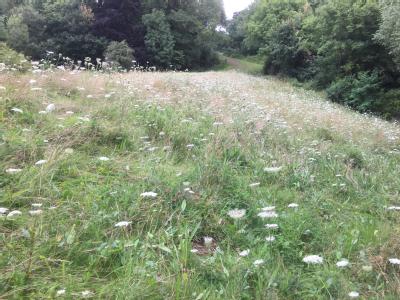 Royal Botanic Gardens, Kew
Situated in the Royal Botanic Gardens at Kew, The Hive is a 17-metre-high aluminium latticed structure that aims to raise awareness of the rapid decline of the world's bee population. Before entering The Hive structure, visitors are first met with a lush and healthy wildflower meadow grown and supplied by Wildflower Turf at the request of Tony Kirkham, Head of Arboretum and Horticultural Services at Kew. Both Landscape 34 Turf and Border Turf were utilised within the surrounding garden, with a mix of non-native and native perennial wildflowers adding to an array of colour and biodiversity.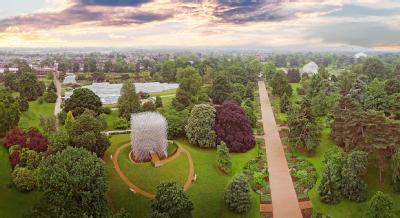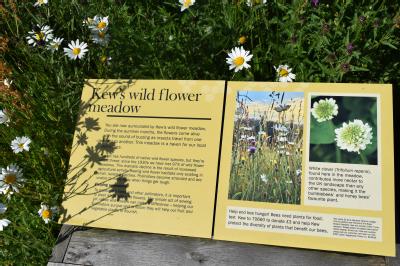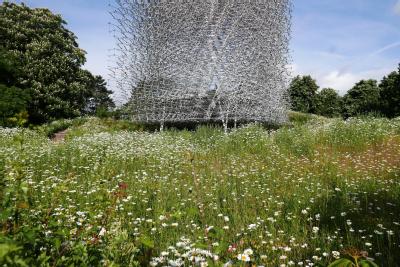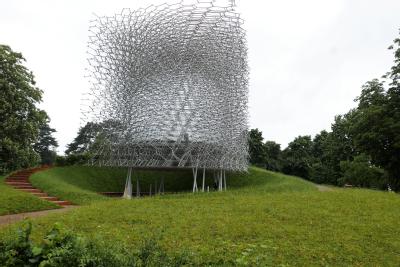 London Olympics 2012
Supplied approx. 12,000m bespoke grown turf that was installed by Filmscapes Ltd for Danny Boyle's memorable vision of the Opening Ceremony. We also supplied approx. 20,000m for areas around Stratford and the Athletes Village including a large green roof and since then we have had a longer term legacy installation by supplying approx. 50,000m of Wildflower Turf for the transformation works of the Queen Elizabeth Park.