Registered Contractor
Devon, EX13 7ES tony@tonybenger.com 01404 831844 www.tonybenger.com




Search again
About Tony Benger Landscaping Ltd
From small gardens to large parkland estates, from the contemporary to the traditional and classical, we consistently create gardens of outstanding quality and style. Choose to work with our in-house designers or your own designer to develop a garden plan that will show your garden at its best. Established for 30 years and operating across the South West, Tony Benger Landscaping specialise in high quality, cost effective landscaping including design, construction and maintenance for both commercial and domestic customers. Our dedicated and experienced workforce provide a bespoke, efficient and flexible service. We are Investors in People, SSIP registered and on the Marshall's register of approved contractors. We are proud to be a multiple BALI Award Winner. We take professional pride in your garden. On commercial work we carry out landscaping for numerous house builders offering a rapid response and timely work to fit in with completion schedules. We are carrying out the landscaping at Cranbrook new town near Exeter including infrastructure landscaping and the creation and maintenance of country parks. Additional services include play installation inspection and repair.
Areas covered
South West
Types of work undertaken
Interiorscapes (up to £50,000)
Hydroseeding (up to £100,000)
Sports/Leisure Facilities (unlimited)
Swimming Pools (up to £50,000)
Reclamation And Erosion (up to £50,000)
Decking (up to £5,000)
Irrigation (up to £10,000)
Golf Course Construction (up to £10,000)
Land Draining/Sand Slitting (up to £50,000)
Pesticide/Weed Application (up to £100,000)
Ground Reinforcement Systems (up to £10,000)
Ponds And Water Features (up to £100,000)
Fencing (up to £100,000)
Road/Roadside Construction (unlimited)
Domestic (unlimited)
Commercial (unlimited)
Arboriculture (up to £50,000)
Design Facility (up to £100,000)
Playground (up to £50,000)
Disabled/Historic Gardens (unlimited)
Forestry/Mature Tree (up to £100,000)
Grounds Maintenance (up to £100,000)
Roof Gardens/Green Roofs (up to £50,000)
Invasive Weed Control (up to £10,000)
Hard Landscaping (up to £100,000)
Soft Landscaping (unlimited)
Synthetic Surfaces (up to £10,000)
Projects
Private Garden, Beer
An important and imposing Arts and Crafts House set in a conservation area in substantial grounds overooking the sea and town. The garden was virtually unnavigable due the steeply sloping landscape. Penny Pritchard, one of Tony Benger Landscapings inhouse designers, took the brief to make an ornamental garden, that incorporated terraces, level lawns, a formal water feature, and focal points. The garden has commanding views of the coast and one challenge was to orientate the garden and it's viewing points to take advantage of its aspect. The steepness of the site posed the challenge of how to access and move around the site safely with heavy machinery, and how to effectively get materials in and out. Extensive cropped, Purbeck faced retaining walls bring natural warm honey colours into the garden. Flights of stone steps and paths lead from the top patio to a tranquil seating terrace of tumbled sandstone and south cerney gravel overlooking two large deep "infinity"pools with water being recycled through ornamental fountains. This whole area is flanked with mixed planting of Agapanthus, Pittosporum "Tom Thumb",Hebe pinguifolia sutherlandii,Melianthus major, rosa bonica miscanhtus "klein fontain" , erigeron and thymes all adding to the overall meditteranen theme. The garden extends onto 2 level lawn areas retained with oak sleeper walls and then a grass path leads through wildflower punctuated with fruit trees dropping down onto a lower level complete with Welsh slate pots.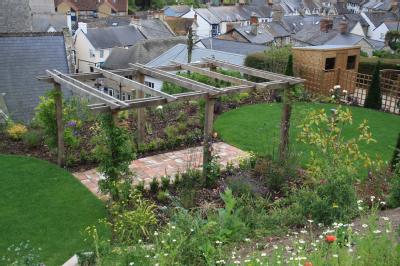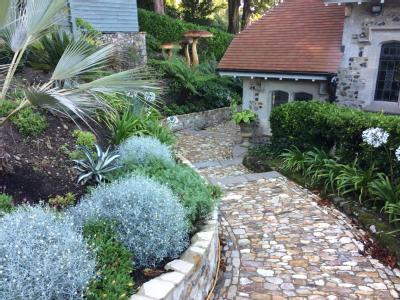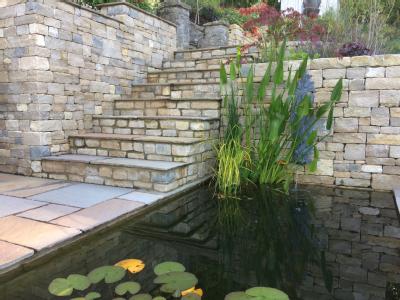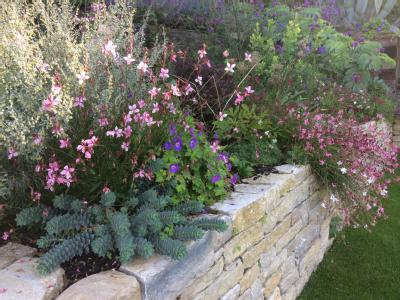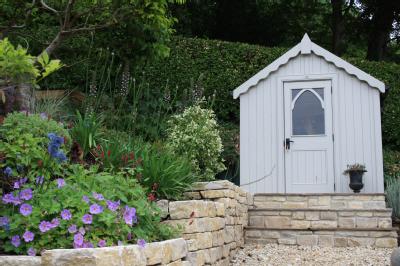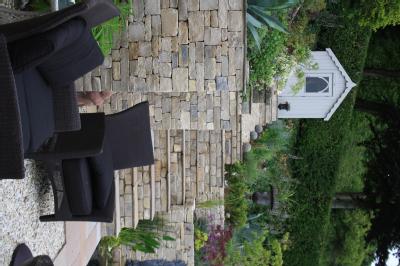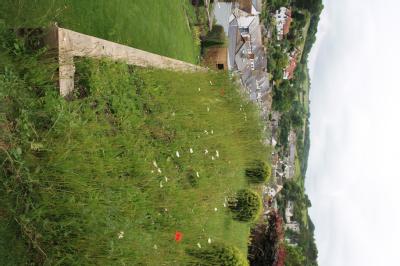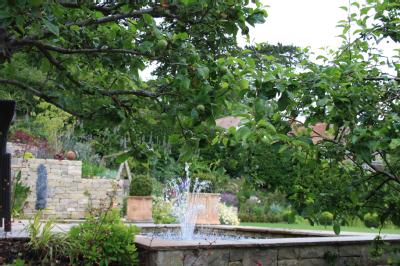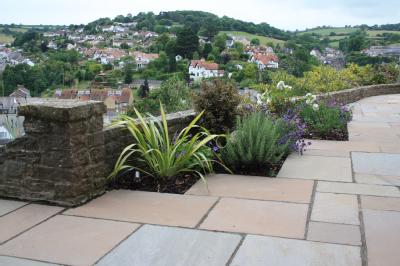 Private Garden, Lyme Regis
This garden in Lyme Regis was designed by Hugo Bugg, the youngest Gold Medal winner at RHS Chelsea. A great design that presented major landscaping challenges to overcome including the removal and levelling of a large slope, narrow access, drainage as there were many underground spring and weather conditions - the garden was built in winter and the large movement of bulk materials including, topsoil, subsoil and concrete. Using specialist vehicles and equipment that could cope with the terrain, the groundwork crew excelled under the direction of Jerry, one of our team leaders, in the safe movement of hundreds of tonnes of materials. The finished garden demonstrated how it is possible to transform an ordinary large sloping garden into a functional, cohesive space for seating, growing produce and attracting wildlife. The design was striking and demonstrated the difference that good garden design can make, not only to the landscape but the look and feel of the house by rooting it in its surroundings creating a perfect partnership between house and garden.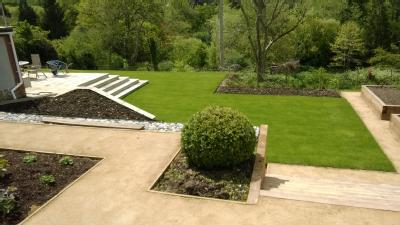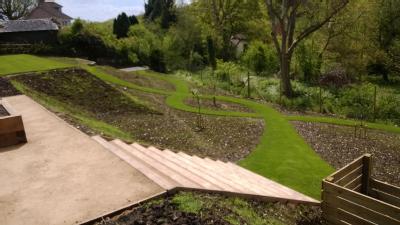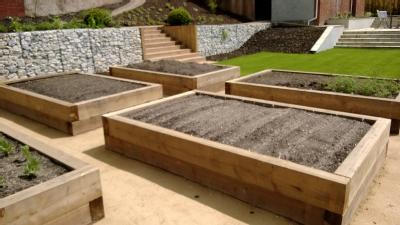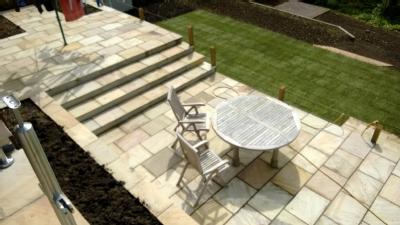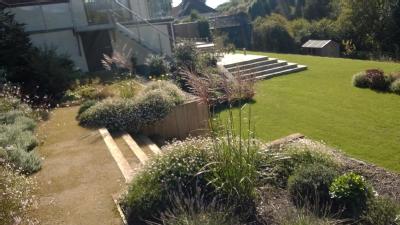 Shute Primary School Amphitheatre
The stage area forms the major part of the £25,000 grounds project which the School has been fundraising for over the past two years. Tesco Bags of Help Scheme donated almost half of the money raised with other significant donations coming from East Devon AONB and The Northbrook Trust. Other local businesses including Bradfords, Otter Nurseries and Wains Transport supported by donations in kind or financially as well as individuals. "It has been a tremendous community effort and we are absolutely delighted with the result," said Clare Rinaldi, Head Teacher at Shute. "This will make a significant difference to the School and locality and provide an amazing area for recreation and learning."