Registered Contractor
Hertfordshire, WD4 9LH info@thegardenco.co.uk 01442 832666 www.thegardenco.co.uk
Search again
About The Garden Company
The Garden Company Ltd creates places of enduring value through expert landscaping. Our award-winning work is rich in detail and drawn from years of expertise and experience. We support our clients every step of the way and create bespoke, handcrafted spaces that they love. We build to our own designs and also collaborate with other professional designers seeking to build projects in South-East England and North London. Based in Hertfordshire, we work extensively in Berkhamsted, Kings Langley, St Albans and Tring. We also have clients based in Highgate, Hampstead, Bedfordshire, Buckinghamshire - Amersham, Beaconsfield, the Chalfonts - and Middlesex.
Areas covered
North Thames, South West, East Anglia, Midlands
Types of work undertaken
Fencing (unlimited)
Swimming Pools (unlimited)
Playground (unlimited)
Hard Landscaping (unlimited)
Ponds And Water Features (unlimited)
Interiorscapes (unlimited)
Reclamation And Erosion (unlimited)
Arboriculture (unlimited)
Pesticide/Weed Application (unlimited)
Forestry/Mature Tree (unlimited)
Grounds Maintenance (unlimited)
Disabled/Historic Gardens (unlimited)
Roof Gardens/Green Roofs (unlimited)
Irrigation (unlimited)
Design Facility (unlimited)
Soft Landscaping (unlimited)
Commercial (unlimited)
Land Draining/Sand Slitting (unlimited)
Domestic (unlimited)
Decking (unlimited)
Projects
The Barn Garden (BALI Award winner 2015)
Our clients asked us to design their 1 acre garden set in a beautiful location on the top of the Chilterns, near Tring in Herts. The garden design needed to sit comfortably in a farmland setting yet have a contemporary feel . Being keen cooks our clients also required a small kitchen garden as well as a larger vegetable garden and orchard. A strong rectilinear geometry was used to connect the house to the garden and create spaces. Trees and clipped hedges were used to strengthen the geometry before the areas were over layered with a more naturalistic planting. A large area was given over to meadow using local native wildflower species to increase the biodiversity. Mown paths add an edge of control. An added touch was the use of bespoke sculpture to lead the eye and frame views.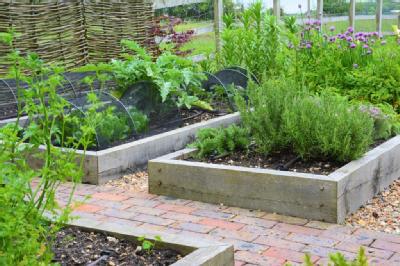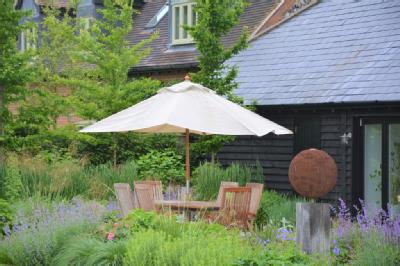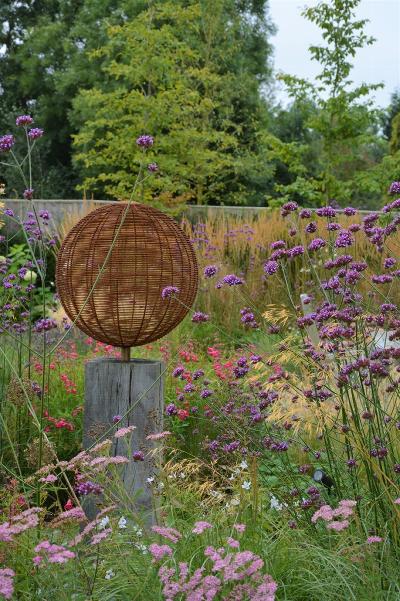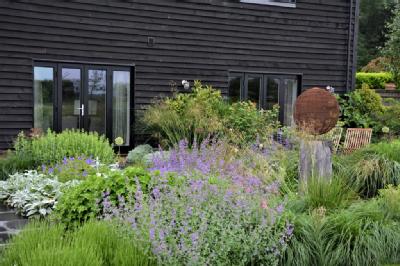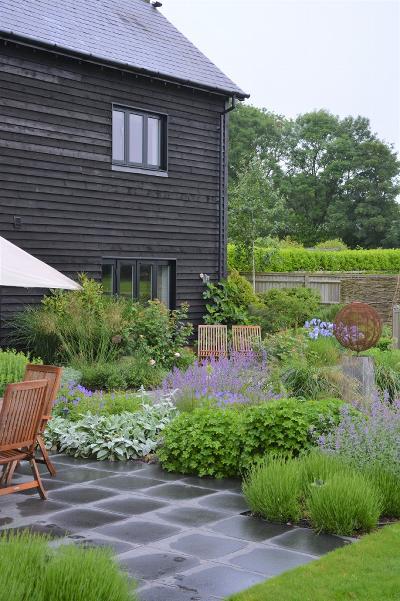 Large family garden (SGD finalist 2017)
Our clients had a mature garden with some existing hedging and lovely specimen shrubs and trees. The garden is situated in Kings Langley in Hertfordshire, near Watford and Hemel Hempstead. The clients enjoyed their existing garden but found it rather disjointed and lacking an entertainment area and further areas of interest with their own identity. Our clients wanted a large terrace, swimming pool, pool house and an area where they could enjoy Japanese style plants. Our solution was to design a garden with a large terrace, swimming pool and pool house outside of the main living room which was very sunny. This area was suitable for Mediterranean style plants and included some large old olive trees. From this area, steps lead to a long access the length of the 2-acre garden. Along the access you can wander over a granite bridge in the Japanese garden and continue along an avenue of Malus Evereste planted in longer grass with wildflowers. Eventually you arrive at a bespoke green oak garden building from which you can access the woodland garden or simply enjoy the Hertfordshire views!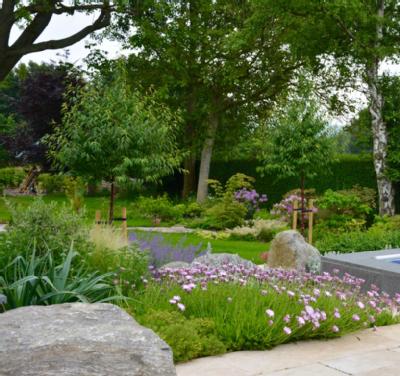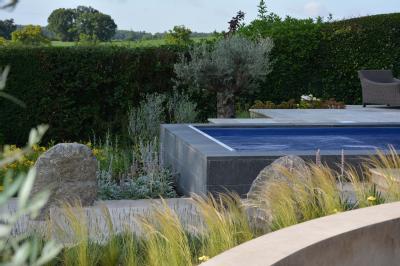 Small rear garden (SGD finalist 2017)
Our client wanted us to create a contemporary oasis in the heart of the Garden Suburb. Sensitivity was needed as the plans required approval by the Hampstead Garden Suburb Trust. A high proportion of planting to hardscaping was used to create a truly "gardenesque" feel whilst still allowing several different dining, seating and entertaining areas softened with greenery.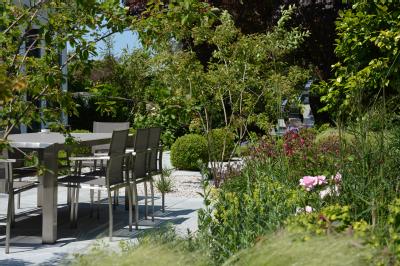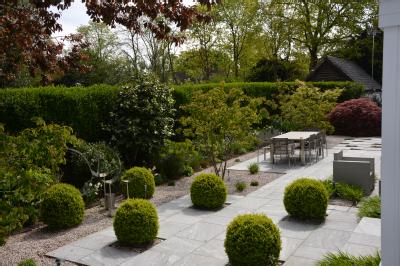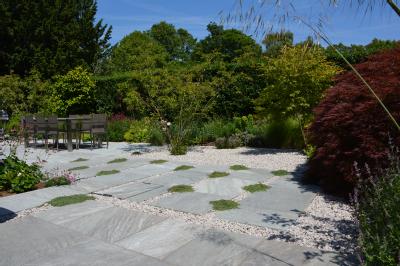 Roche Products Courtyard
The Garden Company was contracted to design and build a courtyard garden at Roche Products new Head Office. This contract required close liaison with the user group to establish its requirements. The courtyard was central to the new building that would be home to 1500 employees. Due to the logistics of the scheme all hard landscaping and tree planting had to be completed 8 months before the building was complete. The scheme featured semi-mature box cut hornbeam trees, granite paving, oak screens & bespoke glass water features.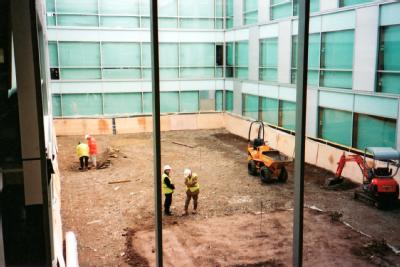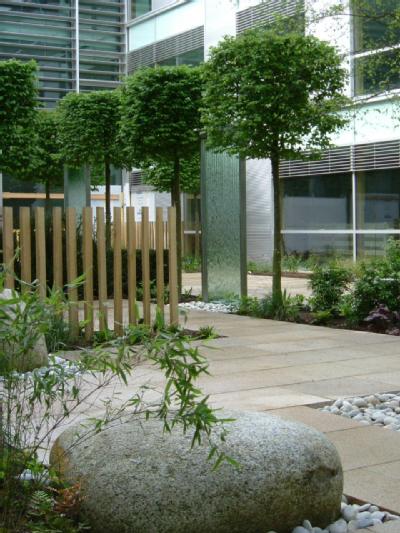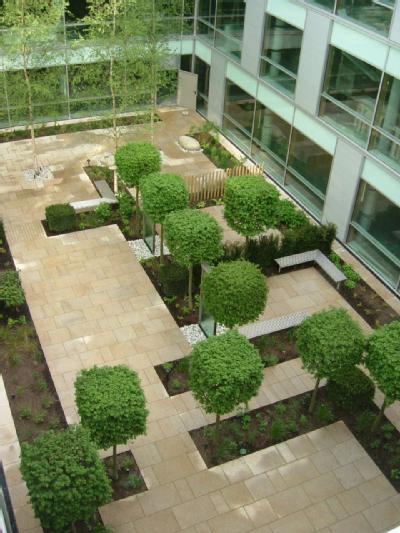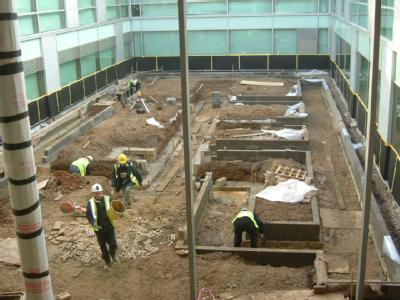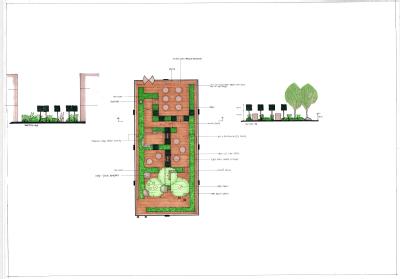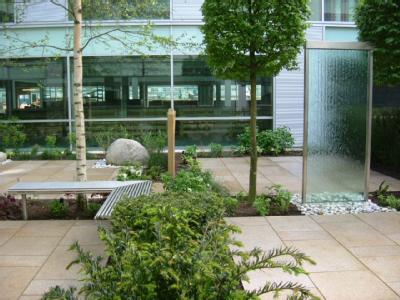 Hanbury Manor Hotel
We had the honour of being asked to carry out this commercial landscaping and garden design project in Hertfordshire. Our brief was to re-design a large 2 acre walled garden and a smaller inner courtyard area at Hanbury Manor, a well known hotel and country club. In the walled garden the existing structure was retained where possible and large swathes of herbaceous plants were used to give long seasons of colour and interest, particularly over the wedding season. The inner courtyard was designed as a traditional parterre garden with box hedging and clipped topiary in keeping with the historic building.