About Landscaping Solutions Ltd
Landscaping Solutions are a well established landscape contractor working to the highest possible standards through South West London and Surrey. We have a particular emphasis on helping garden designers achieve their vision with minimum fuss. We undertake all aspects of hard and soft landscaping and also provide an in-house design service. RHS silver-gilt medal winners 2008 BALI principle award winners 2011, 2016 RHS silver medal winners 2012 RHS gold medal winners 2012 BALI award winners 2013 BALI award winners 2015 BALI award winners 2016 BALI award winners 2018
Areas covered
South Thames, North Thames
Types of work undertaken
Design Facility (unlimited)
Interiorscapes (unlimited)
Hard Landscaping (unlimited)
Playground (unlimited)
Decking (unlimited)
Arboriculture (unlimited)
Roof Gardens/Green Roofs (unlimited)
Disabled/Historic Gardens (unlimited)
Domestic (unlimited)
Swimming Pools (unlimited)
Synthetic Surfaces (unlimited)
Soft Landscaping (unlimited)
Grounds Maintenance (unlimited)
Ground Reinforcement Systems (unlimited)
Irrigation (unlimited)
Fencing (unlimited)
Commercial (unlimited)
Ponds And Water Features (unlimited)
Projects
Japanese influenced garden
The garden to be a strong feature from house windows A space in which to entertain family and for relaxation with potentially Japanese influence, perhaps with Acers and boulders. The brief: Large lawn , dining area for up to 8 people with further seating. Four seasons of planting interest with lots of colour and scent with medium maintenance. A new pond to be integrated into the design, together with a summerhouse. Good access to the rear of the garden and compost area, where the rain water storage, irrigation units and lighting were housed Solution: Large amounts of masonry,paving and 25 tonnes of soil were cleared all transported through the interior of the house which had recently been renovated. A bespoke "tea house" selected, with our assistance, by the client and mounted upon a raised base consisting of reclaimed yellow stock bricks of local provenance. A great place to view the garden and relax in all weathers and with adequate storage space. A pool and dry stream bed were created. This involved the excavation of a large amount of soil, some of which was recycled and used in forming the new lawn. Average pool depth of 900mm with 200-300mm shelf for marginal planting. Overflow pipe included to ship excess water to a shingle filled soak-away in an adjacent border. Pool sides constructed and edged with large gneiss boulders. Jacksons trellis work mounted to the face of south and rear boundary walls.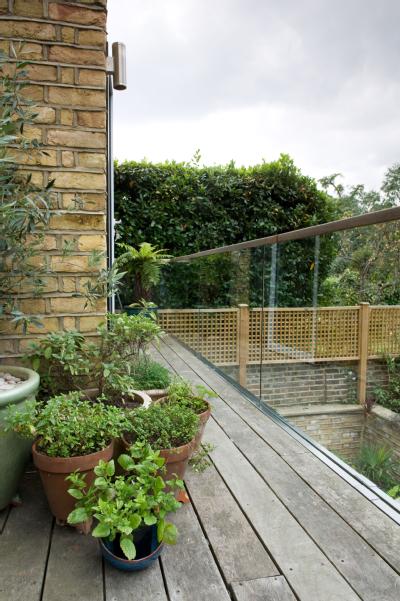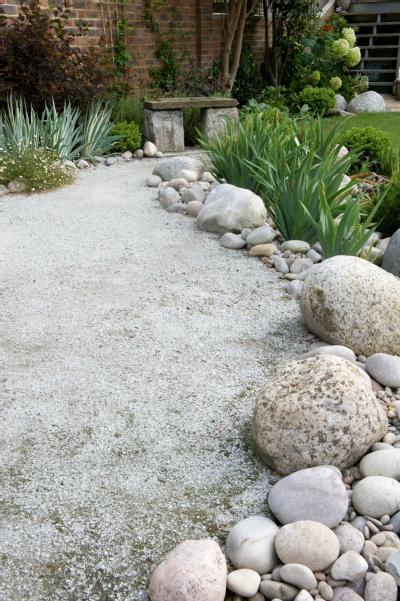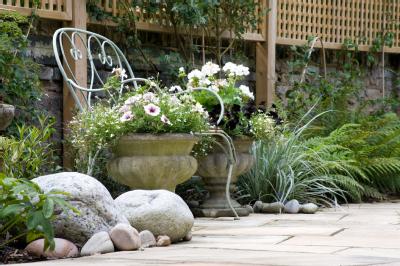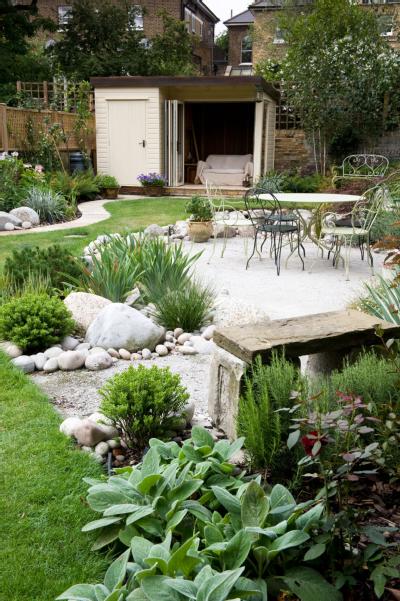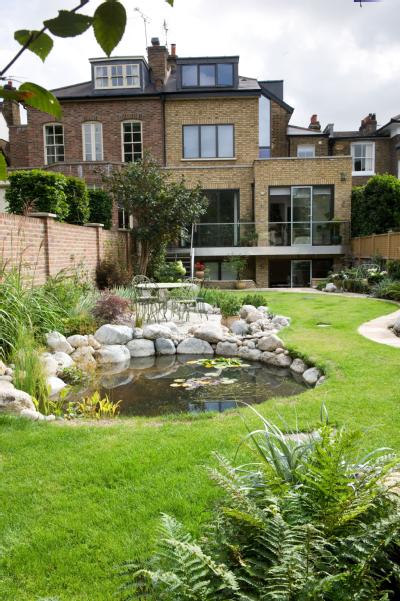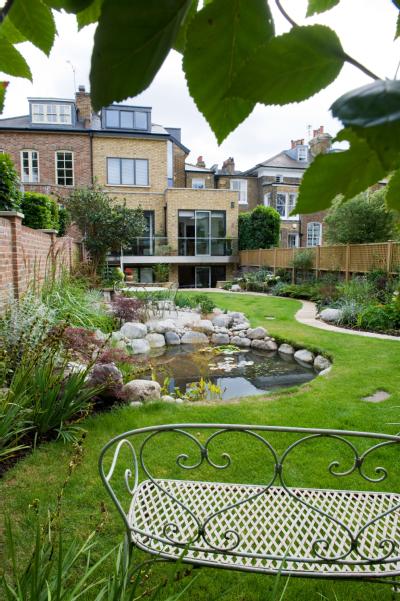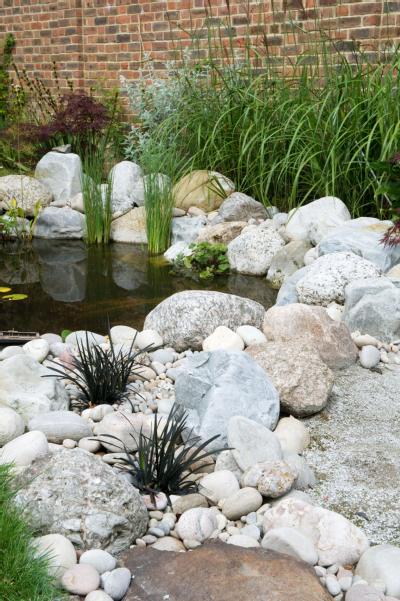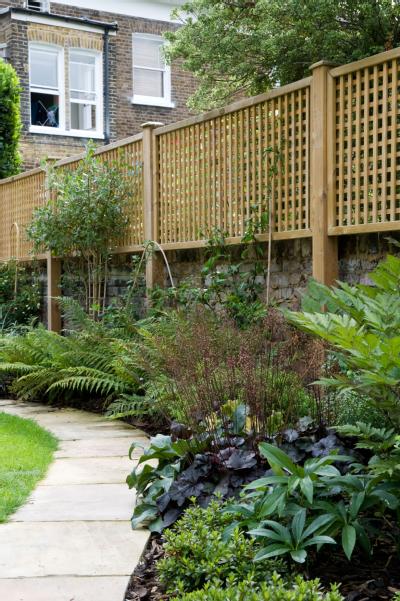 Family garden in London
A family garden where children could play and for sports to be practiced, plus areas for cooking and entertaining. Our clients acknowledged that they were not avid gardeners but requested year round planting with varied and interesting textures, shapes and height. Strong geometric lines with a unifying architectural theme to compliment the house plus utility storage, lighting, and most importantly areas for relaxation and rest. Our client enjoys exercising, so a gym was essential! - A large "utility" lawn for mowing and playing sports together as a family - A putting green and trampoline for exercise and fun. Sunken trampoline is less obtrusive - Overhead beams supporting a hanging seat for relaxation and outdoor sleeping - A gym/studio to the rear. This was installed by outside contractors - Recycled paving around the gym to a hidden utility/storage area - A large and attractive sawn grey York stone terrace area close to the house - Terrace area encompasses a built-in barbecue and a fireplace feature for entertaining - Modern finishing including a textured tile cladding and stainless steel beading on fireplace - Contrasting but complimentary render and paint finish to BBQ including a granite worktop - Varied materials were used to link different areas of the garden with a calming colour scheme throughout - Pale decorative aggregate retained in a stabilising system to make movement easier - Light coloured non-slip composite decking providing clean movem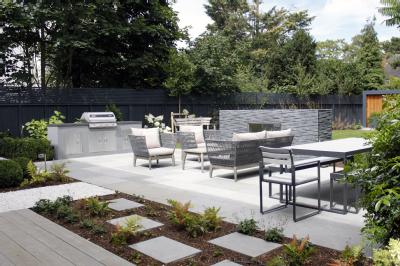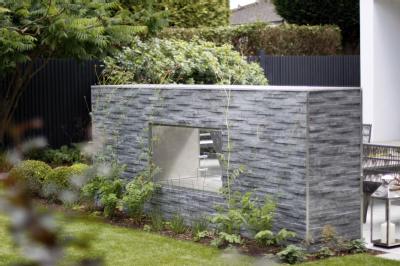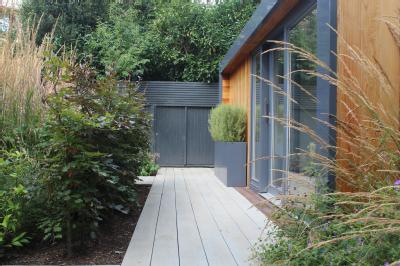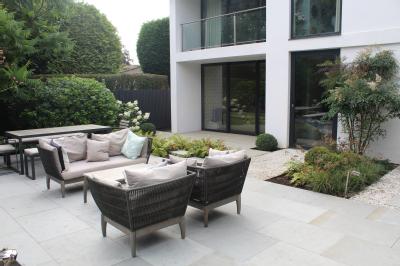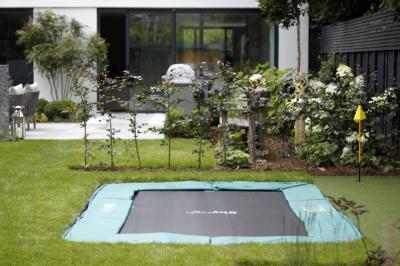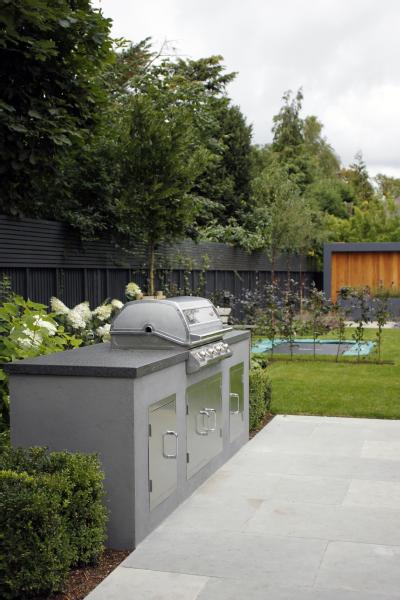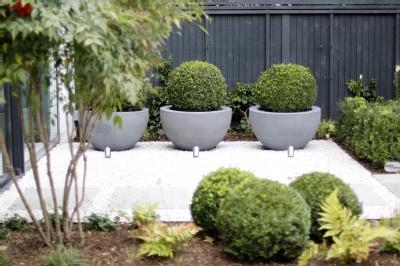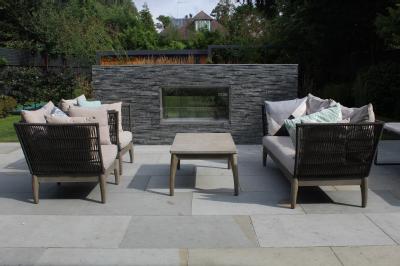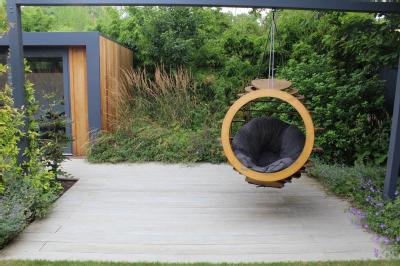 Large sloping garden in Surrey
A large garden on a sunny chalk slope in Surrey. The client had inherited the garden wanted to renovate the existing dreary space that had been neglected over a number of years. They had the following wish-list; unite the garden under a single theme creation of a sense of mystery and intrigue relaxing area to catch the sun tackle the challenge of the slope and thin soils over chalk lush planting a formal area to include a focal point and an area for quiet contemplation lighting to bring increased height and depth to the space Rose garden to be incorporated somewhere in the space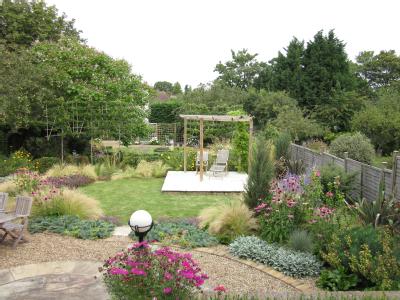 Contemporary town garden under £20K
A young professional couple wanted to develop a small space to the rear of their South London townhouse for entertaining and relaxing. They wanted the space to be clean, crisp and contemporary to reflect the recent refurbishment of the interior of the property. There was to be plenty of room given over for relaxing with friends. A built-in barbecue was to be included for al fresco dining. The planting was to be lively and colourful but not overwhelming. The garden should include a water feature or focal point. As the courtyard was very hot and sunny in summer there should be some means of escaping the sun whilst remaining in the outdoor space.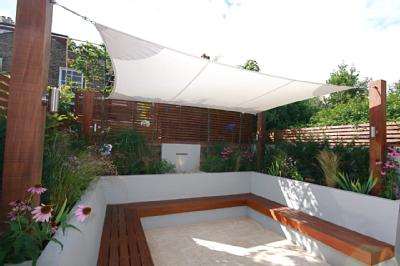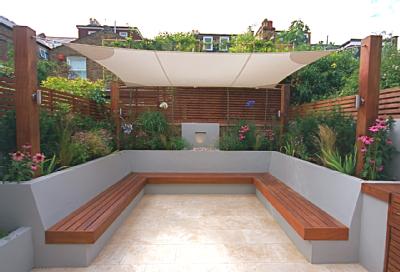 Hampton Court Show 2012
The garden was conceived as a journey from disaster to recovery and reflected the designer's experiences as a survivor of the 2005 Edgware Road station bombing. The garden was to be entered through a narrow opening in an imposing wall, leading into a dark tunnel. As one passed through the tunnel the structure was to open up, allowing light to penetrate the gloom. The path was to lead ultimately to an area of airy and uplifting planting. The garden should include a mixture of new and reclaimed materials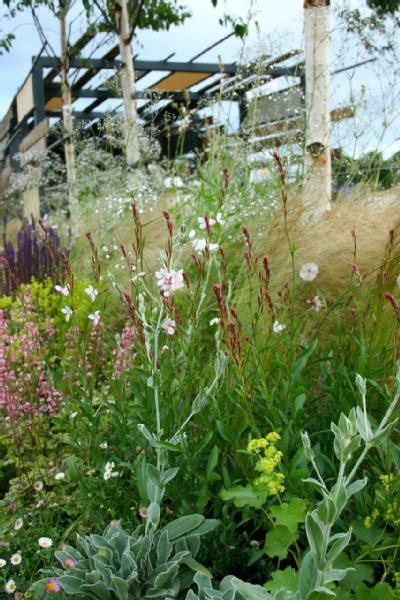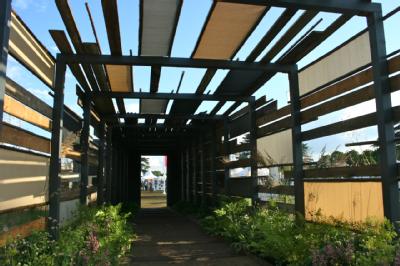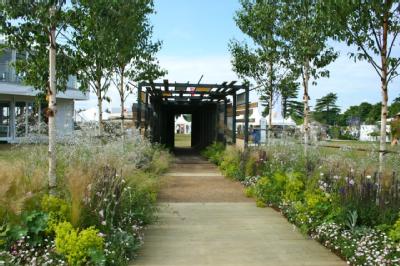 Domestic townhouse garden £20k - £50K
The client's inspiration came from their time living in Brazil, Miami, Phoenix and Hong Kong. The expectation for the garden was that it would not only have a wow factor, during the day, at night, and through the seasons, but would also be comfortable and practical for children. The client wanted the garden to feel like a natural continuation of the kitchen/dining room that they could walk in and out from the kitchen without shoes, on a flat, clean and smooth surface. The design should be symmetrical and sharp. There was to be an eye-catching focus feature and plenty of room for evening entertaining, even during the cooler months. Lighting was required to create a sense of drama and to bring the garden into full use in the evenings. The client also put forward to need to retain privacy.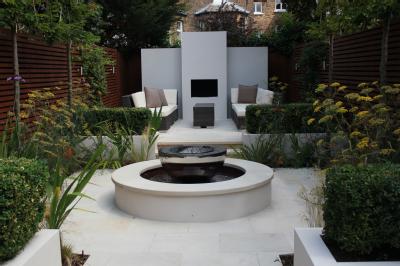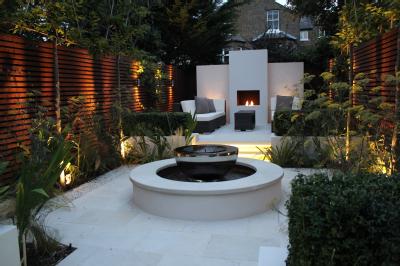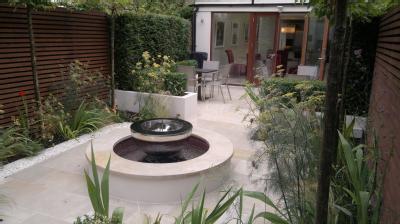 Domestic Garden £30k - £60K
The clients love to be outdoors and wanted to use the space for family gatherings, relaxing, dining and barbecuing. They expressed a desire to incorporate a children's play area, garden storage, and also a consideration of their passion for plants. The Brief: Removal of the existing over-grown border, lawn and a dilapidated deck close to the house. To create a neat, formal garden with entertaining and dining spaces close to the house. To include storage space for tools and children's playthings toward the rear of the garden. To provide a play area screened away from the main garden. Storage and playthings were not to have a negative aesthetic impact on the garden. Create increased privacy from the surrounding gardens. To bring interest by creating different levels. A water feature of some description. The general theme of the planting was to be subdued and calming. The client expressed an interest in plants and the ongoing general maintenance of the planting. To provide a barbeque area. To deal with rain water running off the rear extension. The space in general was to provide a haven from the pressures of city life and an opportunity for the whole family to get together at weekends.