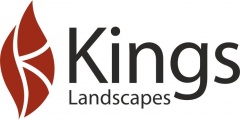 Registered Contractor
Bedfordshire, MK17 8HZ info@kingsls.com 01908 585220 www.kingslandscapes.com




Search again
About Kings Landscapes (Milton Keynes) Ltd
Kings Landscapes has been built upon years of experience; our professional team have backgrounds within some of the largest commercial landscaping companies in the country. We pride ourselves on the reliable, quality service we provide for our clients. Our commitment to customer satisfaction has led to our sustained growth since we formed in 2004 including establishing our new Arboricultural division in 2018. Kings Landscapes customers range from large commercial organisations to private customers (value 200,000 - 7m). We employ our own full time Health, Safety, Quality and Environmental Manager and pride ourselves on maintaining a comprehensive Health & Safety policy. All operations are covered by site specific Method Statements and Risk Assessments. Employees regularly attend Tool Box Talks and site inductions are mandatory. The Kings team are all CSCS card holders. Kings Landscapes are fully insured with up to £10m Public and Product Liability insurance and £10 million for Employers liability cover.
Areas covered
East Anglia, Midlands, North Thames, North West, South Thames, South West, Yorkshire North East
Types of work undertaken
Soft Landscaping (unlimited)
Hard Landscaping (unlimited)
Synthetic Surfaces (unlimited)
Invasive Weed Control (unlimited)
Irrigation (unlimited)
Interiorscapes (unlimited)
Ground Reinforcement Systems (up to £50,000)
Playground (unlimited)
Arboriculture (unlimited)
Pesticide/Weed Application (unlimited)
Hydroseeding (unlimited)
Road/Roadside Construction (unlimited)
Commercial (unlimited)
Reclamation And Erosion (up to £100,000)
Grounds Maintenance (unlimited)
Domestic (unlimited)
Decking (unlimited)
Sports/Leisure Facilities (unlimited)
Fencing (unlimited)
Forestry/Mature Tree (unlimited)
Ponds And Water Features (unlimited)
Disabled/Historic Gardens (unlimited)
Land Draining/Sand Slitting (unlimited)
Roof Gardens/Green Roofs (unlimited)
Swimming Pools (unlimited)
Projects
Royal Wharf
Kings worked closely with the main contractor Ballymore to ensure strict deadlines, Kings worked in multiple areas with residents already inhabiting surrounding units limiting the typical construction practice usually undertaken in similar projects to the highest standards. Scope of works included hard landscaping, street works, and soft landscaping including all types of paving including resin bond/bound, granite street kerbs and setts, installation of street furniture including play equipment, benches and bespoke timber stores to townhouses. Street works include lighting and CCTV with all soft landscaping courtyards and streets.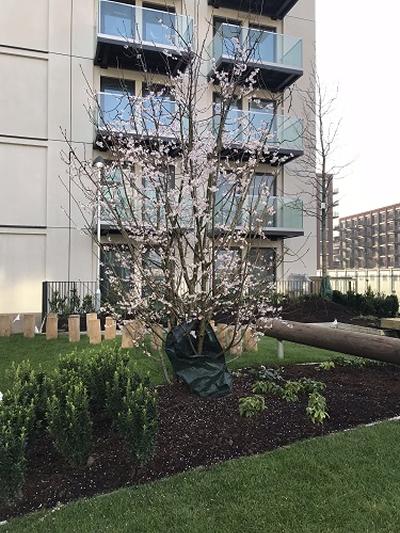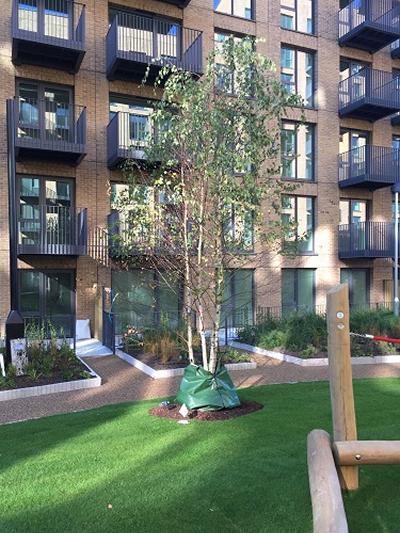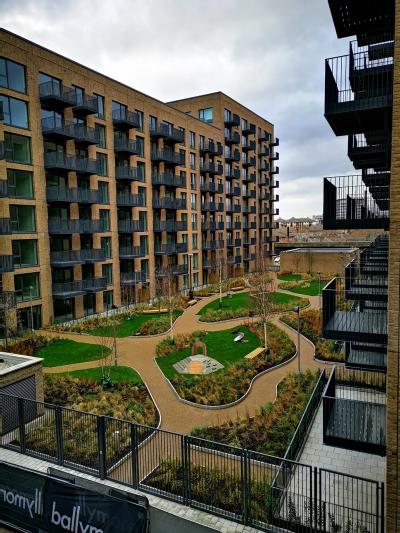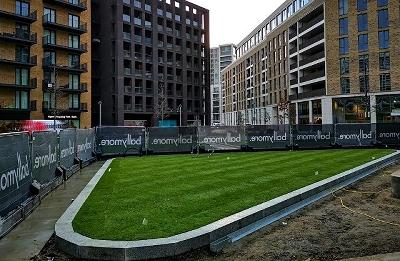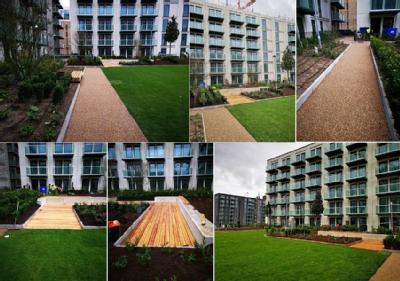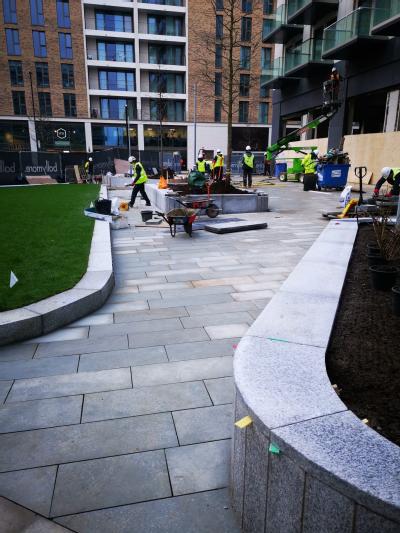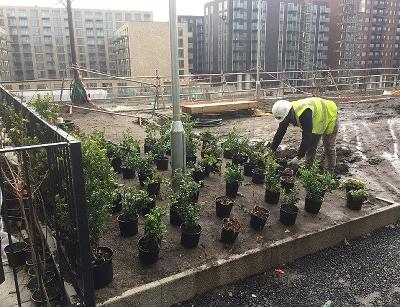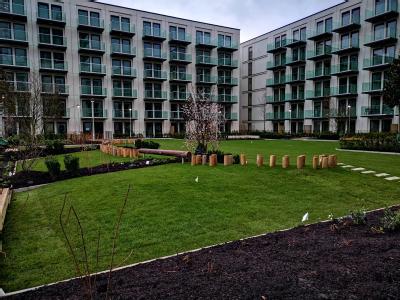 RAF Hendon – Arborist Works
RAF Hendon instructed removal of large section of trees to facilitate the expansion of the visitor's car park.
Kings removed large London plains to allow room for safe sectional dismantle of a large popular tree. This tree was rigged down due to its close proximity to the railway and electricity substation.
Waste wood chip and timber was transported to Kings Depot for later collection for bio mass distribution.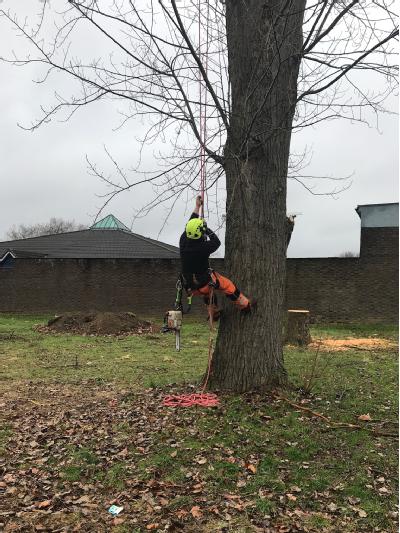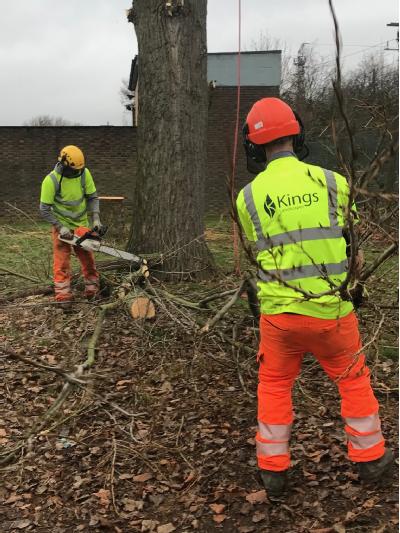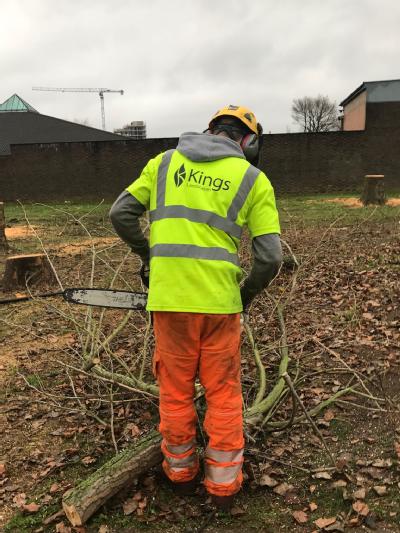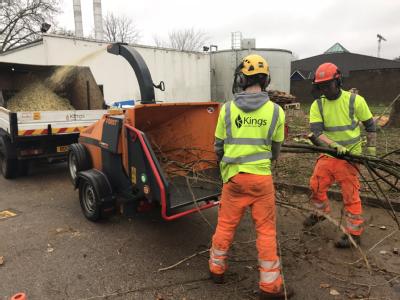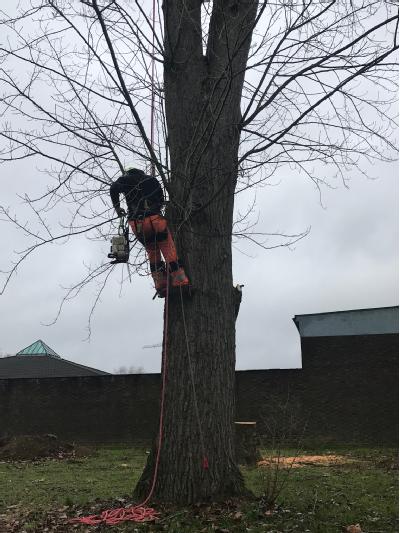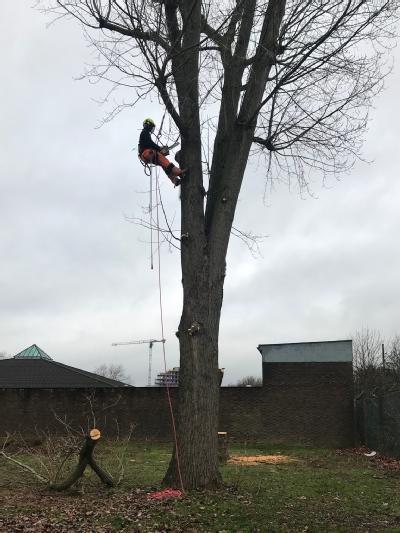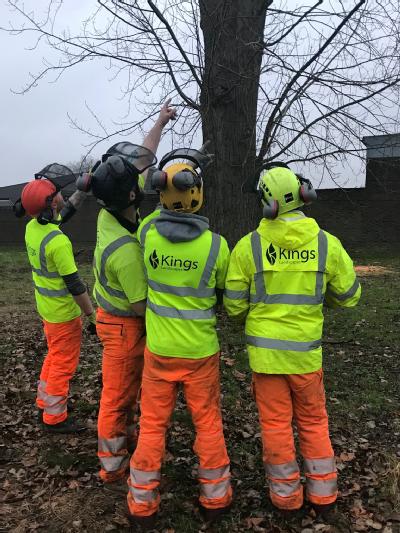 33 King William Street Roof Garden
Kings Landscapes were the appointed contractor for hard and soft landscaping working directly for the client. The build included the construction of a rooftop garden and a ninth floor living wall with a terrace looking out over the river Thames. Kings project managed the works from point of order ensuring design, procurement and construction flowed in line with the principal contractor's practical completion date. Works included BMU housing installation, Importation of soil, Steel edging, Paving, Planting, Decking, living wall on Staircases from floor 9 to the roof garden.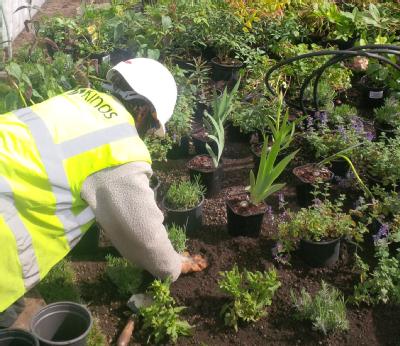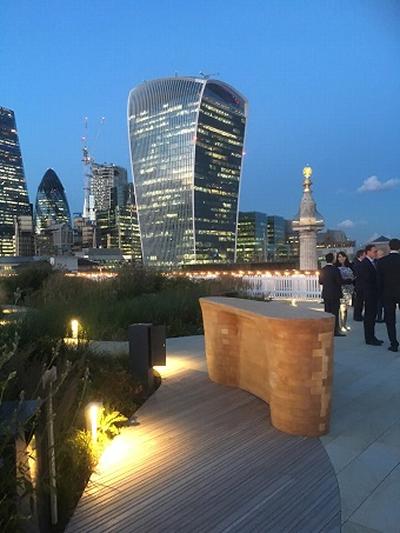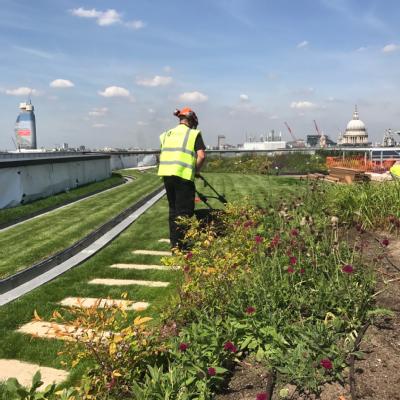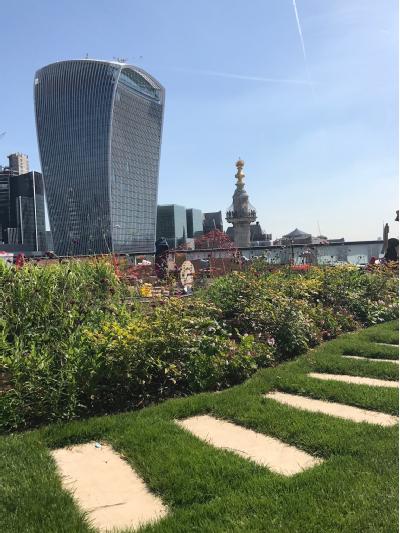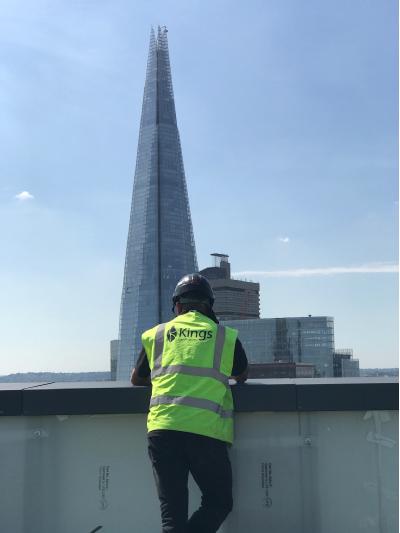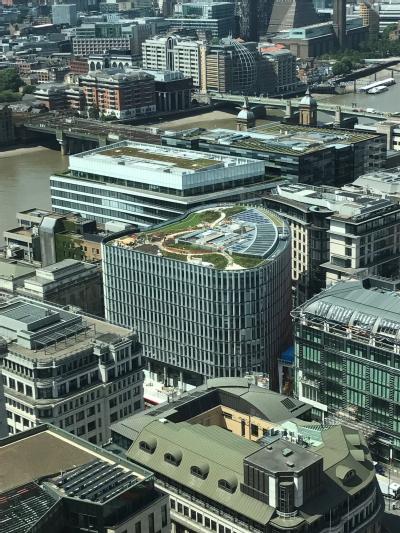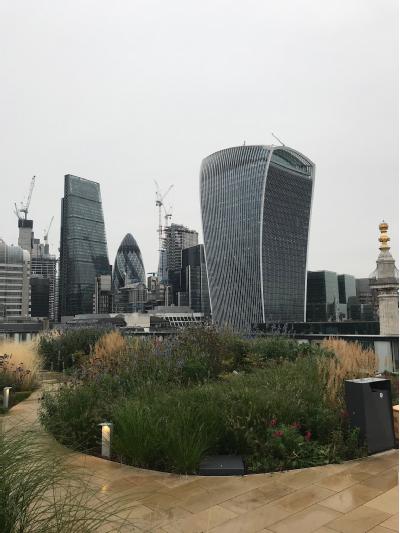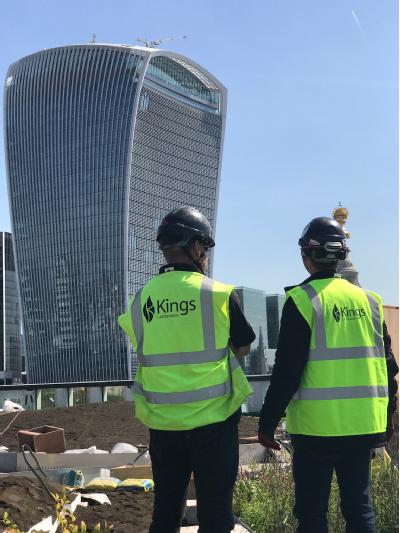 Royal Wharf Marketing Suite
The Royal Wharf public park is a stunning housing development built upon a 40-acre site on one of the most iconic waterfronts of the River Thames in East London.
Plants were contract grown and trees were imported from a German supplier ensuring all the soft-landscaping added impact to the project.
A tidal terrace was construction to make a marginal habitat along the River Thames next to the marketing suite, with marginal planting being added over 4 years to keep it in flower and maintain coverage for different habitats.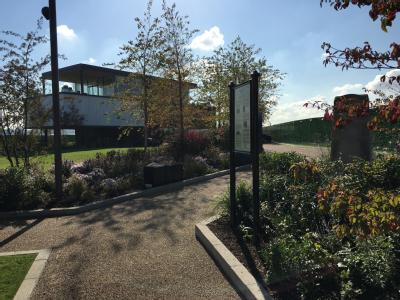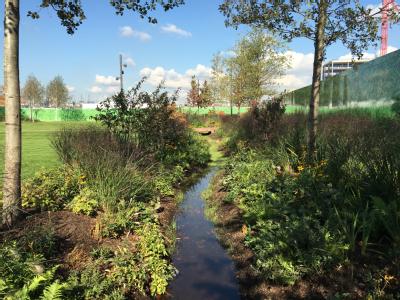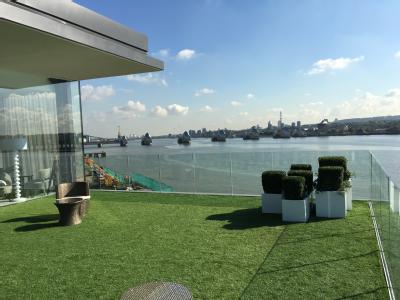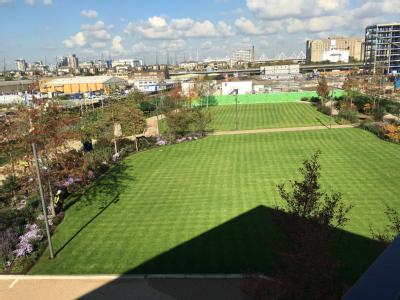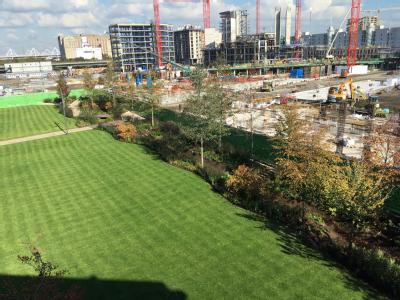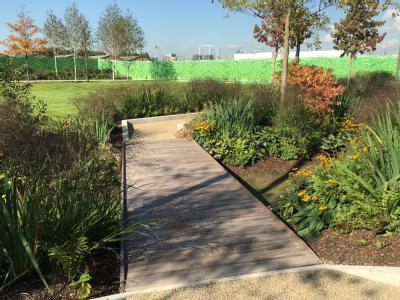 Keybridge House
Kings were brought in by Mt. Anvil at design stage to price for the marketing suite.
Planters were rolled steel fabricated off site on sections and built on site, then top soiled and planted with the trees and planting scheme.
Paving with the lighting strip started in the building and carried out onto the main landscaping area in the front using Dutch on edge brick with every line of bricks being laid by string line.
Benches were installed by hand on pallet trucks and A-frame to set in situ.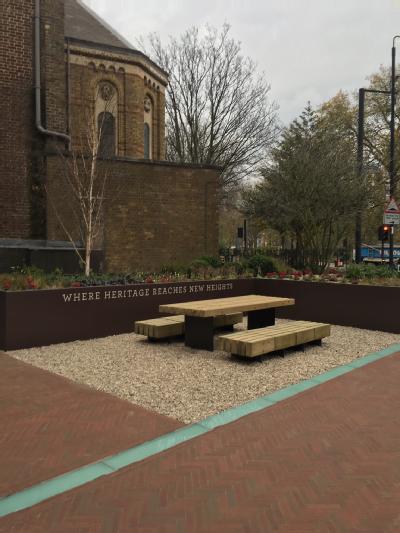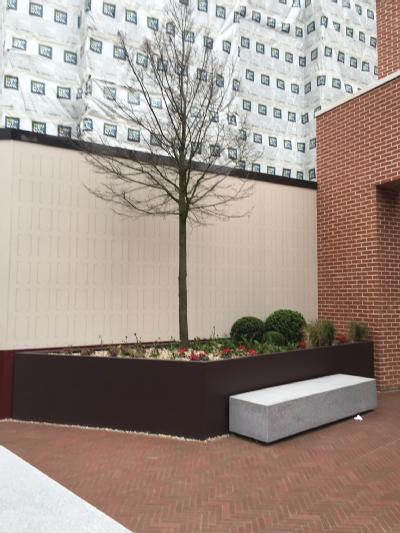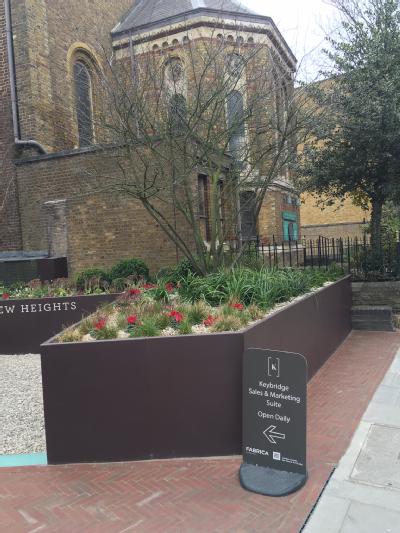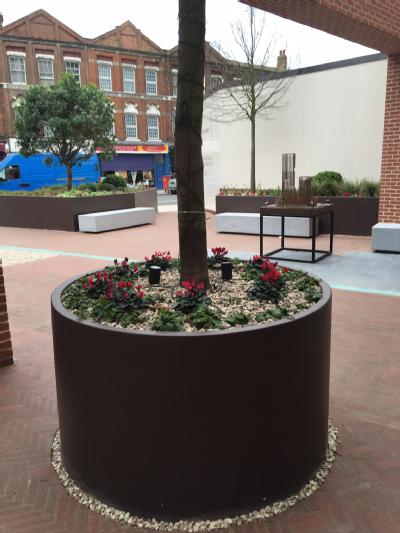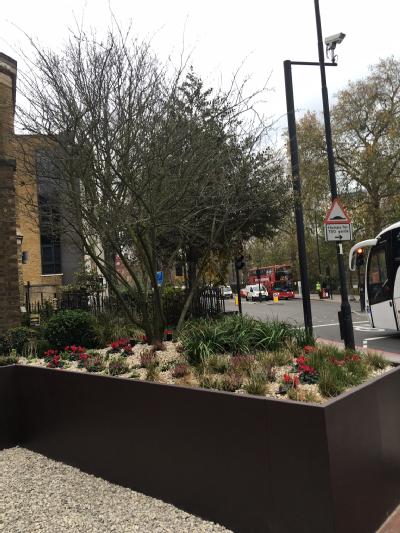 Museum maintenance contract
The RAF Museum is a popular public attraction with large grassed open spaces for the exhibits. There are hedges and borders that all need maintaining to a high standard. The client requires a comprehensive maintenance package ensuring that the museum looks at its best at all times with regular mowing, strimming, hedge cutting, weed control and shrub pruning.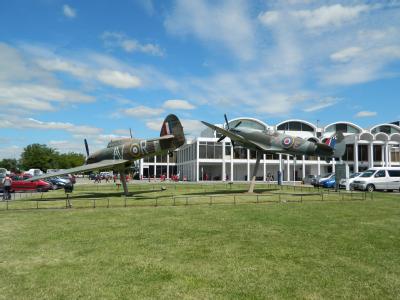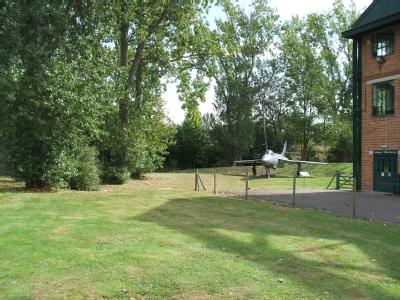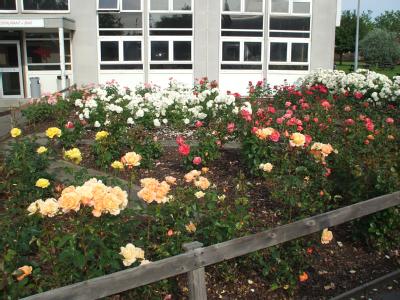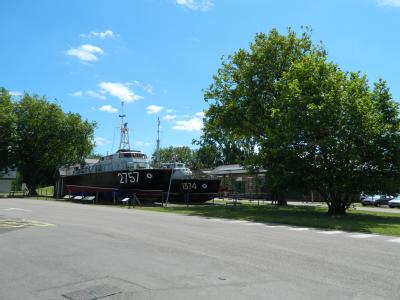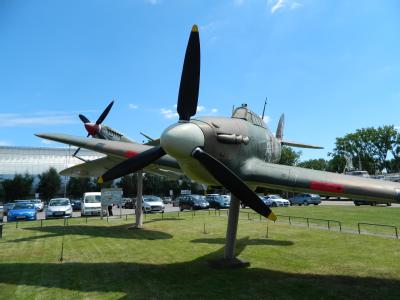 Commercial city centre redevelopment between £500K & £600K
The Travel Ipswich project aimed to improve traffic management and promote smarter travel around the city. There were a number of changes that took place around the city centre including new bus stations, roundabouts being replaced with traffic light controlled junctions and the removal of pedestrian subways. A number of trees, hedges and shrub beds were planted in both hard and soft landscaped areas utilising the latest in underground stability systems available to allow pedestrian and vehicular traffic to interact closely with the soft landscaping.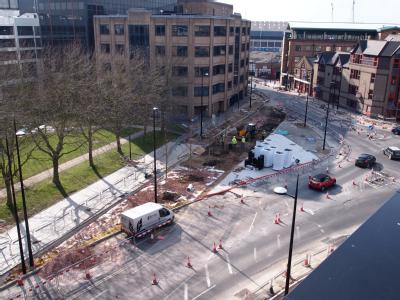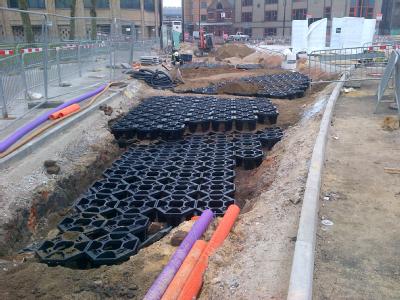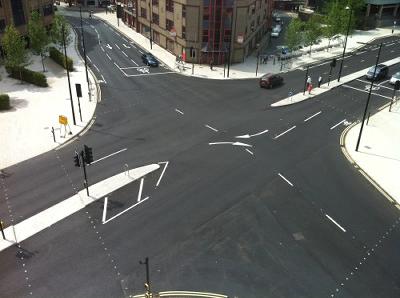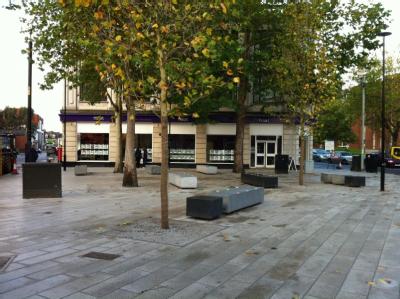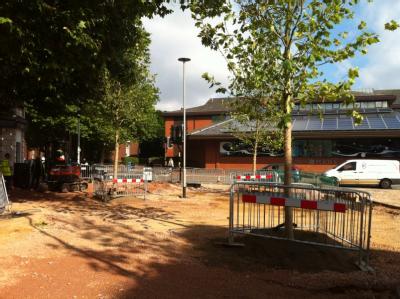 Country Park renovations between £150K & £160K
Bletchley Park has recently undertaken renovation works to some of the buildings across the site in an effort to restore the park to its former WWII condition with extensive landscaping works completing the package. As well as the installation of new trees and shrub beds at various points around the site we also made adjustments to the parking areas and installed two new double tennis courts with natural grass playing surfaces adjacent to the mansion house.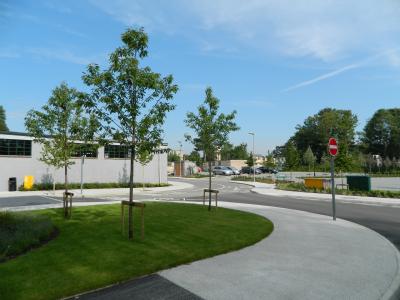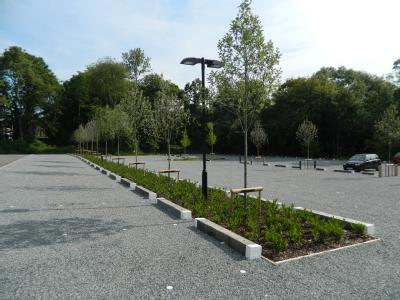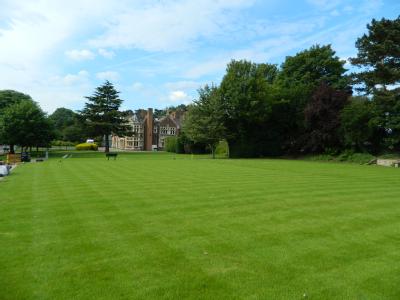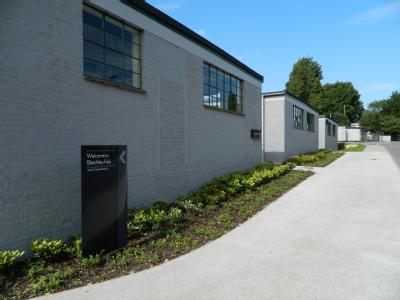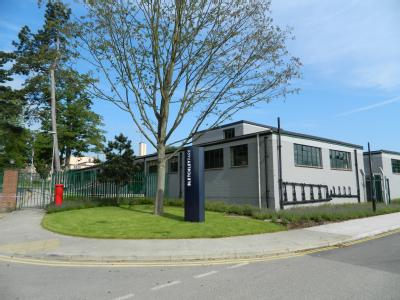 Domestic 2 acre garden between £450K & £500K
The garden was designed by award-winning landscape architect Gavin McWilliam. The project involved the reshaping of the pond and installation of feature walls. Hardwood deck was installed over the pond along with feature rocks. Design included a raised contemporary sandstone patio with two projected decking platforms, lawn surrounded by yew hedging, a dry garden with a feature olive tree and installation of a croquet lawn. Herbaceous planting and mature trees fill the borders. A new drive has been installed with metal edge with raised beds and bespoke automated gate.