About Harrod UK Ltd
Harrod Horticultural Trade Department - BALI AFFILIATE Exceptional Service Award Winner 2014, 2015 and 2016 - is an asset to both Landscapers & Designers. Our award winning and diverse collection of products includes arches, pergolas, rose crowns, fruit cages, obelisks, estate fencing and gates along with raised beds and planters – all of which suit both traditional and contemporary gardens. All are made in the UK and the majority are endorsed by the RHS. As designers and fabricators we can also assist with design and manufacture of 100% bespoke structures. The Trade Department covers sales of these products to the industry with a trade discount along with a one to one service covering advice, consultancy, site visits, samples and CAD drawings. As all products are manufactured in the UK we also offer the flexibility of a made to measure service where current designs can be manufactured to specific dimensions or a completely unique structure can be designed and manufactured in house – complete with a guarantee. The Harrod Horticultural trade department can be reached on 0333 400 1777 or trade@harrod.uk.com.
Areas covered
National (Eng/Wales/Scot/NI), South Thames, North Thames, South West, East Anglia, Midlands, Wales, North West, Yorkshire North East, Scotland, Northern Ireland, UK Islands
Types of work undertaken
Domestic (up to £50,000)
Street, Garden Furniture And Sculpture (up to £50,000)
Commercial (up to £50,000)
Projects
RHS Chelsea 2016
We were approached by the designer Frederic Whyte to come up with a solution for two water troughs which needed to appear linked for his 2016 show garden at RHS Chelsea. The water had to enter the feature from a weir set in the wall and flow from one trough to the next. Our designers came up with a solution where the first trough with a weir circulated the water and a pump in the second trough set at the same flow rate gave the impression the troughs were linked. We costed several variations highlighting the pro's and con's of each material and fabrication method and final finish appearance. The trough's and weir were made from stainless steel and powder coated Anthracite Grey - we also took delivery of several other components in the garden that needed to match the RAL colour of the water feature.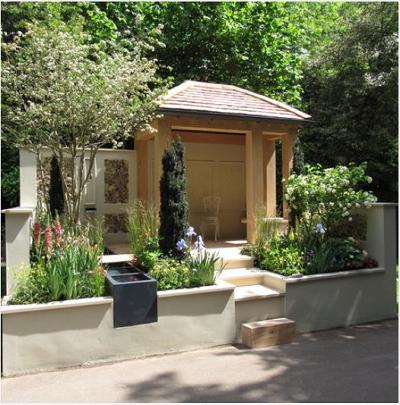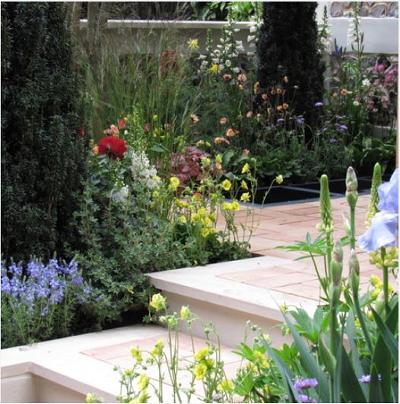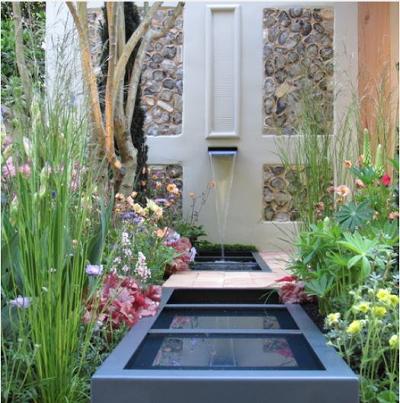 'Kew on a plate' - Raymond Blanc
We were approached by Raymond Blanc's Head Gardener at the world renowned 'Le Manoir aux Quat'Saisons' in Oxfordshire to supply a number of arches and structures for a new project at Kew Gardens - where Raymond would work alongside gardeners to grow seasonal crops which he would then use in a variety of dishes - the series was accompanied by his latest book 'Kew on a plate' https://www.bbc.com/food/programmes/b05n91p4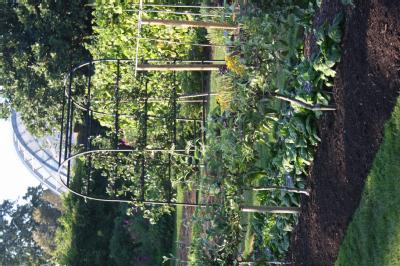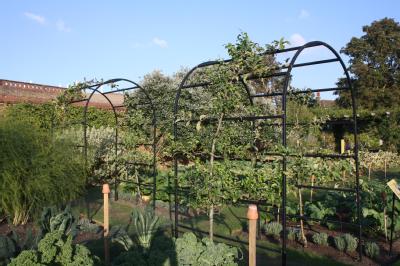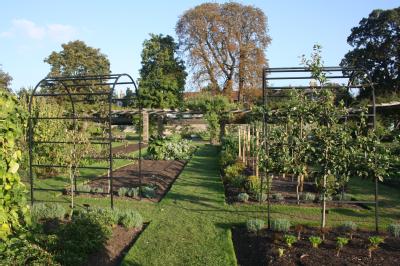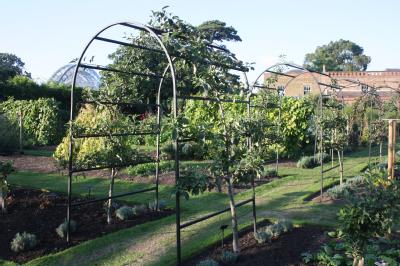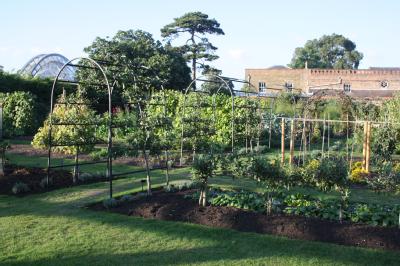 Bespoke Pergola for Crab Apple Walkway
Using our standard Roman Arch design we were asked to manufacture a bespoke pergola effect down a narrowing path between the drive and the lawn at a clients property. A number of single hoop Roman Arches were designed with a series of linking rods and high tension multi strand wire to enable crab apple trees to be trained over the structure.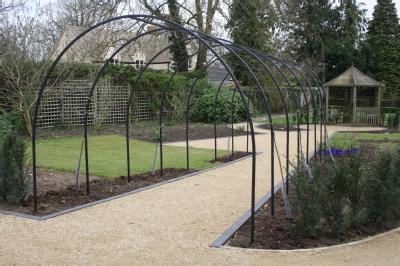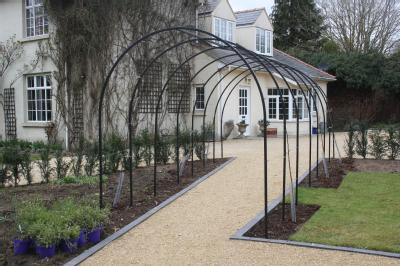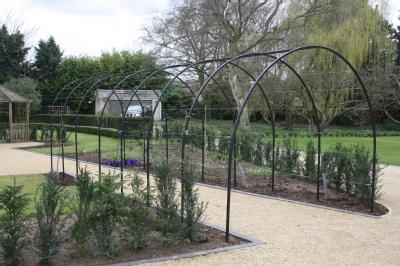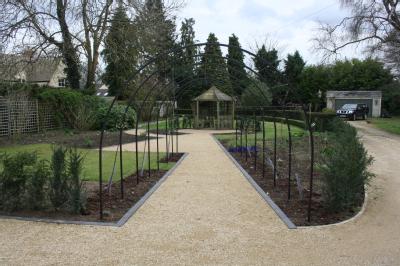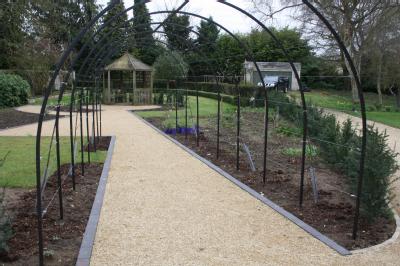 Cantilevered Pergola - Surrey
We were approached by Caro Sanders of Caro Garden Design to assist with the requirement for a Cantilevered Pergola to be situated over an outdoor kitchen for a project in Weybridge, Surrey. Working alongside our timber supplier and with a structural engineer we were able to design 2 bespoke cantilevered arms to support a number of kiln dried red cedar slats, the cantilevered arms and backstand supports were manufactured to bespoke dimensions and powder coated to a RAL colour used throughout the site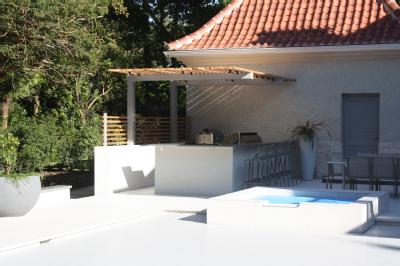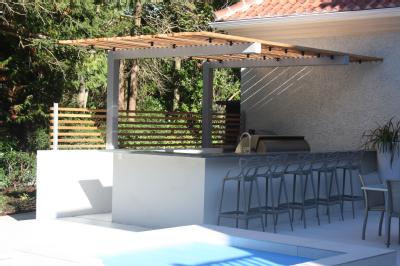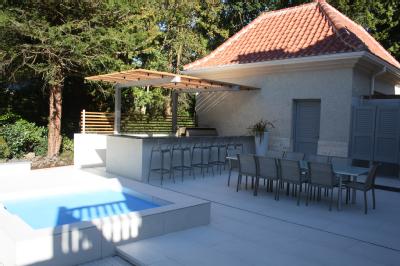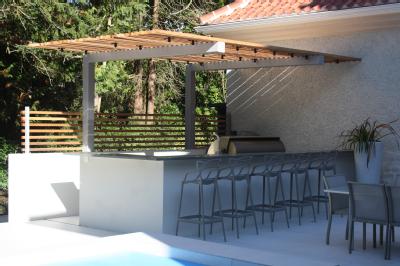 Bespoke Contemporary Pergola (with shade)
This Bespoke Contemporary Pergola was designed by Garden Designer Carol Bridges and manufactured by Harrod Horticultural in the UK, a stunning pergola which has been made into a beautiful dining area on the deck Manufactured from 75mm x 75mm x 3mm thick steel which is hot dip galvanised for a long lasting, durable finish. High temperature powder coated in an attractive Lichen Green for a weatherproof finish and to make the pergola an eye-catching statement on the deck or patio. Construction 75mm x 75mm x 3mm thick steel box section Hot dip galvanised for long lasting finish Powder coated Lichen Green Discretely joined with stainless steel fixings Supplied with welded base plates to be fixed to concrete foundation Supplied with marine grade material removable sun shade cover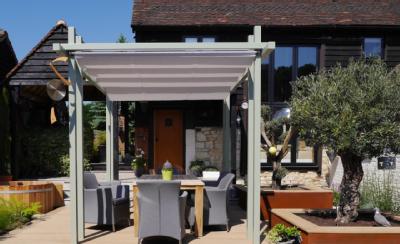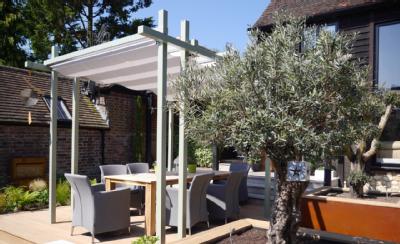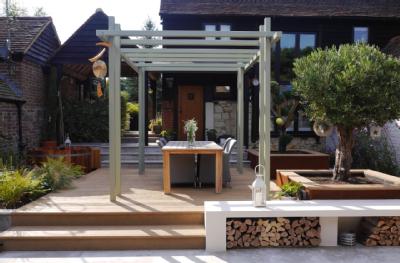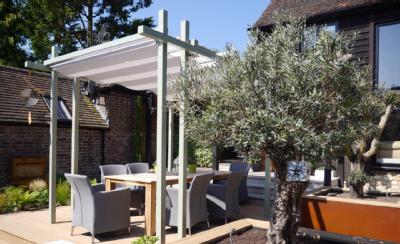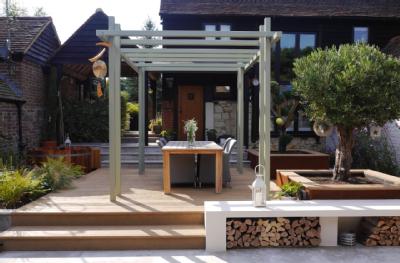 James Basson / Scape Design
One of Harrod's areas of specialist expertise is water feature design and engineering - we understand the science of water behaviour, what pumps / valves to use, also and essentially, water chemistry - including filtration, chemical treatment and corrosive interaction. Our ability to turn a concept into a fully realised, reliable, low maintenance feature is one of our key strengths. James Basson's vision for the feature was inspired by the region's historic maze-like network of irrigation canals and it was conceptually important that the water appeared to enter the feature at a single point and flow from this point outwards into the network of 'canals' and drain via multiple outlets at the end of each branch. The two large pools within the system are filled by water flowing from the 'canal' troughs via a weirs forming definite water falls. It was essential that these were reliably created and of course their power tuneable to give the desired effect. Harrod started with the outline concept of the water feature, as detailed in drawings provided by James Basson. These were turned into full 3D solid CAD models - essential for visualisation and communication to all involved including client, manufacturer, designer, installer, maintenance contractor. From these the hydraulic circuits were designed with consideration of flow rates, solutions were found to achieve the 'flowing from one point' brief and the reliable tuneable waterfalls into the two pools.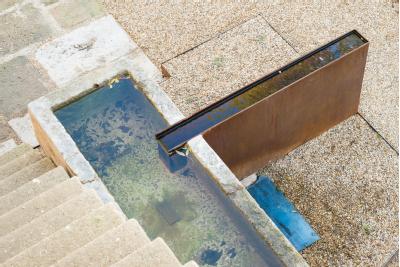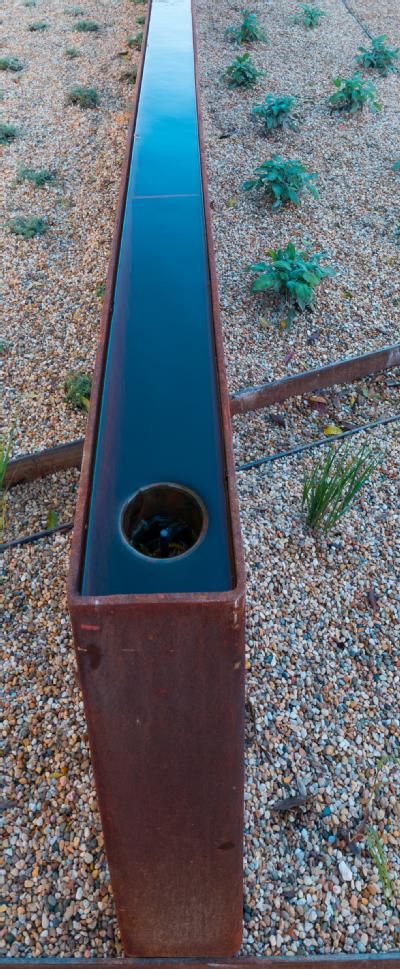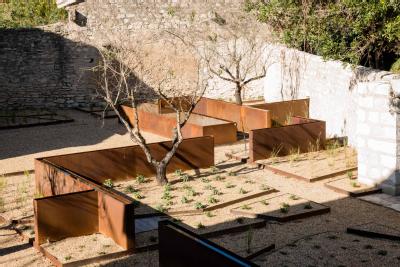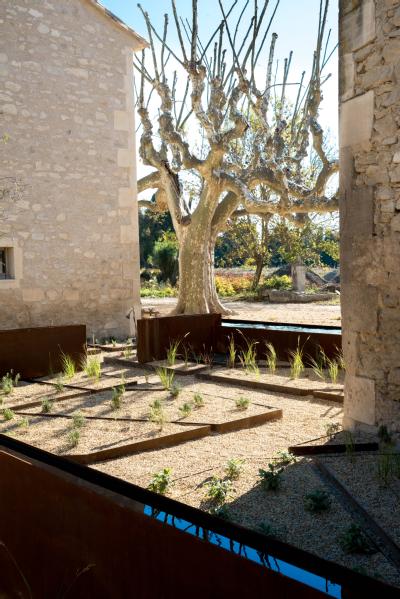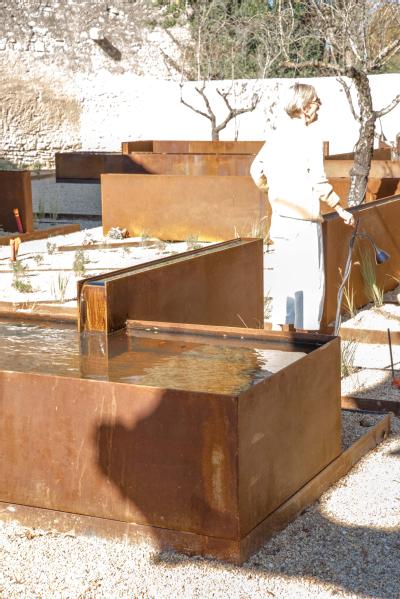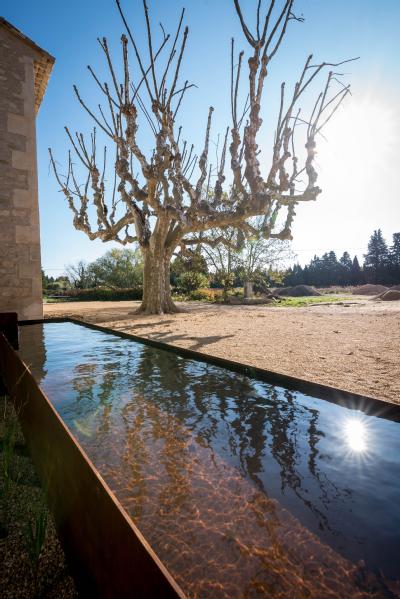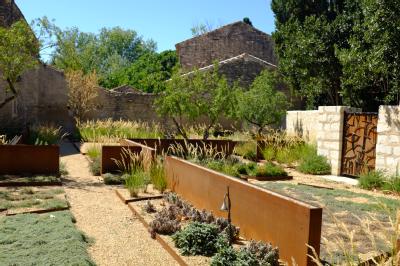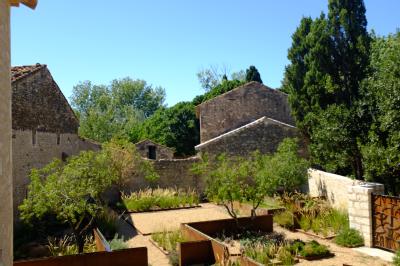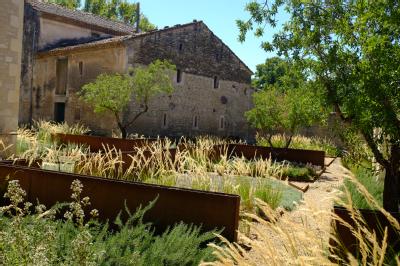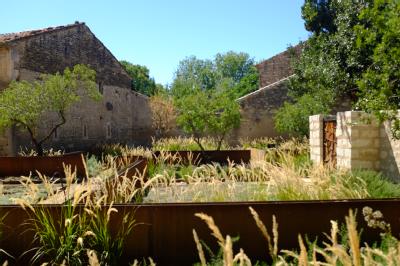 Frederic Whyte - Chelsea Flower Show 2016
Harrod Horticultural's trade division were approached to tender for a show garden project at The 2016 RHS Chelsea Flower Show. The brief was for 2 bespoke metal troughs to appear interlinked and with a weir detail, all sprayed to a bespoke RAL colour to match existing products on the show garden.
Hampton Court - 'outside inside garden for NAPS'
Harrod Horticultural were approached to assist with the design and supply of a number of bespoke steel hoops as part of the framework for a willow weaver to weave on for the Hampton Court Show Garden 'PMS outside inside garden for NAPS'. After consulting a structural engineer we were able to design a system of hoops and joining plates which enabled delivery to site on a specific size vehicle for access and assembly on site.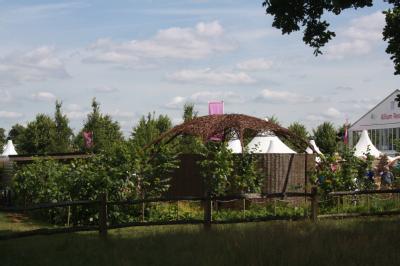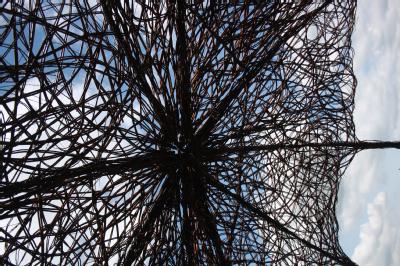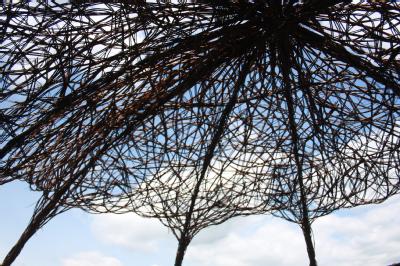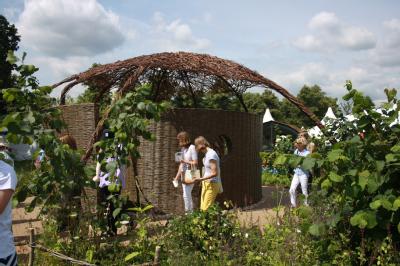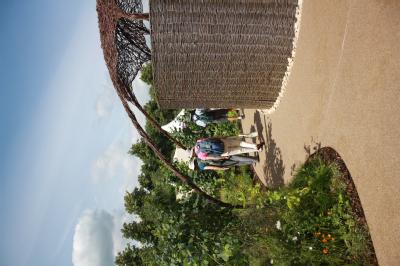 Hampton Court - 'All the world's a stage'
Our trade division was approached to assist with the design and manufacture of 7 bespoke steel basins - each one 'aged' more than the last to signify the seven ages of man.