Registered Affiliate
Rutland, LE15 7TP sales@evergreensuk.com 01572 768208 www.evergreensukgroup.com




Search again
About Evergreens (UK) Ltd
The Evergreens UK group are an independent family built company established over 34 years, supplying and installing artificial grass and flooring for a wide range of industries. Evergreens UK are a significant UK stockist of synthetic turf surfaces with a highly valued reputation in Europe, having pioneered the usage for landscaping applications in the UK. Evergreens UK are passionate about professionalising and developing the industry and as such are constantly researching, improving and introducing new and innovative products to the market place. The group have completed thousands of projects for worldwide companies, individual clients and prestigious events. On a daily basis, Evergreens UK work alongside Architects, Landscapers and local authorities. The central office and warehouse in the East Midlands holds the largest range and stock levels of synthetic grass in the UK, allowing Evergreens UK to supply on a next day delivery basis from the smallest to the largest of orders. As well as a specialist Trade Division, Evergreens UK own the esteemed LazyLawn brand of artificial turf and operate a UK wide license network delivering a high level of service and installation expertise in this market. Evergreens UK can supply products to the trade via thier merchant network or the surfaces can be professionally installed via the firms LazyLawn network. Please contact the Trade Division at Evergreens UK to discuss your next artificial lawn project.
Areas covered
National (Eng/Wales/Scot/NI)
Types of work undertaken
Commercial (unlimited)
Interior Landscaping Supplies (unlimited)
Domestic (unlimited)
Turf Grass and Artificial (unlimited)
Hard Landscaping Materials (unlimited)
Roof Gardens/Green Roofs (unlimited)
Surfacing Materials (unlimited)
Projects
Liverpool One - Grass Steps
The Liverpool One Sugar House steps were transformed with 700m2 of LazyLawn.
Steps are a hard landscaping feature which our synthetic grass can completely transform the look and feel of in a public space, making it accessible and customer friendly as it adds a splash of green for the summer months.
Liverpool One commented: "The feedback from people visiting Liverpool has been really positive. Many have said how nice it is to sit on while they are having a break from work or shopping".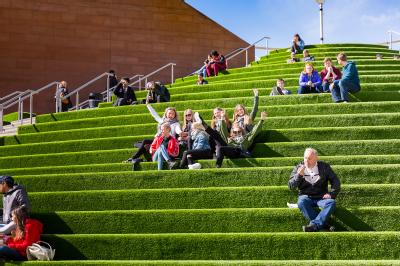 Real Housewives - Mansion Makeover
Real Housewives star Dawn Ward transformed her courtyard with the addition of LazyLawn's award winning Wonder Yarn product.

The reality star was searching for an attractive low-maintenance dog friendly lawn for her family home.

Dawn said: "LazyLawn has brought our courtyard back to life. The product looks so real and immaculate, making my life so much easier.
"I would 100% recommend LazyLawn, from the service to the finished product. The team was so professional, disruption was minimal and the installation was so quick".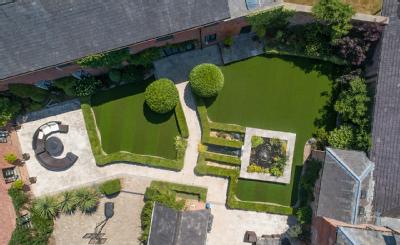 Camden Courtyards - Rooftop Garden
Shortlisted for several awards for its courtyard scheme, Camden courtyard was designed to enhance the outlook for residents, with two landscaped rooftop terraces adding space for play, and a calming outdoor 'room' for relaxation.
Over 350m2 of LazyLawn artificial turf was installed as part of the pioneering EverRoof system to minimise weight at the top of the building.
With space at a premium in London, people are fast recognising this new system offers the ideal answer, providing a vibrant, all-weather solution that works exceptionally well for rooftop areas.