About Cube 1994 Ltd
Bespoke Garden Design and Garden Landscaping in Essex. Cube create unique, beautiful outdoor spaces for our design conscious clients. Using innovative materials and skilled craftsmen, we provide an exceptional bespoke service to realise your garden's full potential. Accredited by the Society of Garden Designers (SGD) and British Association of Landscape Industries (BALI). Cube have built award winning gardens at the critically acclaimed RHS Chelsea Flower Show and at the RHS Hampton Court Flower Show. Most recently, awarded for Design and Build at the ProLandscaper Business Awards 2019 and recipients of a further Best of Houzz Award for Customer Service 2019.
Areas covered
North Thames, East Anglia
Types of work undertaken
Swimming Pools (unlimited)
Decking (unlimited)
Soft Landscaping (unlimited)
Fencing (unlimited)
Synthetic Surfaces (unlimited)
Grounds Maintenance (unlimited)
Commercial (unlimited)
Design Facility (unlimited)
Domestic (unlimited)
Irrigation (unlimited)
Land Draining/Sand Slitting (unlimited)
Forestry/Mature Tree (unlimited)
Playground (unlimited)
Roof Gardens/Green Roofs (unlimited)
Ponds And Water Features (up to £100,000)
Hard Landscaping (unlimited)
Ground Reinforcement Systems (unlimited)
Disabled/Historic Gardens (unlimited)
Projects
Small Urban Contemporary Garden, Chelmsford Essex
A new build garden that lacked interest, with utilitarian paving, bare walls and fence boundaries that enclosed the space. Our clients required areas for dining and relaxing, along with space for their young children to play.
A sandstone dining patio and pathway was created, the edges were planted with architectural buxus, grasses and colourful perennials to lead you out to the 'chill out' area, creating a focal point which could be viewed from the kitchen.
A bespoke water feature was included for ambience.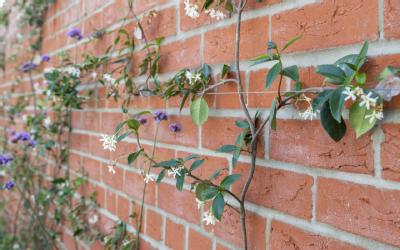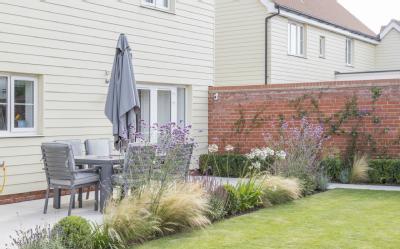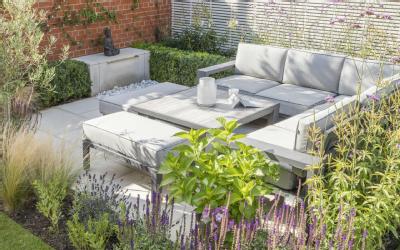 Multi-level Family Garden, Danbury Essex
A multi-level sloping garden in need of modernising. Our clients brief was to create a child friendly, sociable space. With an area for dining, close to the house and an area for relaxing in the afternoon sun.
The low level retaining walls were clad in grey multi-slate and sandstone coping for a modern finish.
Wide steps were formed in grey sawn sandstone, opening up the higher levels of the garden.
Leading onto a split level dining patio, enclosed with low buxus hedging and a hidden railway sleeper retaining wall.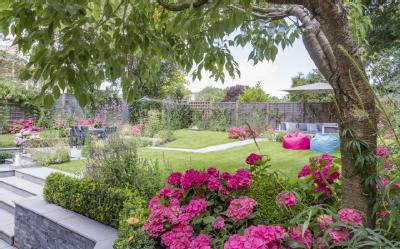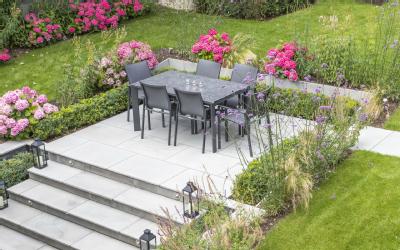 Asian Inspired Contemporary Garden, Maylandsea Essex
This wrap-around garden required a face-lift to suit the newly renovated home. Our clients were keen on an Asian twist, with areas for dining, entertaining and relaxing throughout the day.
We separated the garden into three spaces. A private dining area, walled off with Asian inspired art panels was created.
A raised deck area formed the outdoor lounge with space for large sofa seating and views across the different spaces.
The side garden was remodelled into a useable courtyard, with bistro seating for coffees in the morning sun.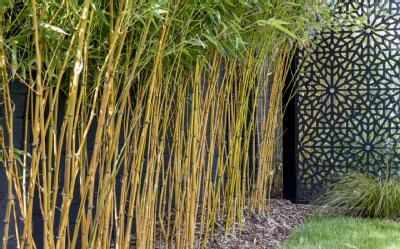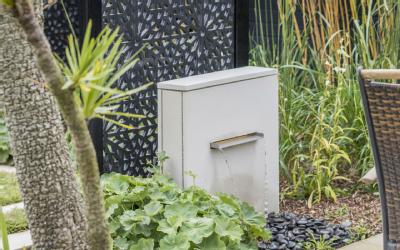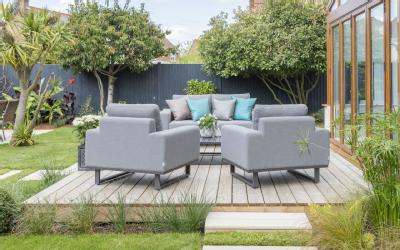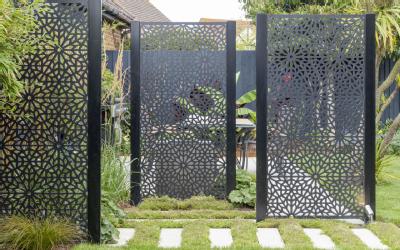 Contemporary Outdoor Kitchen Garden, Colchester Essex
Clean, straight lines and low maintenance planting formed the basis of our scheme. A kitchen was a prerequisite with spaces for outdoor entertaining and dining.
Mature Yew Hedging was wrapped around the garden for instant privacy and colour.
The entertaining space was separated from the rest of the garden with a feature DesignClad wall on one side. A bespoke granite covered kitchen was placed opposite this feature.
Large sofas and Gas Fire-table were centrally placed and architectural planters completed this outdoor room.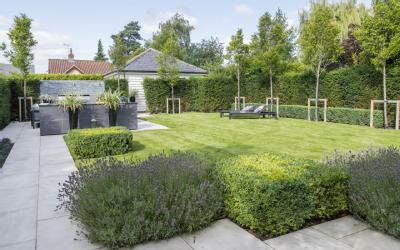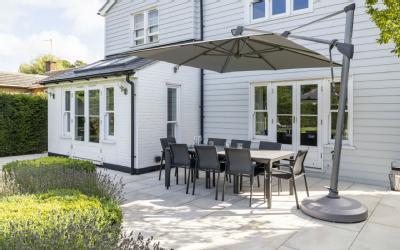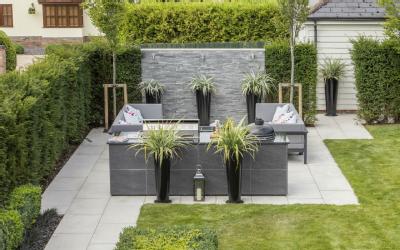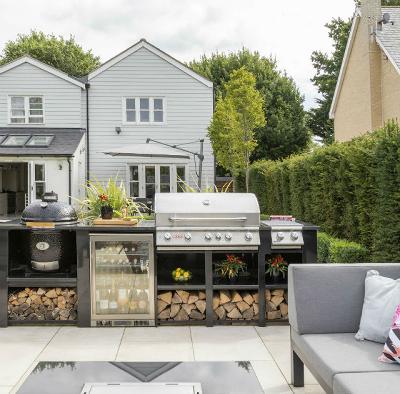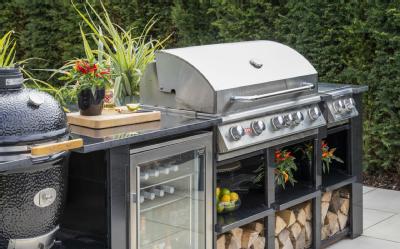 Our Space, Contemporary Garden
The garden was to be designed in a contemporary style with three seating areas that would make the most of the sun throughout the day. 1. A dining area large enough to fit two sun loungers. 2. A relaxing area with a link up to take a fire table at a later date. 3. A bistro area. Clean contemporary lines with a colour palette of greys was desired. Highlighted by purple and pink shades of planting. A sense of privacy in this overlooked garden was also important. BALI National Award Winner 2017. This garden was selected for demonstrating exemplary standards of professional excellence.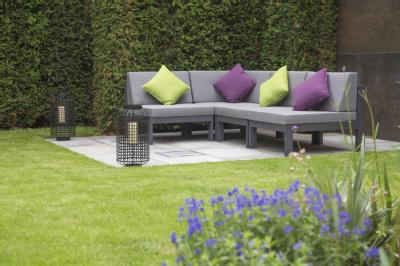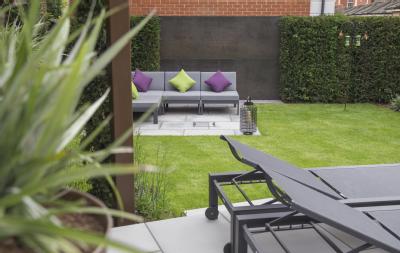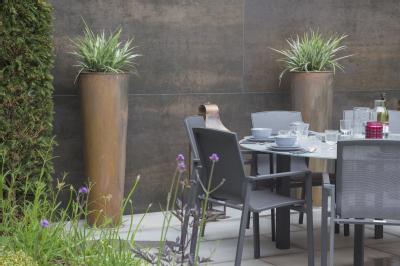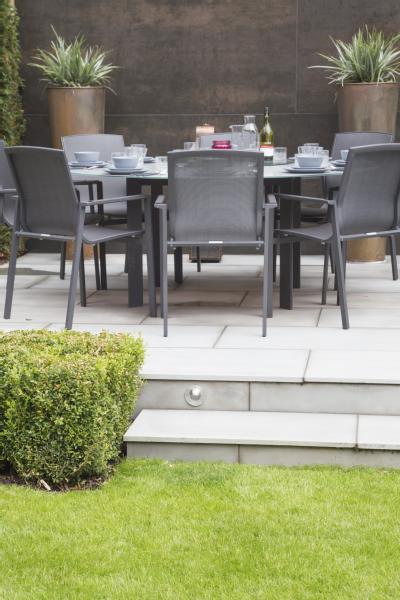 Light On Water, Contemporary Garden
The clients brief was to completely transform the traditional courtyard that we designed and built 16 years ago into a contemporary space. The courtyard was designed into a series of spaces, each to be used differently. 1. A relaxing area with sofas and a 1.6m long fire table as its centre piece. 2. A sheltered dining space with outdoor kitchen. 3. An open air dining space. BALI National Award Winner 2017. This garden was selected for demonstrating exemplary standards of professional excellence.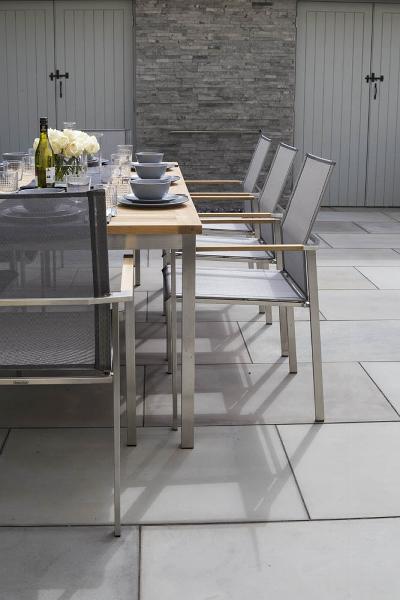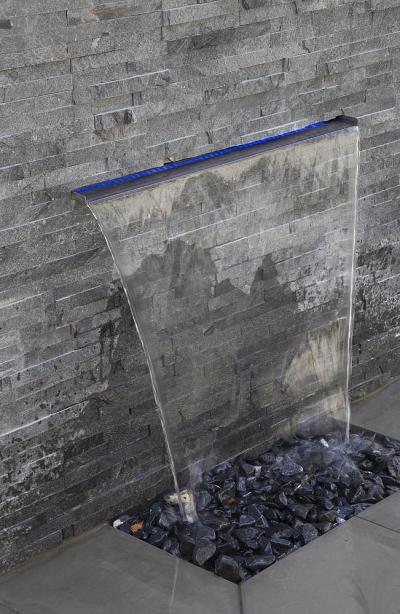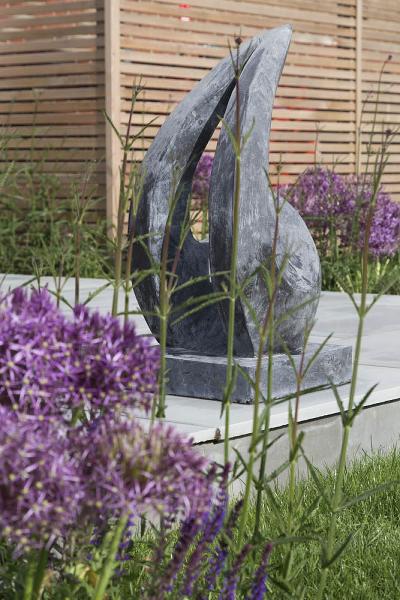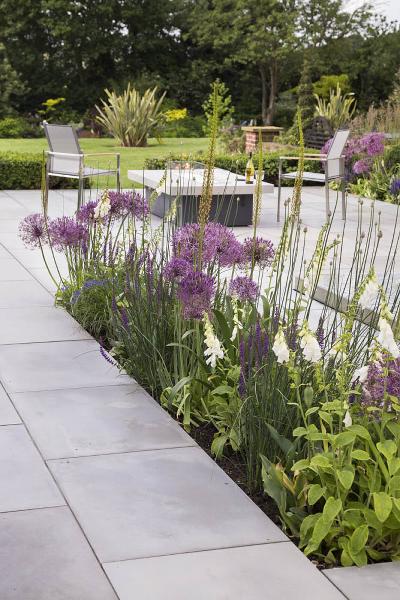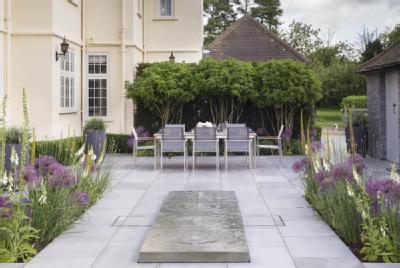 New England Contemporary Garden
This contemporary travertine courtyard was created for our American clients in the style of 'New England'. A well-designed outdoor entertaining space, the courtyard was divided into a champagne reception area, dining area and relaxing lounge area. BALI National Award Winner 2014. This garden was selected for demonstrating exemplary standards of professional excellence.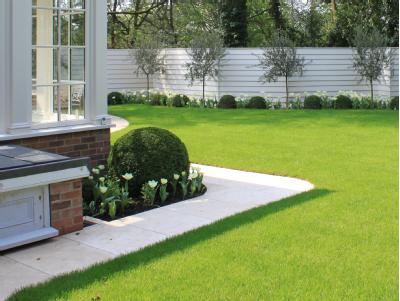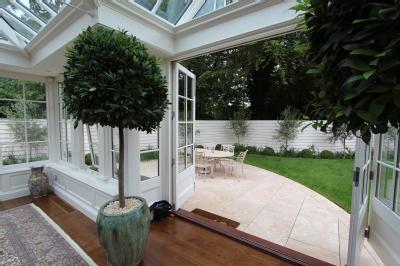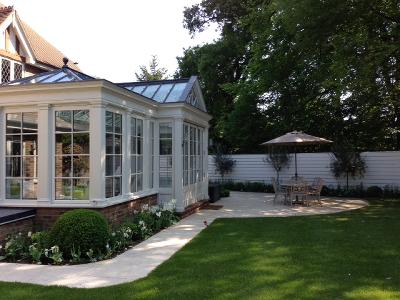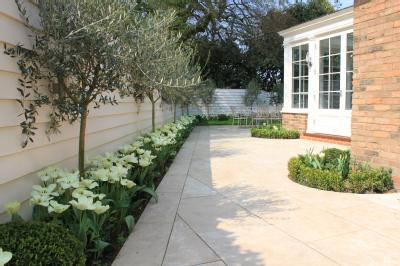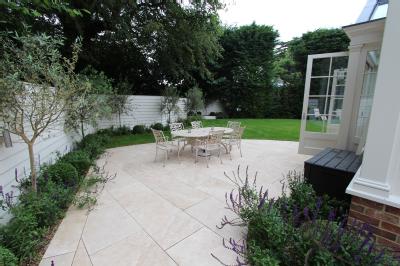 A New Level, Contemporary Garden
This contemporary garden was created with entertaining in mind. The sandstone path leads you down the garden, through bespoke pergolas to a new level of entertaining space. In this sunken area, lounge seating surrounds a contemporary Rivelin firetable for extended evening entertaining. A slate feature wall and yew hedging add further warmth and create an outdoor room. A mix of structured contemporary buxus and perennials line the borders for year round colour. For an added statement, a bespoke gabion cage frames an area of planting. The focal points are fitted with recessed and spot lighting to transform the space in the evenings and light up the path to the sunken area.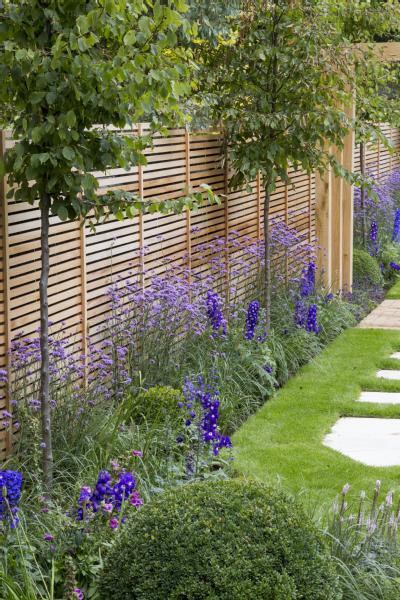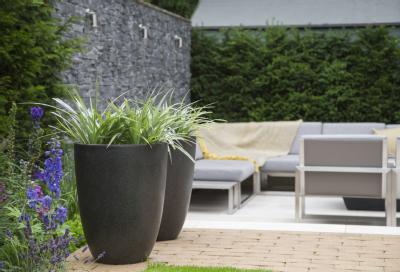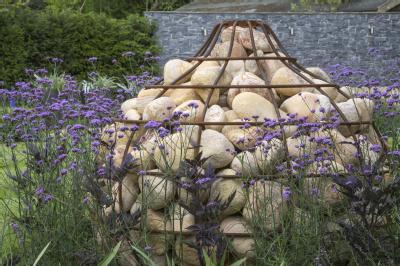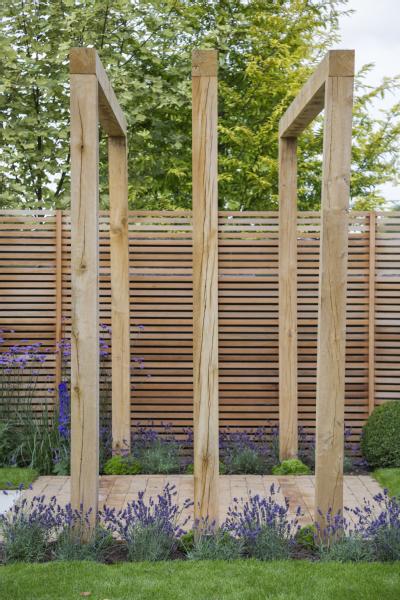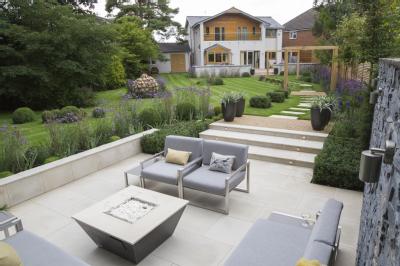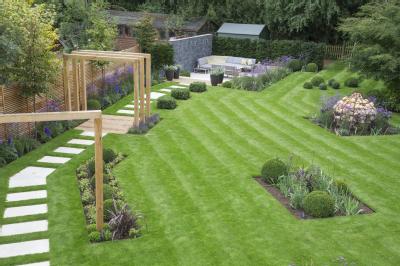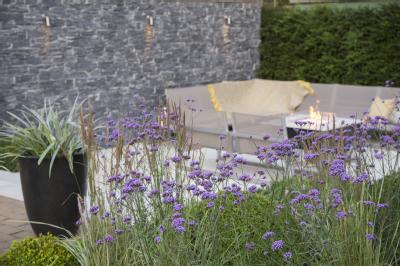 Contemporary Living Garden and Courtyard
Formerly an 18th century nursing home converted into a modern family home. Being on a corner plot, the garden wraps around one side of the house which creates an L shape; this was divided into 2 areas, the 'Contemporary Living' courtyard and 'English Blue' side garden.