About Country Gardens
With a wealth of knowledge, experience and a personal touch from our team, we offer high quality workmanship with an attention to detail. We can provide an all in one service from design, construction to aftercare of the finished project to make sure that our customers get a garden that is designed specifically to the individuals lifestyle. From your ideas we can create your perfect outdoor living space extending your home out into the garden. Whether you are looking for a space to entertain friends, for the kids to play safely or just somewhere to kick back, relax and enjoy, we can create the area to suit you. With our maintenance service you the option to have a tailored programme so that you can do as much or as little in the garden as your time and want allow, we can carry out all of the work or just the bits you hate doing. Our service is aimed at making your garden a more enjoyable place for you.
Areas covered
Yorkshire North East
Types of work undertaken
Soft Landscaping (unlimited)
Disabled/Historic Gardens (unlimited)
Swimming Pools (unlimited)
Hard Landscaping (unlimited)
Roof Gardens/Green Roofs (unlimited)
Ponds And Water Features (unlimited)
Fencing (unlimited)
Grounds Maintenance (unlimited)
Domestic (unlimited)
Commercial (unlimited)
Decking (unlimited)
Design Facility (unlimited)
Projects
Medium city garden
This garden designed by Lizzie Tulip, before the Work it was a dull worn, lawned mess which the design breathed new life into. The garden when finished was a usable space to be enjoyed, looking much larger than before and the clever use of plants suitable for this shady space gave colour and interest to what had previously been a very drab garden.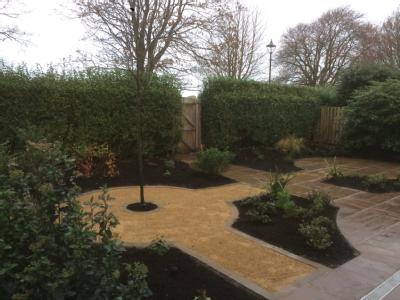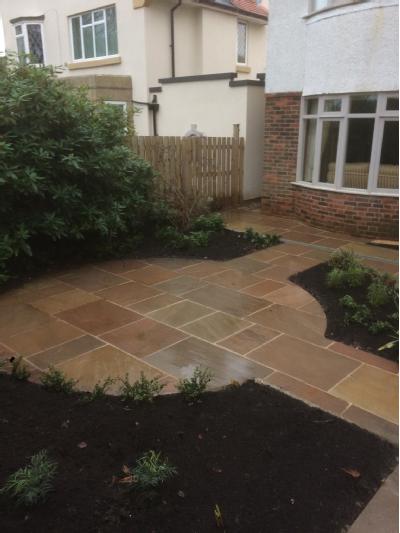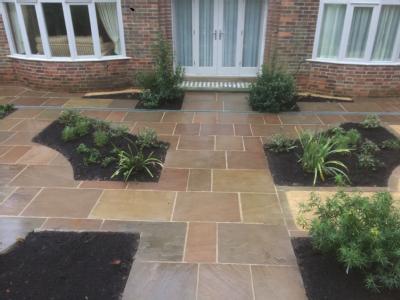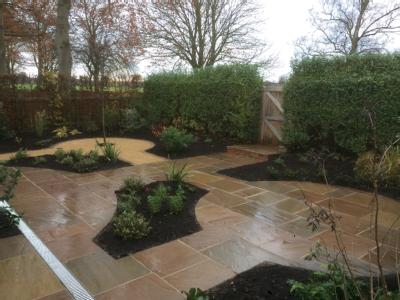 Mosaic
This was part of a larger project designed by Earthworks, we built the garden for the customer and installed this gorgeous mosaic created by David James of Olicana Mosaics. This is the first time we have worked with David but we hope to have the opportunity to recommend and work with David again many times in the future.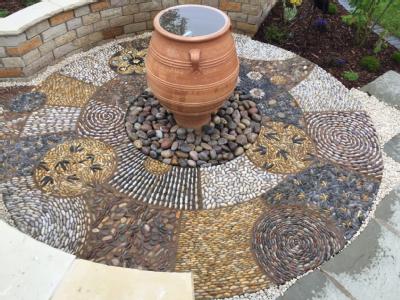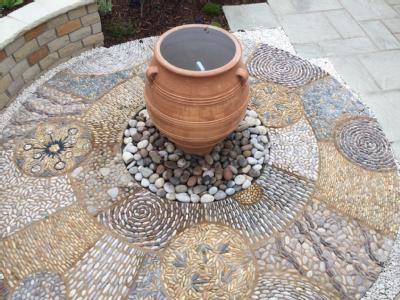 Driveway
Removing an old tarmac drive and replacing it with this stunning Indian Sanstone changed the front of this house completely. The customer went away on holiday for 2 weeks, when they left the old black drive was dull and boring, when they came home they arrived to this, they were over the moon at the change and how it brightened up the house.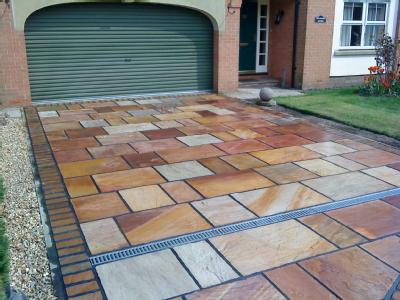 Composite Deck
The customer knew want they wanted, composite deck and very little maintenance, Wecollected samples and looked at the options,comparing against timber options. The customer wanted a random stripped pattern to match the sheds they already had in the garden. The customer was delighted with the finished garden and how tidy the guys on site were through the process.