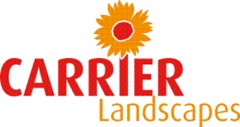 About Carrier Landscapes Ltd
East Midlands based Carrier Landscapes Limited has offered full Landscaping Services for more than 28 Years, Covering Design, Construction and Installation through to Grounds maintenance. Registered Under the Safe Constructors and SMAS Workplace contractor Scheme, all our projects are supported by full Health and Safety Assessment and Risk / Method documentation. Our Commitment to Health and Safety in the landscaping workplace is demonstrated by our own Health and Safety Officer. Our Site Supervisors are SSSTS certificated, and our Landscape Operatives are 100% CSCS registered (and where applicable CPCS. Qualified as machine operators) . We have our own In-House Designer, and operate from a 20-acre site incorporating our Nursery committed to producing our own quality trees and shrubs. In the last seven years more than 30 Construction Industry site managers have achieved NHBC Pride in the Job awards for the sites landscaped by Carrier Landscapes Limited. Our Website- www.carrierlandscapes.co.uk shows examples of this workmanship. We offer maximum commitment, and real value for money to suit today's challenging economic climate.
Areas covered
East Anglia, Midlands
Types of work undertaken
Pesticide/Weed Application (up to £10,000)
Ground Reinforcement Systems (up to £100,000)
Synthetic Surfaces (up to £50,000)
Swimming Pools (up to £50,000)
Arboriculture (up to £50,000)
Irrigation (up to £5,000)
Ponds And Water Features (up to £10,000)
Commercial (unlimited)
Land Draining/Sand Slitting (up to £50,000)
Disabled/Historic Gardens (up to £50,000)
Forestry/Mature Tree (unlimited)
Domestic (up to £100,000)
Reclamation And Erosion (up to £10,000)
Hard Landscaping (up to £100,000)
Road/Roadside Construction (up to £100,000)
Playground (up to £100,000)
Fencing (up to £50,000)
Sports/Leisure Facilities (up to £50,000)
Grounds Maintenance (up to £100,000)
Soft Landscaping (unlimited)
Decking (up to £50,000)
Projects
sales suite
Carrier Landscapes are proud to show the quality of work completed for Sales Suites and Show Homes.