Accredited Supplier
Northamptonshire, NN16 8UN enquiries@boughton.co.uk 01536 510515 www.boughton.co.uk



Search again
About Boughton
Boughton Loam Ltd produces a range of certified proven growing media solutions. Products range from natural topsoil though to various specialist compost mixes, sand based rootzones and dressings, as well as certified lightweight green roof and podium soil substrates. Boughton Loam Ltd is able, through its partners, to deliver products anywhere in the United Kingdom either loose or bagged. Boughton Loam operates from a purpose built production facility in Kettering, Northamptonshire, an area well known for its excellent source of loams and topsoil. Boughton Loam Ltd are able to supply smaller volumes of its award winning products through its ecommerce web site www.gardentopsoildirect. The web site is a fully functioning self-ordering site for the smaller contract or retail client.
Areas covered
East Anglia, Midlands, National (Eng/Wales/Scot/NI), North Thames, North West, Northern Ireland, Scotland, South Thames, South West, Wales, Yorkshire North East
Types of work undertaken
Compost, Mulches and Soil Conditioners (unlimited)
Surfacing Materials (unlimited)
Natural Stone (unlimited)
Interior Landscaping Supplies (unlimited)
Top Soil And Aggregates (unlimited)
Commercial (unlimited)
Seeds (unlimited)
Projects
Ropemaker Place - Frosts Landscapes
Ropemaker was designed to be one of the most sustainable building developments in the city of London. The Building has achieved a BREEAM rating of "excellent". This was done by incorporating a wide range of sustainability practices to provide cheaper energy and water costs to the new tenants and produces 15% lower permitted carbon emissions than the required building regulations. One of the unique features of the building is the landscaped roof terraces, which were designed by Robert Townshend, Landscape Architects and constructed by Frosts Landscapes. For developing this unique planting design, 50,000 sq ft of planted terraces incorporate Boughton Loam's specially formulated lightweight green roof soil. Simon Hedley from Boughton Loam states "Architects are now more informed on the requirements needed for roof top gardens and we work very closely with some of the country's leading landscape architects and landscapers to achieve the ultimate product for their garden roofing projects." "Our green roof soil products have been developed and analysed for their chemical and physical properties by SLC (Soil and Land Consultants). This enables Boughton Loam to offer "off the shelf" lightweight green roof soil products to cater for various design criteria" For more information on the range of lightweight green roof topsoils, please contact Simon Hedley on 01536 510515.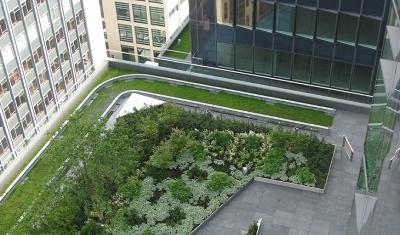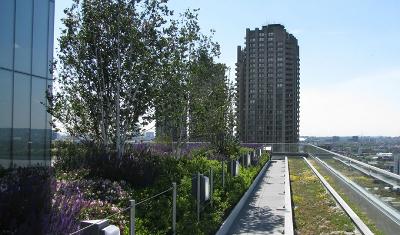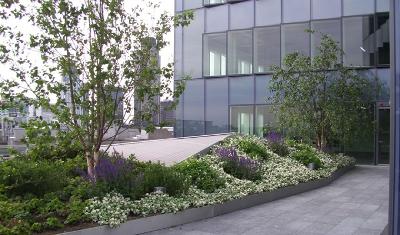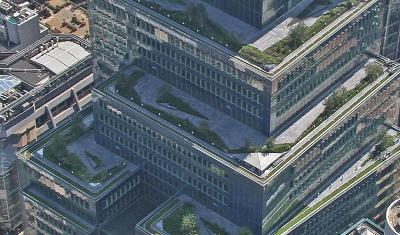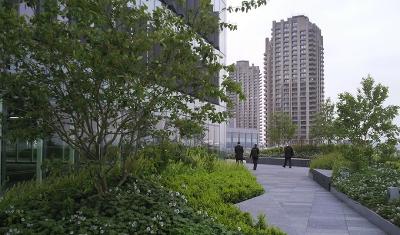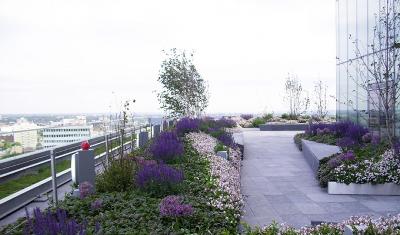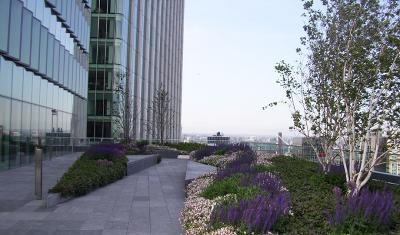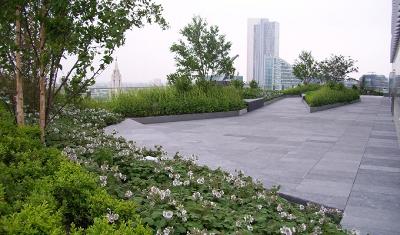 Abbeygate Vizion - Abbeygate Developments
Sainsbury's opened a new flagship superstore in Milton Keynes, as part of a unique development that has 402 townhouses and apartments with a roof top garden the size of a football pitch on top of it The 5000 sq/m community is a mix of retail, commercial and leisure space along with 1000 car parking spaces. Frosts Landscape chose Boughton Loam's unique blended root zone mix for the roof top garden, supplying 1300 tonnes of this special mix to the project. The completed development achieved a BREEAM rating of "excellent".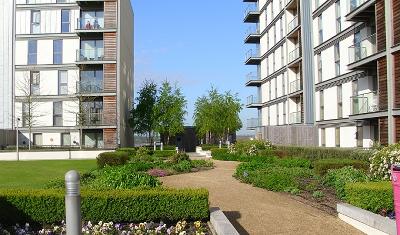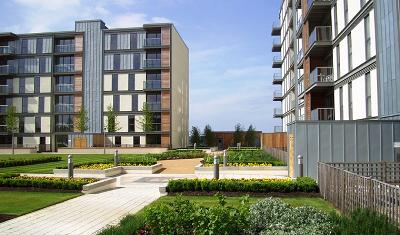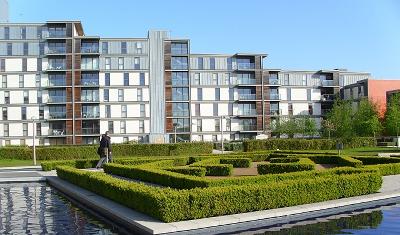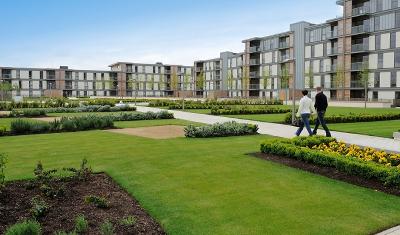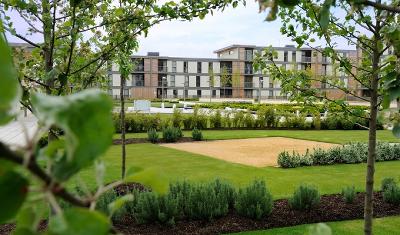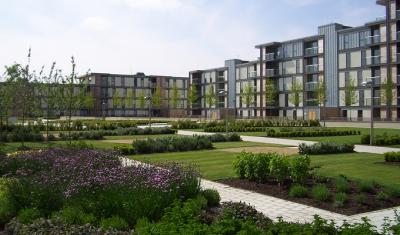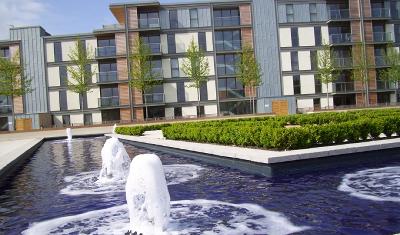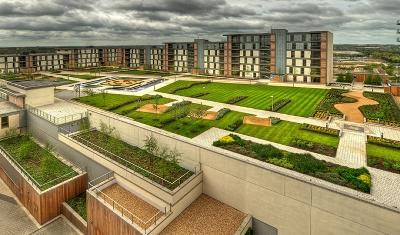 Bramcote Island - One & Area 7
Boughton have supplied 500 tonnes of topsoil to develop the Bramcote Island traffic roundabout in Nottingham. The roundabout is split down the middle with another lane to ease congestion, but overgrown hedges and trees on the island caused visual difficulties for pedestrians and traffic. All plantation on the island was removed to improve visibility, and new soil was imported from Boughton to grow smaller and more easily managed trees and bushes. Due to the nature of the project, deliveries had to be carried out over night to limit traffic congestion. Boughton supplied topsoil between the hours of 22:00 and 03:00 to comply with the traffic management programme, with the contract being completed over 3 consecutive nights using Brids of Chesterfield to haul the soil from our Kettering production facility.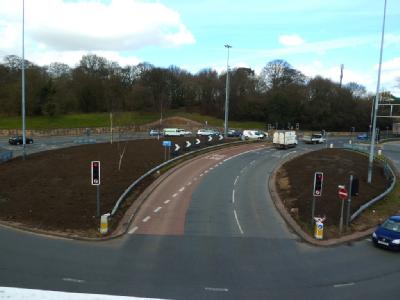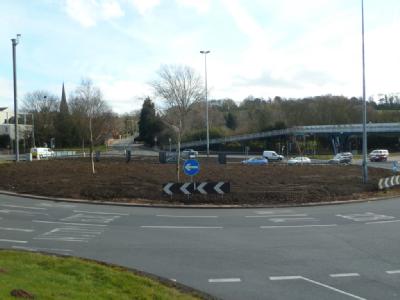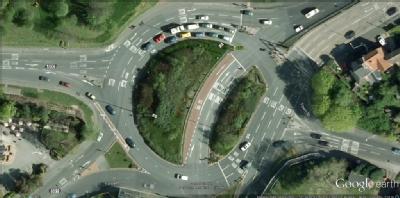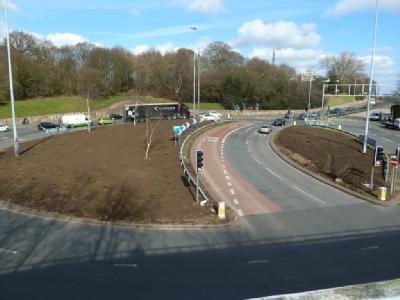 Great Ormond Street Hospital - Andy Sturgeon
A calm, contemporary roof garden for staff has been created on the seventh floor of the Octav Botnar Wing at Great Ormond Street Hospital NHS Trust for Children (GOSH). The Friends Garden is the creation of landscape designer Andy Sturgeon (winner of four RHS Chelsea Flower Show Gold medals) and Andy Budgen, of architect Spacelab (who created the hospital's RIBA award-winning Orangey). The Construction was carried out by Les Hewett at "The English Garden Company" Claygate, Surrey. The roof garden was officially opened on Thursday 21 August by TV gardener Charlie Dimmock, star of BBC One's Ground Force. Boughton Loam supplied its unique lightweight green roof soil for the planted beds as well as rootzone for the turfed areas. The garden is automatically lit from dusk giving the space a magical quality and extending its use well into the evening. The glass-fronted pavilion, with seating and a built-in television, opens up on two sides to feel like a sheltered roof, but also allows staff to enjoy the garden away from the elements. A small indoor exhibition space greets staff as they arrive at the garden. The garden has areas for relaxing, socialising and eating and remembers the two GOSH staff; Nazy Mozakka and Mala Trivedi, who lost their lives in the terrorist attacks in London in July 2005. In consultation with family, friends and staff, words that best represented the personalities of Nazy and Mala were chosen. These words appear throughout the garden on planters, glazin