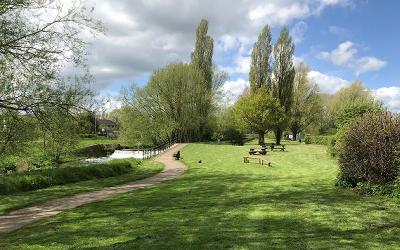 Project title:
Landscaping and Grounds Maintenance: Cropredy Marina, Oxfordshire
Project client:
Estates Manager, Buckingham Town Council, Buckingham, Buckinghamshire
Quote:
"I would highly recommend Julian and his team as we have had no problems whilst they have worked for us I could always just call Julian or his supervisor with any queries and any issues were always resolved quickly. For a relatively smaller contractor they are in many ways more professional than a lot of the larger ones! They are also local which is a bonus."
Work undertaken by 4th Corner Ltd:
Our Grounds Maintenance Contract with Buckingham Town Council commenced in July 2017 (we were asked to take the contract on at short notice) and we have since been successfully providing a service which not only delivers to the specification but has resulted in improvements to the public spaces and gardens of the town. The requirements of the Buckingham Town Council contract includes the cutting of grass on public highways, including the A421 Buckingham Ring Road, footpaths within the town, all open spaces, amenity areas and recreation grounds. Buckingham Town is within a conservation area and our work regularly brings us into contact with many of Buckingham's 12,000 residents. The parks and public spaces that we maintain within Buckingham include Chandos Park and its multi-use games area (MUGA) overlooking the River Great Ouse, Bourton Park and Stratford Fields, a large recreational area with footpaths, playgrounds, picnic sites, special dog exercising areas and a mile-long exercise circuit around the park.
Reason for choosing 4th Corner Ltd:
Accredited and local contractor with strong track record.