Modular Paving Trainee Worker Red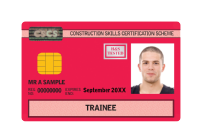 To obtain this SmartCard you need to achieve CITB Operative Touch Screen Test and registered to a Level 2 NVQ/SVQ/Diploma appropriate to modular paving.
Link to examples of relevant qualifications.
Other specialist touch screen tests can also be accepted e.g. Working at Heights.
To book your CITB Operative/Working at Heights Touch Screen Test click here.
Your Occupational Title on the reverse of the SmartCard will be:
Once you have successfully completed your CITB Touch Screen Test you can apply for your LISS/CSCS SmartCard.
Checklist of what you need to provide with your application when applying online:
Upload mandatory passport photo ID, no larger than 5mb
Upload proof of registration to your qualification
Upload a copy of your Operative/Working at Heights Touch Screen Test result (taken within the last two years)
Please note your LISS/CSCS SmartCard will expire after three years and is not renewable.
Alternatively, you can download the application form here, complete it and return to BALI with the required documentation and payment. Please note that postal applications may take longer to process. The application form cannot be sent via email.